The Tragic Death of Former Dallas Cowboys Lineman Mark Tuinei
The Dallas Cowboys were one of the best dynasties in all of sports during the 1990s. The Cowboys ultimately won three Super Bowls in four seasons from 1992 through 1995. Many of the players that people think of when discussing the Cowboys' success during those seasons are guys like Troy Aikman, Michael Irvin, and Emmitt Smith.
However, one guy who also meant a lot to the Dallas Cowboys during those years was offensive lineman Mark Tuinei. After a legendary career, though, Tuinei ultimately died way too young. 
Mark Tuinei led the Cowboys up front for years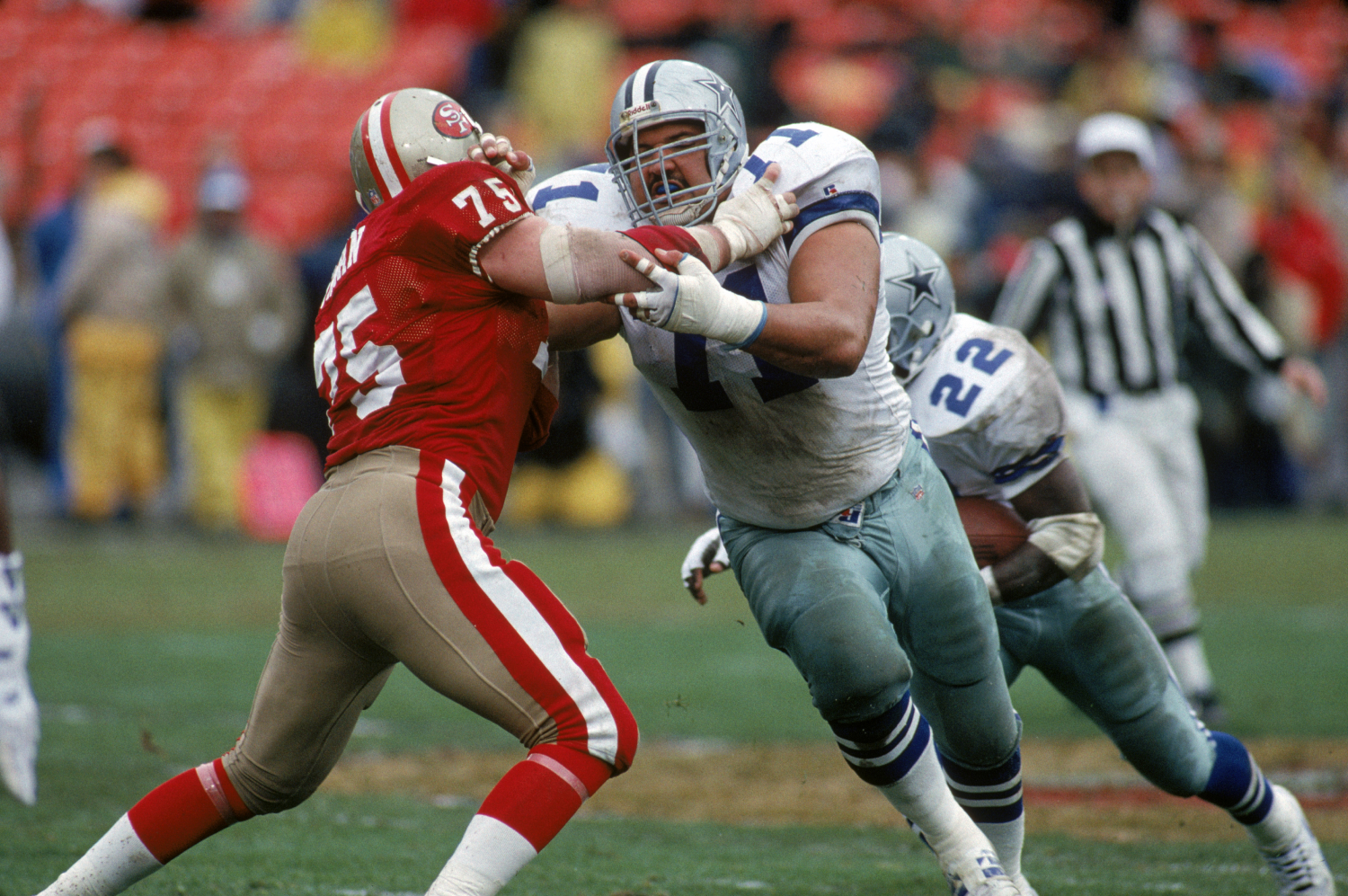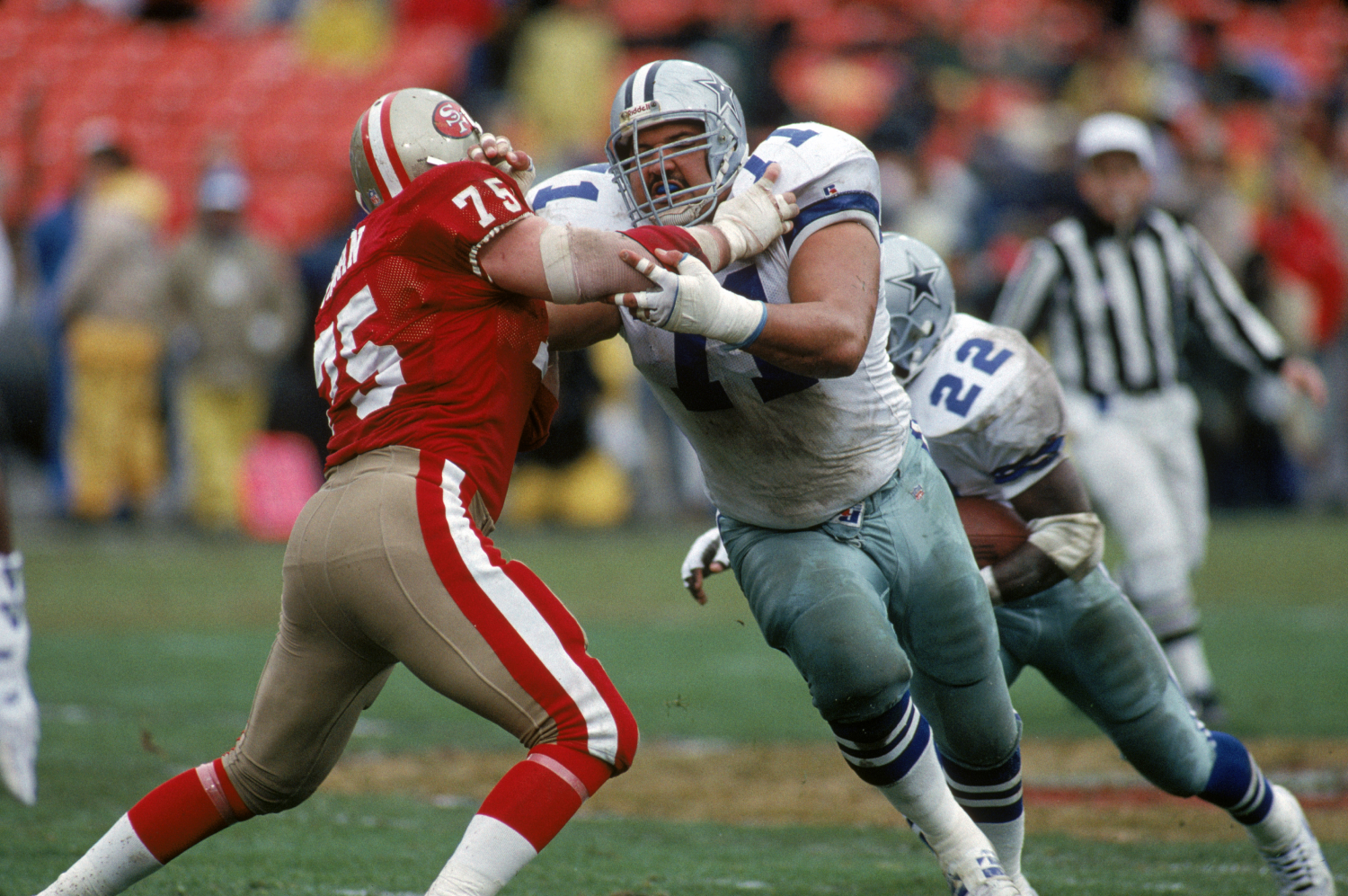 From 1983 through 1997, Tuinei led the Cowboys to a lot of success offensively. This was especially the case during the 90s. The Cowboys went to the playoffs in six straight seasons from 1991 through 1996. Tuinei played in 15 games or more in each of those seasons but one. 
In 1992, Tuinei helped lead the Cowboys to the fifth-best rushing attack in the NFL as they gained 2,121 rushing yards as a team. The Cowboys ultimately went 13-3 that and won the Super Bowl that season, with running back Emmitt Smith running for 108 yards and a touchdown in the big win.
Then in 1993, the Cowboys had the second-best rushing attack behind Tuinei and that offensive line with 2,161 team rushing yards. They then won their second consecutive Super Bowl that year too, and Smith ran for 132 yards and two touchdowns in the Super Bowl. 
The Cowboys then lost in the NFC Championship Game in 1994, but in 1995, the Cowboys won the Super Bowl again. They also had the second-leading rushing attack in the league again with 2,201 team rushing yards. 
While Tuinei helped anchor that offensive line, he did get rewarded for it over the years. He ultimately earned two Pro Bowl selections in 1994 and 1995. Tuinei's retired in 1998, according to AP.
Tuinei died from an accidental overdose
After a historic career, Tuinei died in 1999. He was found dead in his car as he died of an accidental drug overdose, according to WFAA. 
"Like everyone else, I was shocked by his death," former Cowboys coach Barry Switzer said, according to The Oklahoman. "It doesn't matter why or how. When you look at this man, his size, how he was said to be the toughest player on the team."
Tuinei reportedly took ecstasy in the hours before taking heroin, The Dallas Morning News reported in 2016. Former Cowboys reserve fullback Nicky Sualua, who reportedly did not take drugs that night, was with Tuinei, and saw him stumble out of an apartment after taking heroin, and then pass out, according to The Dallas Morning News.
Sualua performed CPR on Tuinei and then dragged him into the car. Sualua drove to Tuinei's home, and the two slept inside the car in the driveway. He then found Tuinei dead the next morning, according to The Dallas Morning News. He died at only 39 years old.
"I can remember dropping to the ground, and just wailing," Tuinei's wife Pono said, according to WFAA. "It was horrific."
His legacy lives on in Hawaii
Tuinei played high school football at Punahou School in Hawaii and then played college football at the University of Hawaii. He even reportedly played basketball alongside Barack Obama at Punahou, according to WFAA. 
"Barry, they called him Barry at the time," Pono said, according to WFAA. "[He] said that 'Mark Tuinei taught me how to set a pick on the basketball court, and then went on to become an All-Pro left tackle for the Dallas Cowboys.'"
Despite being gone for over 20 years, Tuinei's legacy seems to still live on in Hawaii. 
"He passed away in '99, and it just seems like yesterday," his brother Tom said, according to WFAA. "And his legacy is real strong in Hawaii."
There is a Mark Tuinei Scholarship to attend the Punahou School, according to WFAA. 
His wife also continues to carry on his legacy. 
"I've since learned, like the butterfly, there's gonna be some challenging parts to your life," Pono said, according to WFAA. "And I'm going to, just like that butterfly, I'm going to blossom, and I'm going to bloom, and I'm going to choose beauty, and love, and kindness. And, the grief, yes, will be in my life … I think I'll have a lifetime of grief.  But with the amount of love that I'm surrounded by, and I'm fortunate to have, love conquers."
Stats courtesy of Pro Football Reference