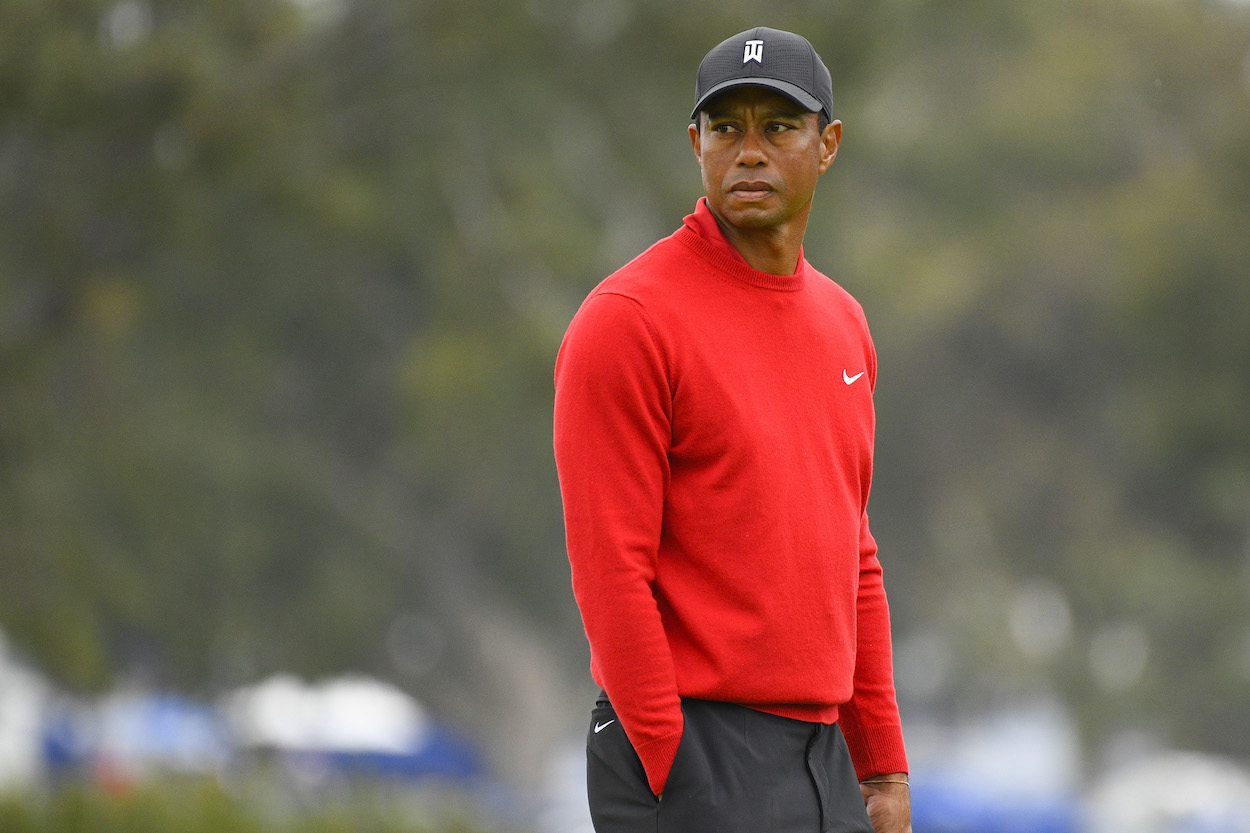 Tiger Woods Refuses a Golden Opportunity to Return to the U.S. Open: 'He Doesn't Want to Become a Sideshow'
Tiger Woods was given the opportunity to return to one of his favorite venues on the PGA Tour, Torrey Pines, to call the 2021 U.S. Open. However, he immediately declined.
We won't be seeing Tiger Woods back on a golf course in a long, long time. The golf legend is not even four months into his recovery from his frightening car crash and emergency leg surgery back in February, and his chances of ever returning to the PGA Tour are in serious doubt.
Woods was given an opportunity to dip his toes back into the game when NBC Sports asked him to join the broadcast team for the 121st U.S. Open at Torrey Pines later this month. But Tiger seemingly has no interest in becoming a "sideshow" at the site of arguably his most epic major championship victory.
Tiger Woods still recovering from February car crash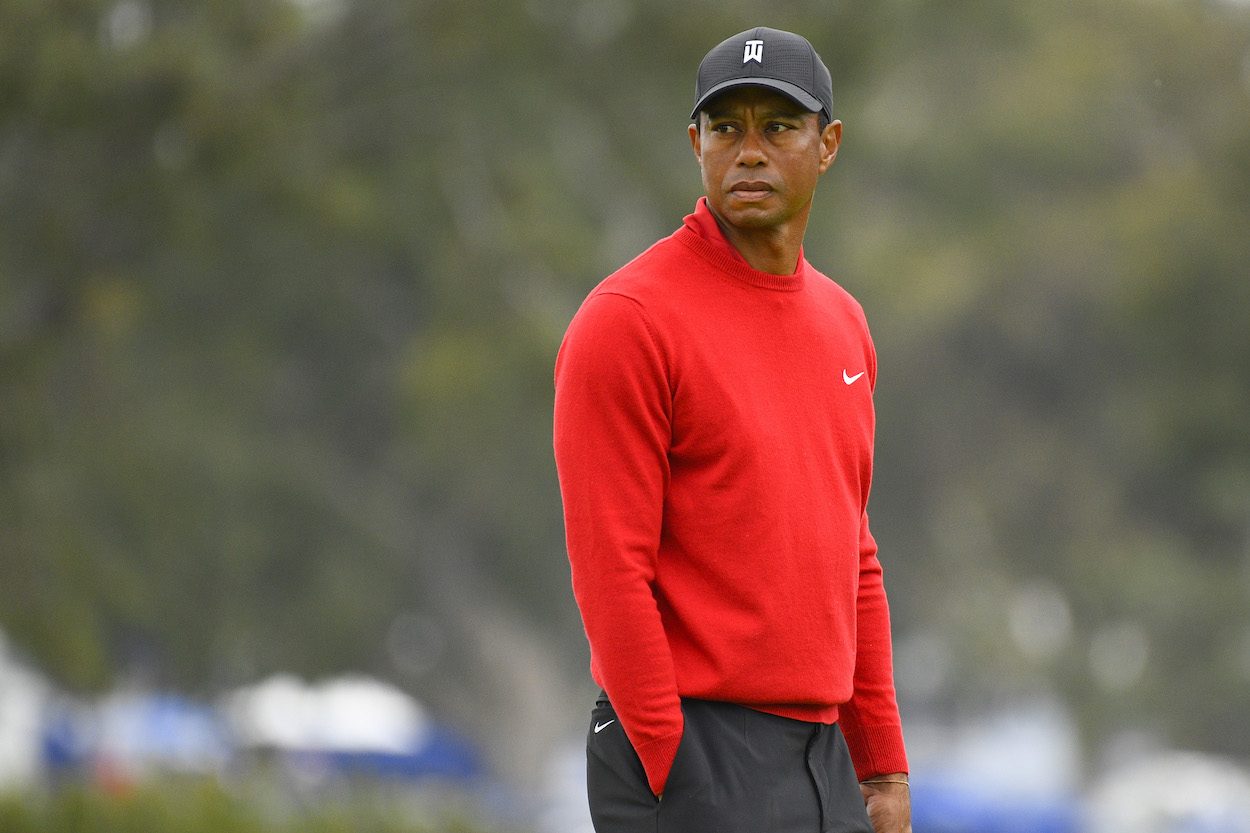 When Woods flipped his SUV off the side of a road in Southern California earlier this year, golf fans around the world feared for his life. Woods had to be extricated from the vehicle, and he was immediately rushed to a local hospital for emergency surgery.
Thankfully, the PGA Tour Hall of Famer survived the terrifying crash, but he wasn't out of the woods (no pun intended) completely. Tiger suffered fractures in multiple areas down his right leg and foot. Doctors inserted a rod into his tibia to stabilize the bone, and a variety of pins and screws were used to patch us his ankle and foot area. Woods is still operating on crutches with a full-leg cast from his right knee all the way down to his toes.
It will be a while until Woods is able to fully swing a golf club again, let alone walk on his own. Walking and playing 72 holes of competitive golf in four days again seems like a distant goal.
Woods turns down offer to join U.S. Open broadcast on NBC Sports
Woods might not be able to play golf right now, but that doesn't mean he can't talk about golf. Fans would love to hear Woods give his commentary on the upcoming U.S. Open at Torrey Pines (a venue Woods has won at eight times) and provide an update about his recovery. Apparently, so would NBC Sports.
But when the network reached out to Woods about joining the broadcast, it received a firm "no."
"Yeah, in fact, that's exactly the line that I was thinking and we were all thinking is how good that would be. Who better, if he couldn't be there to play it, to voice it and have him a part of the show. But we were rebuffed," NBC golf anchor Dan Hicks explained on a Wednesday conference call with reporters, per Golf Digest.
"He didn't want to do it, and I totally understand his situation. There is a lot going on in his world right now. There's always a part of Tiger that he doesn't want to become a sideshow, an event, that we should be concentrating on what's happening. I believe that if he said 'yes' to something, it would be a nonstop parade of asks, and you'd have to start telling everybody 'no.'"
Prepare to hear a lot about the 2008 U.S. Open during this year's broadcast
NBC Sports doesn't just want to have Woods on the broadcast to catch up with the golf legend. This year's U.S. Open marks the tournament's first return to Torrey Pines since Tiger's epic duel against Rocco Mediate in 2008.
Woods and Mediate battled through an 18-hole Monday playoff in one of the greatest majors ever broadcasted on television, and Woods eventually bested the scrappy veteran in a sudden-death playoff hole to secure his third U.S. Open victory and 14th major title. It was the last major Woods won until he triumphed at Augusta National to win the 2019 Masters.
Tiger's heroic Sunday putt on the 18th hole to force a playoff — and his iconic double fist pump after the fact — might be replayed 100 times next weekend when the U.S. Open returns to Torrey Pines.
But, unfortunately for golf fans, Woods won't be there to relive the magic.
[Correction: An earlier version of this article incorrectly stated that the "jaws of life" were used to extricate Tiger Woods from his crash.]