Tiger Woods Schedule: Projecting the Golf Legend's Likely Starts for the 2022-23 PGA Tour Season
What will Tiger Woods' schedule look like for the 2022-23 PGA Tour season?
When we watched Tiger Woods make his bittersweet walk down the 18th hole at St. Andrews during the second round of the Open Championship in July, tears in his eyes and a white Nike cap in his hand revealing his balding hairline, it felt like a farewell of sorts. After shooting 9 over par in two rounds to miss the cut and finish 149th in the 156-player field, Woods seemed to be accepting the grim reality that he could no longer cut it on the PGA Tour.
But as much as we golf fans, and possibly Woods himself, believed at that moment that it was the final clubhouse-bound walk of his career, we also knew deep down that he wasn't ready to quit. This is the same Tiger who won a U.S. Open on a broken leg — the same Tiger who underwent five back surgeries and returned to the golf course to win again, and again, and again.
Woods won't let that emotional stroll up the Old Course be the parting image for his career, not with win No. 83 still in reach. We'll see the golf legend tee it up on the PGA Tour at some point this season, so let's try to predict the 2022-23 Tiger Woods schedule and pinpoint where he can secure that record-setting victory.
Tiger Woods' schedule changed when he spoke about his future after pulling out of the Hero World Challenge
Woods planned on making his season debut at the early-December Hero World Challenge in the Bahamas. It would've been the ideal venue for a stress-free return. Woods is the host of the tournament, it's a limited field with only 20 players competing, and it's got the feel of a friendly match between buddies rather than a fierce competition.
However, Tiger was forced to withdraw from his own event due to plantar fasciitis in his right foot. The 46-year-old developed the condition while preparing for the tournament, and he admitted it was related to the fractured leg and foot bones he suffered in a single-car crash in February 2021.
Speaking ahead of the Hero World Challenge, Woods candidly acknowledged the issue isn't related to his golf game. He simply still has trouble walking golf courses.
"I like playing. I like competing," Woods told reporters, per Yahoo Sports. "But, unfortunately, I can hit the golf ball and hit whatever shot you want. I just can't walk."
When asked about his plans for getting back on the PGA Tour, Tiger laid out a tentative, light schedule for the future.
"The goal is to play just the major championships and maybe one or two more. That's it," he said. "I mean — that's, physically, that's all I can do."
Woods also added this his goal for last season was just to play in the Open at St. Andrews, but he surprised himself by being able to compete in the Masters and the PGA Championship, making the cut in both.
"I was able to get two more in there, so that was a big positive," he said.
Tiger Woods' schedule will include two December events… just not on the PGA Tour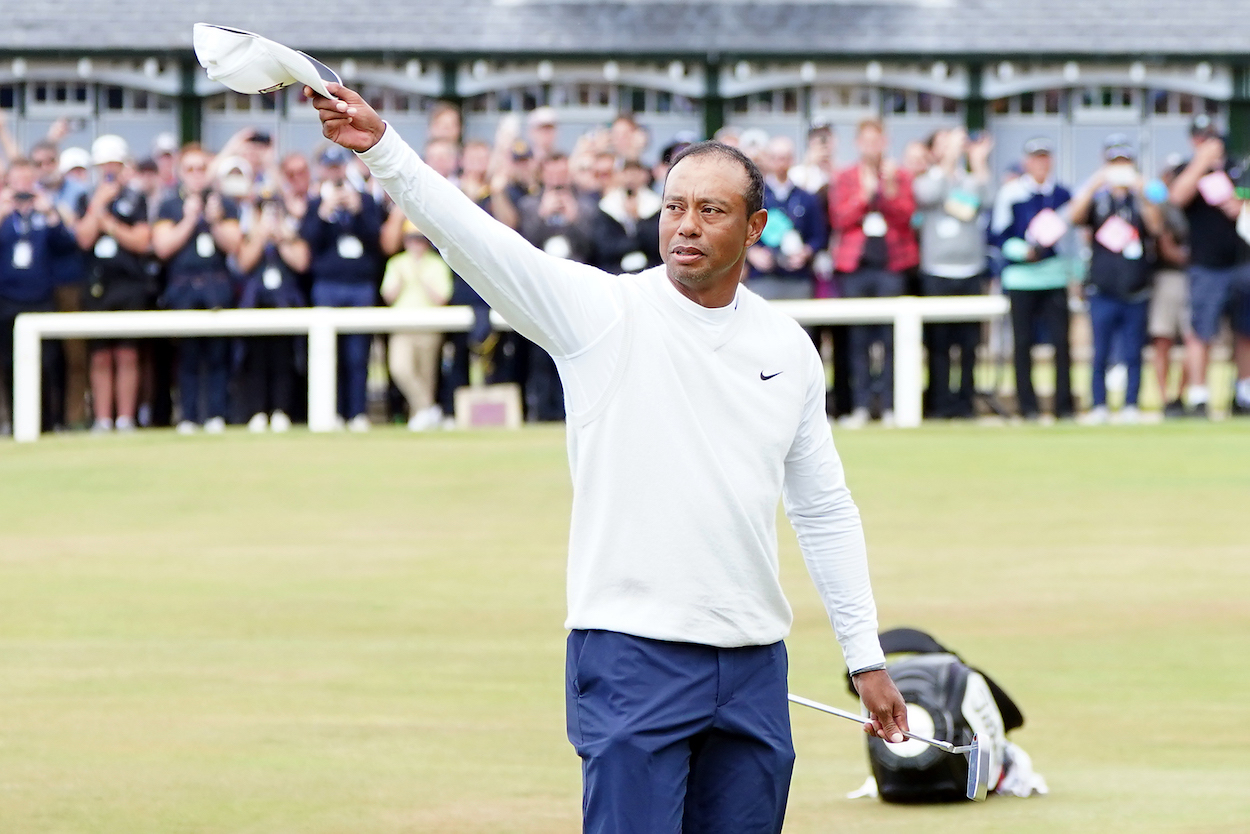 The bad news is that Woods won't be able to play in the Hero World Challenge, but there is some good news. Tiger is scheduled to tee it up twice before the calendar flips to 2023.
On Dec. 10, Woods will compete alongside Rory McIlroy, Justin Thomas, and Jordan Spieth in the next edition of "The Match" at Pelican Golf Club in Belleair, Florida. The competition will be 12 holes long and under the lights, with Woods and McIlroy going against Thomas and Spieth in a 2v2 match.
The following week, Tiger will tee it up with his son, Charlie, at the PNC Championship for the second straight year. The duo came in second place last year, trailing John Daly and his son, John Daly II.
The major difference between grueling PGA Tour tournaments and these more relaxed events is that Woods can drive golf carts in "The Match" and the PNC Championship. He's already decided he won't go that route for PGA Tour events.
Building Tiger Woods' schedule for the 2022-23 PGA Tour season
At this point in Woods' career, he can't afford to waste time and energy at peripheral PGA Tour events. His right leg can barely hold up for four straight days of walking. It's not realistic to expect it to carry him through more than five or six events in a season.
The focus right now is the four majors, which will take place in April, May, June, and July. That gives him a month to recover after each event, but he needs at least one tune-up before the Masters if he expects to be even slightly competitive at Augusta National.
So, which non-majors would be realistic practice rounds for Woods?
Let's start in January with the Farmers Insurance Open. Torrey Pines is one of Tiger's favorite golf courses in the world, and he's won there seven times throughout his career. It also takes place at a friendly part of the calendar.
After that, let's take a month off and return in March for the Players Championship. The Players is considered the fifth major on the PGA Tour, so it fits the bill as a high-caliber event that will prepare Woods for the pressure of major championships.
It's unlikely Woods will decide to play six events this season, but here's what the best-case scenario would look like:
Farmers Insurance Open, January 25-28
February: Off
The Players Championship, March 9-12
The Masters, April 6-9
PGA Championship, May 18-21
U.S. Open, June 15-18
Open Championship, July 20-23
August: Off
September: Off
What is Woods' best chance at victory No. 83?
There's only one correct answer for Woods' best chance at victory No. 83 to pass Sam Snead for the most wins in PGA Tour history.
It's where he won his first major championship at just 21 years of age, shattering the scoring record in the process; where he's won five times and has the best scoring average in golf history among those who have played the course at least 30 times; where he won his most recent major championship in heroic fashion after everyone counted him out for good for what seemed like the 100th time.
Augusta National Golf Club.
The Masters has a smaller field than the other three majors, it's the golf course he knows the best, and it's a tournament that's been friendly to older players in the past, most notably a 46-year-old Jack Nicklaus in 1986.
If Tiger is going to win again and walk off into the sunset as the PGA Tour record-holder for wins, it's going to come with a green jacket on his back.