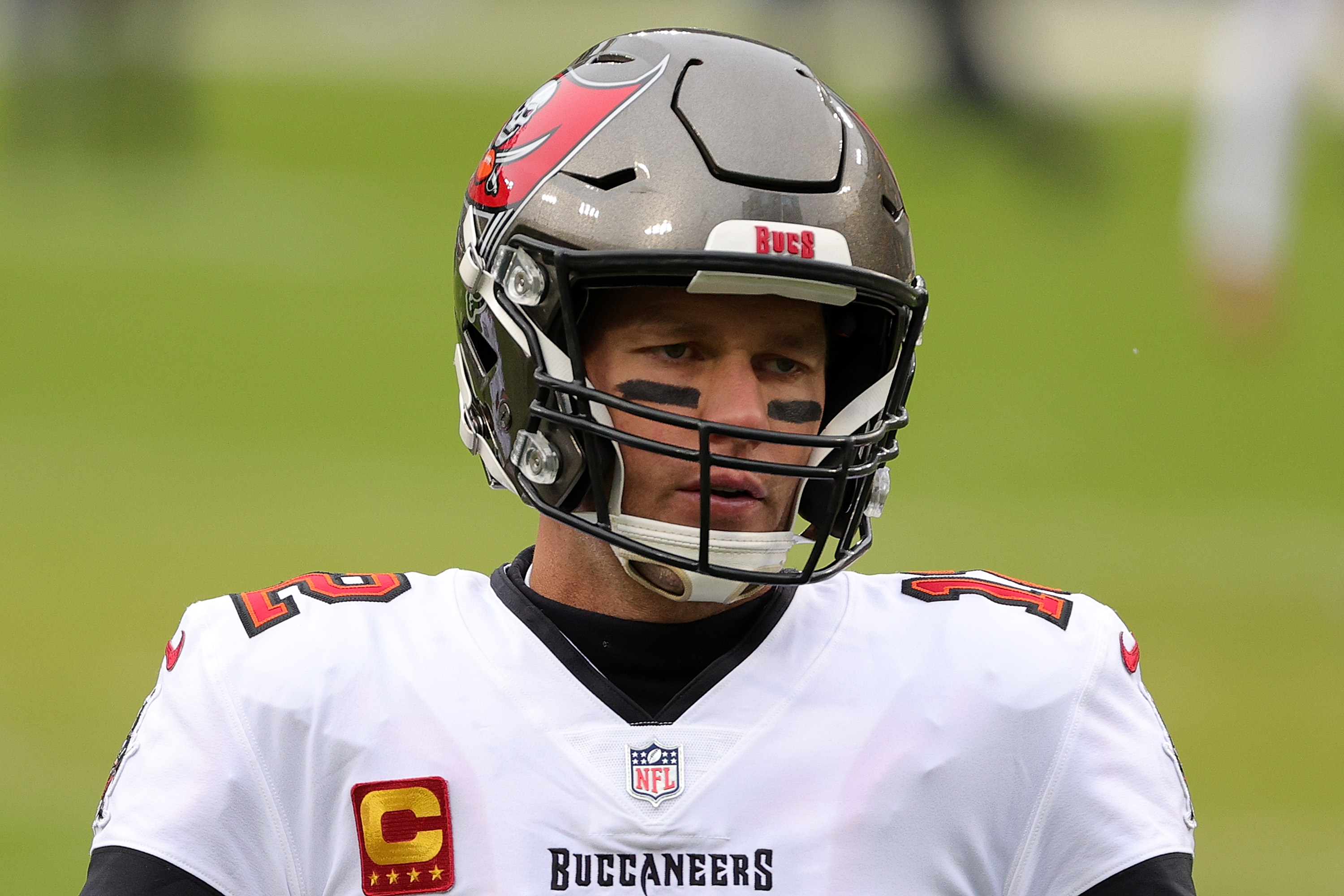 Tom Brady Flaunts Moxie, Humor Ahead of Super Bowl 55
Tampa Bay Buccaneers quarterback Tom Brady flaunts some moxie and shows a sense of humor ahead of Super Bowl 55.
Been there, done that. That's the life of Tampa Bay Buccaneers quarterback Tom Brady. While many players on the Bucs are prepping for their first Super Bowl, Brady is ready to take part in his 10th. Brady doesn't take these appearances for granted, but he's also not stressing about them these days. That was evident recently when Brady flaunted some moxie and showed his sense of humor ahead of Super Bowl 55.
Tom Brady shows no signs of slowing down
At age 43, Tom Brady is still going strong. He's spent 21 years in the NFL and will be starting in his 10th Super Bowl. He defied the odds this year when he left the New England Patriots after 20 seasons and six Super Bowl titles and then led the Bucs to a Super Bowl berth in his first season.
If not for a four-game suspension for Deflategate back in 2016, Brady would have started all 16 games at quarterback in the last 12 years. This year, Brady threw for 4,633 yards and 40 touchdowns in a regular-season that saw the Buccaneers finish 11-5. Brady guided the Bucs to three postseason wins on the road en route to a Super Bowl berth.
At one point in his career, Brady said he hoped to play until he was 45. He's two years away and he's still going strong. He signed a two-year deal with Tampa Bay for $50 million. If he keeps this up, playing at 45 will become a reality.
The Buccaneers face a Chiefs team looking for a repeat
If Tom Brady is to secure Super Bowl ring No. 7, it won't come easy. Although the Tampa Bay Buccaneers are coming in red-hot after winning three straight road games, the Chiefs are favored to win Super Bowl 55. Most of the betting lines have the Chiefs as a three-point favorite despite the game being played in Tampa.
Led by young quarterback Patrick Mahomes, the Chiefs cruised to a 14-2 record this season. One of those losses came Week 17 when Mahomes was given the day off. Kansas City earned the AFC's lone by and played just two postseason games, defeating the Cleveland Browns and Buffalo Bills at home.
Mahomes is in his third season as the starter for the Chiefs. He's hoping to put together a Brady-like resume and is off to a great start in his career. Mahomes already has a league MVP under his belt and was named Super Bowl MVP last year. He's hoping a Chiefs repeat in Super Bowl 55 that will give him two rings in his four years in the NFL.
Tom Brady doesn't appear to be stressing before the Super Bowl
On Thursday, Tom Brady showed he can take a hit. It wasn't a football hit but he took a social-media beating and flaunted it on television. Brady read his "mean tweets" on "Jimmy Kimmel Live," poking fun at himself and showing how loose he was before Sunday's game.
Brady played along, smiling, while reading tweets such as, "Hi, I'm Tom Brady and I'm a crybaby and I have a butthole in my chin." He also laughed at some of the meaner ones, one in particular that read, "Can we be real for a moment? Is there really anyone you'd rather see dropped in a vat of rendered bacon fat than Tom Brady?"
Brady laughed at most of the tweets aimed at him. Directing a harmful shot at his dog, however, went a little too far. "F–k you, Tom Brady. I hope your dog eats chocolate and gets really sick and throws up on your socks." Brady responded, "That's f—ed up." If the Chiefs want to rattle Brady, they might need to do some trash-talking about his dog and not Brady himself.