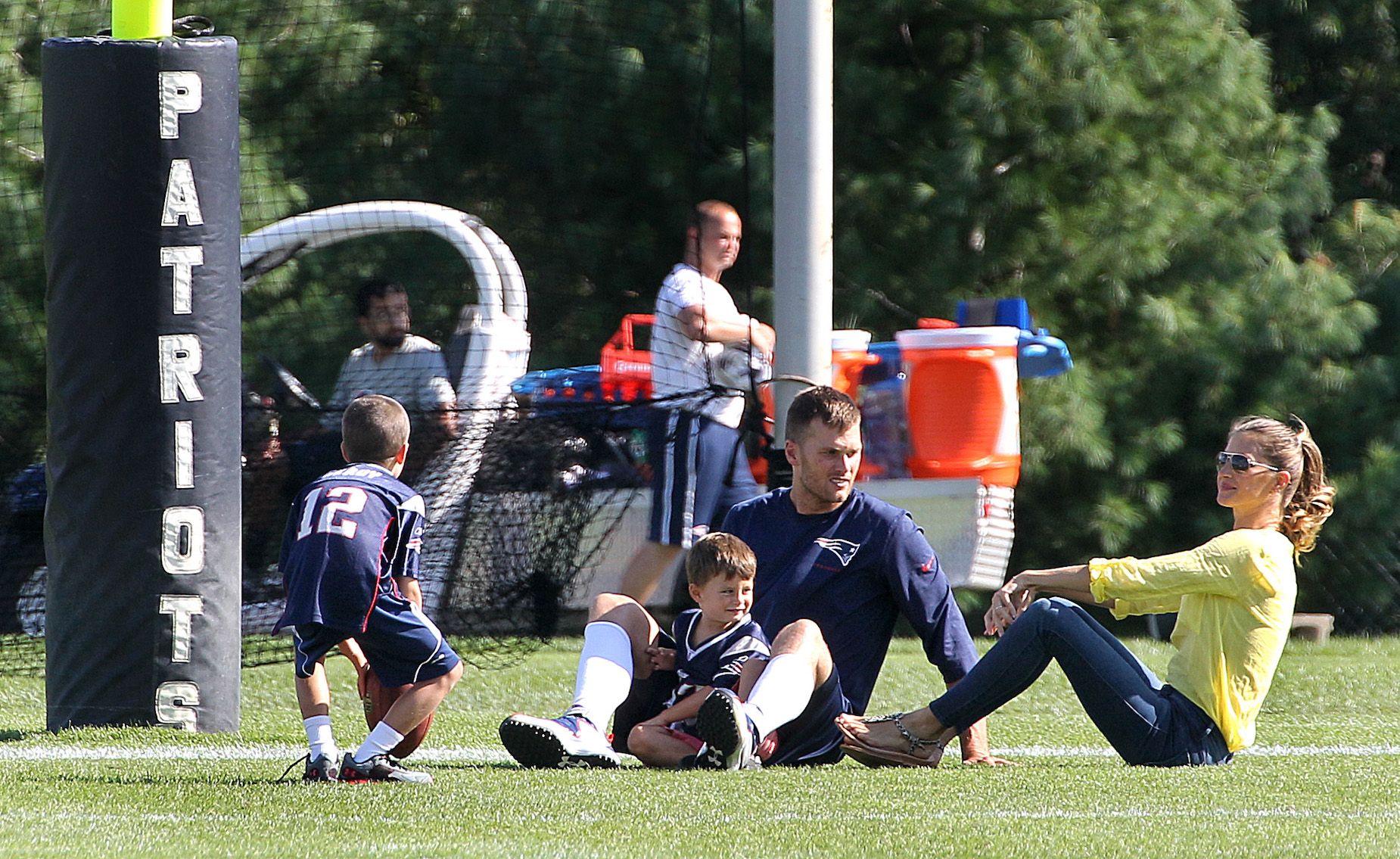 Tom Brady Has 2 Sons and Would 'Absolutely' Let Them Play Football
Tom Brady has three children; two of them are sons. Will either of those boys follow in their father's footsteps and play football?
In the world of sports, there's no shortage of family dynasties. In the NFL alone, for example, two generations of Mannings have stood under center; if Arch makes it to the pros, he'll be a third. For all of his accomplishments, though Tom Brady hasn't started his own dynasty just yet.
In the future, though, that could still change. Tom Brady has two sons, and, while they're a bit young to be thinking about the NFL, the quarterback would "absolutely" support them hitting the gridiron.
Tom Brady's legendary NFL career
After two decades in the pros, Tom Brady is simply part of the NFL landscape; you know he'll show up, win football games, and, more often than not, make an annual run at the title. That familiarity, however, shouldn't devalue just how impressive the quarterback's career has been.
Brady, of course, didn't enter the professional ranks as a highly-touted star; after playing his college football at the University of Michigan, he fell all the way to the sixth round of the 2000 NFL draft. As that status would lead you to believe, even the Patriots didn't have high hopes for the young quarterback.
Despite that initial skepticism—Robert Kraft once described Brady as a "skinny beanpole, with this pizza under his arm" and Drew Bledsoe though the rookie wouldn't become anything more than a backup—fate had other plans. When Bledsoe suffered an injury during the 2001 campaign, Brady stepped into the breach; at that moment, NFL history changed forever.
During his time with the Patriots, Brady grew into one of the greatest quarterbacks that football has ever seen. While he didn't have the raw talent or athleticism of other stars, the New England signal-caller had a knack for making the perfect play at just the right moment; even if you think Bill Belichick deserves most of the credit, it's tough to argue with Brady's six Super Bowl rings and three NFL MVP awards.
How many children does Tom Brady have?
No professional athlete, no matter how dull they may seem in postgame press conferences, is a robot; they all have lives and families outside of sports. Even Tom Brady is no exception to that reality.
As of October 2020, Brady has three children. The oldest, John "Jack" Edward Thomas, was born in 2007 to the quarterback's previous partner, Bridget Moynahan. Benjamin, born in 2009, and Vivian Lake, born in 2012, are from Brady's current relationship with Gisele Bündchen.
Unsurprisingly, sports run in the Brady family; Jack and Benjamin, however, seem to have other athletic interests beyond the gridiron.
"I think they're into watching [football] because of their dad, but … my oldest son Jack really loves soccer. He wants to be an Olympics soccer goalie," Brady told People in 2018. "My son Benny is really into hockey."
The quarterback would 'absolutely' let his sons play football
As of that 2018 interview, Tom Brady's sons hadn't hit the gridiron. If they even want to put on the pads, though, their dad won't stand in their way.
During an April 2020 interview with Howard Stern, Brady said that he would "absolutely" let his sons play football. In his mind, contact sports can teach participants an important lesson about taking care of themselves.
"I think there's something about contact sports that teaches you a lot about discipline, respect, mutual respect for your opponent, that you don't get in non-contact sports," Brady said, according to ProFootballTalk. "If your body is taking a physical toll and punishment, you've got to respect your body because that's your insulation, that's your asset. You have to have even more respect for your body. Boxers, for example, MMA, wrestling, the contact sports are the ones where I think you learn the most discipline. Because you can't perform unless you take great care of your body."
The quarterback, however, did have one specific concern about his sons playing football: the burden of expectation.
"I would never want for them to be 'Tom Brady's son' playing football," he explained.