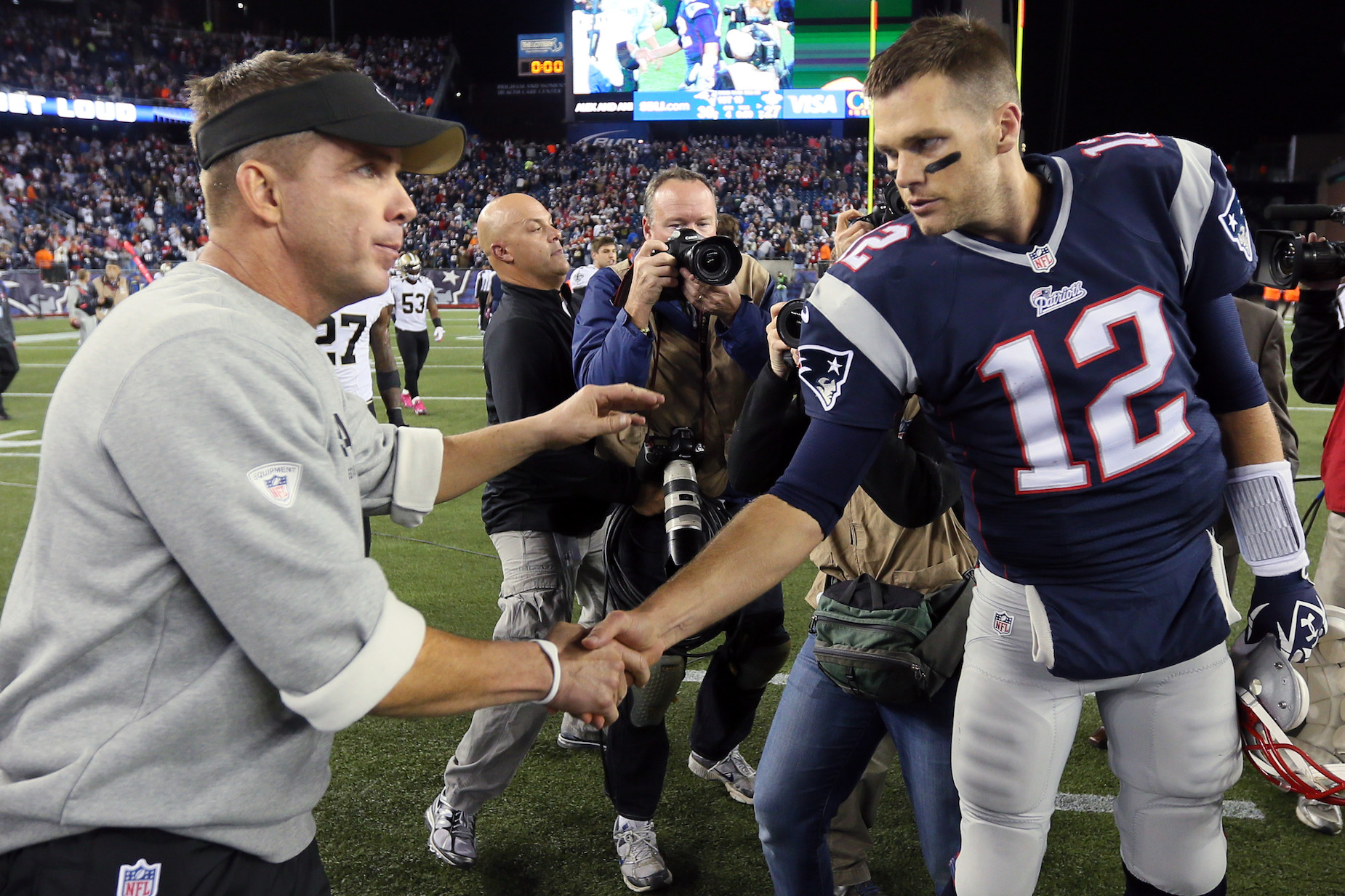 Tom Brady is Already Trolling Sean Payton Ahead of Their Week 1 Matchup
With an NFC South matchup with the New Orleans Saints on the horizon, Tom Brady is already trolling Sean Payton ahead of Week 1.
After what felt like an eternity of waiting, the 2020 NFL season has finally arrived. While there are plenty of storylines to follow, few are bigger than Tom Brady's first season with the Tampa Bay Buccaneers. The veteran quarterback might be new to the NFC South, but he's already making an impact on the division; just ask New Orleans Saints coach Sean Payton about that.
On Sunday, Brady will make his Buccaneers debut against Payton's Saints. Ahead of the game, though, TB12 has already started messing with his first opponent.
Tom Brady has changed the NFL landscape
While defense might win championships, quarterbacks are the main men in the modern NFL. Even if he's nearing the end of his career, Tom Brady still knows a thing or two about winning football games.
Brady, of course, rose to prominence in New England, growing from a skinny sixth-round pick into one of the NFL's top talents. Although the quarterback was never the most athletic man on the gridiron, it soon became impossible to argue with his resume; even the most fervent Patriots-hater has to begrudgingly acknowledge Brady's knack for winning the big game.
After two decades in Foxborough, though, the veteran quarterback decided that he was ready for a new challenge. He left New England for Tampa Bay, shaking up the entire NFL landscape in the process.
While the Buccaneers have assembled some nice pieces in recent years, Brady's arrival has changed everything. Not only is the team a desirable destination—Brady's since been joined by the likes of Rob Gronkowski and Leonard Fournette—but the franchise now has some enhanced expectations. With a living NFL legend at the helm, it's not enough to chase a Wild Card berth; the Bucs have to make the playoffs, if not take a proper run at the title.
Tom Brady is already messing with Sean Payton
While Tom Brady and Sean Payton are presumably well acquainted with one another from their time in the NFL, the two men are now divisional rivals. Ahead of their Week 1 matchup, there's already some psychological warfare taking place.
During his recent media availability, Payton praised Brady's longevity; the Saints coach also noted that the quarterback sold had some fantastic products through his personal brand. "Tom's got that whole TB12 line, and he had me buying the water in the offseason, and it was fantastic," Payton explained, according to Eduardo A. Encina of the Tampa Bay Times.
As any long-time online shopper can tell you, though, one purchase usually leads to an inbox full of junk emails. Sean Payton, tried asking Brady for help, but didn't get much assistance.
"Only (problem) is, the emails don't stop coming," the Saints coach continued. "And I told [Brady], 'Hey, can you stop sending me emails? And then he purposely went to the company and now they're doubled. Every morning I wake up, I'm gonna erase about 15, maybe 12 emails."
Sean Payton can get his revenge on Sunday
While spam emails can be pretty annoying, Sean Payton won't be too distracted by what's going on in his inbox. On Sunday, his Saints will open their season against Tom Brady and the Tampa Bay Buccaneers.
In earlier seasons, the matchup wouldn't have raised any eyebrows; in 2020, though, it will be a test for both teams. As the NFC South's top dog, the Saints will want to make a statement against their new competition. For Brady and the Buccaneers, this is their chance to prove their offseason moves can pay off; if the club is serious about making a run at the title, they'll eventually have to beat some big-time teams like New Orleans.
When the Buccaneers and Saints meet on Sunday, Tom Brady and Sean Payton will get a chance to settle their differences on the gridiron. Who knows, the fate of the Saints coach's inbox could be hanging in the balance.