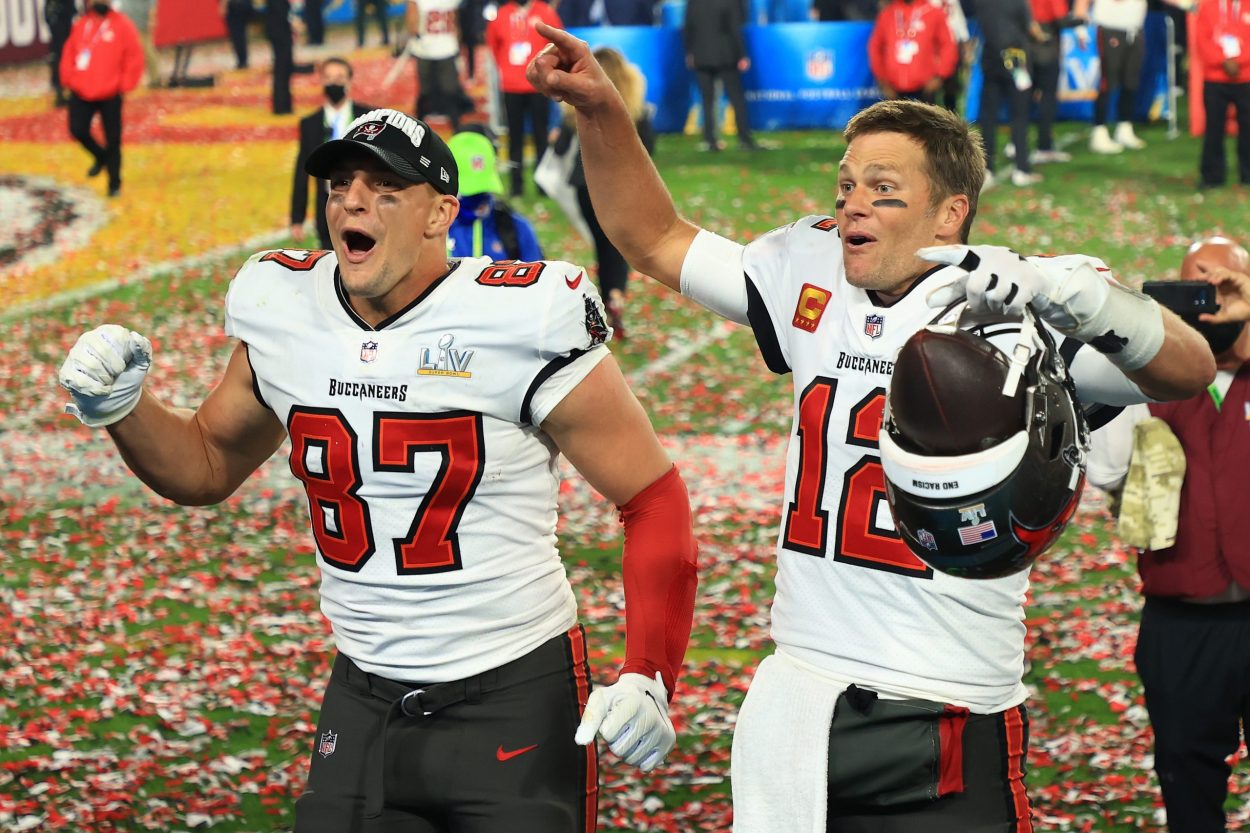 Tom Brady On Rob Gronkowski Playing in 2022: "He Certainly Can Do It"
Tom Brady said on his podcast last week he hopes Rob Gronkowski returns to the NFL in 2022.
Rob Gronkowski didn't announce his retirement from the NFL Tuesday, either.
Aaron Rodgers made himself the story on Tuesday, turning the Pat McAfee Show into a modern episode of Seinfeld: A show about nothing. Despite a highly-suggestive Instagram post on Monday night, Rodgers declared Tuesday that no news was good news, and the world hit the collective "click" on their YouTube channel.
But it was the podcast of that famously-retired (for now) quarterback Tom Brady that slipped through the news cracks last week. On his weekly, "Let's Go" pod with Larry Fitzgerald and Jim Gray, Brady talked about the potential retirement of his passing game sidekick Rob Gronkowski.
And while the world is speculating on Brady's every move these days, Brady offered his thoughts on what the big tight end ought to be doing in 2022.
Brady on Gronkowski: 'I think football's a lot better when he's in it.'
Tom Brady's NFL career can be broken down into three acts. The first one ran from 2001-09, with three Super Bowl wins with the New England Patriots, a crushing loss to the Giants and the knee injury that ruined his 2008 season. The second act, from 2010-20, saw the arrival of Gronkowski in Foxboro and the second wave of the dynasty, with three more Super Bowl titles. Then, the final chapter, with another pairing with the Tampa Bay Buccaneers and the seventh and final Super Bowl title and the fourth with Gronk as a teammate.
So much history and so much success as partners on the field and off. And that emotion was present in Brady's comments when asked about whether Gronkowski should continue playing in 2022 without him.
"I don't know. I certainly hope [he plays]," Brady said. "I mean, I've watched him basically practice and play since he started in the NFL. He can certainly do it. It's a big commitment for all of us. It's a big commitment to keep playing. And I know when he's willing to make that commitment he's unstoppable out there as a player.
"So, he'll have a lot of opportunity in every aspect of life because of who he is and his personality and what he brings to what he does. So, I sure hope so. And there's a lot of players that are gonna be facing those tough decisions and really weighing the risks [and] the rewards to continue to play. But Gronk is someone that I love. He's an inspirational person for me, an inspirational friend, teammate. And I think football's a lot better when he's in it."
Gronkowski on Gronkowski: 'I'll figure all that out in the future.'
For his part, Gronkowski is keeping his deliberations about his future pretty close to the vest. His most recent comments came during Super Bowl weekend, when asked about retirement while walking the red carpet at the NFL Alumni Legends Party. Gronk punted on the topic, focusing instead on his musical inspiration.
"I'll figure all that out in the future'' Gronkowski said, according to USA TODAY. "Let everything play out, then make a move. So, I'm just relaxing, letting my body heal, have a good time, have some laughs.
"Flo Rida's performing tonight. He's my favorite performer of all time. So that's what it's all about. When you're not playing the game, you've got to just enjoy yourself.''
But Gronkowski did have some thoughts on his former quarterback. Put Gronk in the bucket with those who expect Brady to return to the field, if not in 2022, then soon after.
"If he's 50 years old, he can still come back," Gronkowski said. "I think he's going to come back, but in a couple of years. The guy's a beast. He can play anytime."
If Gronkowski decides to play, where does he stay?
At some point, probably sooner than later, Gronkowski will have to decide if he's returning in 2022. Unlike following the 2018 season, when Gronkowski "retired" for a season, then came out of retirement to join Brady in Tampa in 2020, the soon-to-be 33-year-old probably can't afford to sit out a year, then come back in 2023, with Brady or without.
At least one part of Gronkowski's decision will likely be made for him by March 16, when free agency begins. Gronkowski is an unrestricted free agent, and the Buccaneers are guessing along with everyone else what Gronk's plan is going to be.
In two seasons with Brady and the Buccaneers, Gronkowski had 100 catches for 1,425 yards and 13 touchdowns.
"I don't think it's going to be dependent on whether Tom came back or not from what I understand, and I know that Rob had an incredible experience here as well," Buccaneers general manager Jason Licht said recently. "He was a big factor in us having the success that we had. We would welcome Rob back with open arms, but we're giving him his space right now to decide on what he wants to do."
Stats courtesy of Pro Football Reference