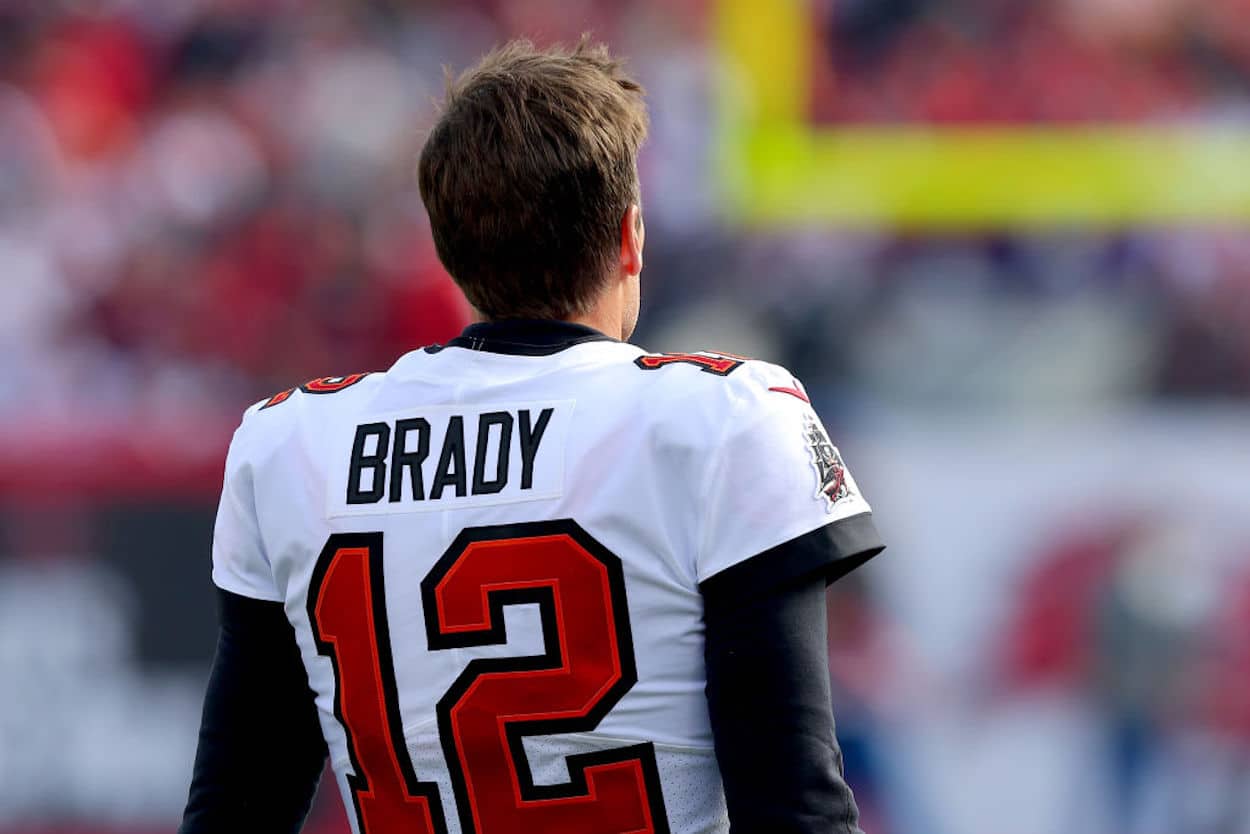 Tom Brady Will Be 'Very Good' In the Broadcast Booth, Says Jim Nantz
Tom Brady hasn't officially headed into the broadcast booth yet, but Jim Nantz thinks he'll find plenty of success there.
Much to the chagrin of everyone other than New England Patriots and Tampa Bay Buccaneers fans, Tom Brady seems to have the magic touch. No matter where the veteran quarterback seems to go or tries to do, success usually follows. Now, it seems like he'll be putting that hot streak to the test in the broadcast booth.
While it's not 100% clear when TB12 will step behind the microphone — he'll have to retire from football first, which is easier said than done — we're already hearing praise for his skill set. In a recent interview, Jim Nantz, who predicted Tony Romo's broadcast skills, said that he thinks Brady will find success in the booth.
Jim Nantz knew Tony Romo would shine, and he's predicting the same for Tom Brady
Although broadcasting a game may seem easy — it's just talking about sports, after all — plenty of former athletes have fallen flat when the action begins. If you trust Jim Nantz, though, a similar fate won't befall Tom Brady.
"First off, I know Tom really well," the veteran broadcaster explained. "He's a friend, and I've done over a hundred of his games, more than anybody by about 40-something games. I believe Al [Michaels] would be somewhere in the 60-something number of games. I only know this because The Boston Globe wrote about it a year ago. But he'll be very well prepared. That goes without saying. His analytical brain, when you sit in a production meeting, and you hear what it is that is going on in his mind and what he sees, I know he's going to be able to articulate that. I think he'll be very good. I don't have any question about it."
Nantz also made sure to point out that when Tony Romo made the jump to broadcasting, he was one of the few who had confidence in the Cowboy's skills.
"I never had a doubt that he would be an absolute genius at this," Nantz said of his current partner. "I had a friendship with Tony that went back many years before the arranged marriage by CBS to put us in the booth together. I had the pleasure of his company many times offsite, at golf events or at dinners or a Final Four, playing in the tournament at Pebble Beach. There was a friendship there. And just I knew the way Tony expressed himself that he would be a natural. Now, as this all evolves over the summer of '17, I had a lot of folks in the media who would call me up and say, 'How's he gonna be?' and I said, 'Listen, you could be on the right side of history if you want. I guarantee you that he is going to be a star. Now, if you want to hedge it because you don't believe it, cause you have some other vision of him, what he's going to sound like or be like, then, hey, that's up to you. But if you want to be on the right side of history, I'm gonna tell you right now. The guy's gonna be, in time, he might be the best who's ever done this.'"
While Romo might not be the broadcasting GOAT yet, he's certainly lived up to Nantz's hype.
At this point, Fox will be hoping that Brady is worth the $375 million
While Nantz probably has more knowledge than the average fan, not every athlete can step into the broadcast booth. The folks at Fox, however, will be hoping that the CBS analyst is right on the money.
If early reports are to be believed, Fox has handed the quarterback a 10-year, $375 million contract to step behind the microphone. If that salary sounds massive, that's because it is; according to Andrew Marchand of the New York Post, ESPN paid $33.5 million per year to hire Joe Buck and Troy Aikman away from Fox.
Beyond the raw salary and term of the contract, Brady will also presumably be stepping into the network's top color commentary role. That all combines to be quite the responsibility; if TB12 were to fall flat, Fox can't exactly shuffle him out the door under the cover of darkness.
As of now, though, a few factors do appear to be working in Brady's favor. The quarterback has become a bit more personable over the years, as demonstrated by some jokes after the Tampa Bay Buccaneers' Super Bowl victory. While there's more to color commentary than being comfortable in your own skin, viewers don't want to hear a dry lecture on Sunday afternoon.
Then, as Nantz said, there's simply the football knowledge. While we don't have the same access to production meetings that the CBS man does, it's safe to assume that the Bucs' quarterback knows a thing or two about football. Again, that's enough to guarantee success, as there's such a thing as information overload, but it's better to be over-prepared instead of lacking substantive insight.
It's also worth noting that Brady has a history of performing under pressure. He might not be at Michael Jordan's level of taking things personally, but he's not going to take the burden of his legacy lightly. At the risk of speaking for someone I've never met, Tom Brady isn't going to allow his reputation to be "great quarterback, awful broadcaster."
At this point, though, we'll just have to wait and see if Jim Nantz is right. Fox will have 375 million reasons to hope he is.
Like Sportscasting on Facebook. Follow us on Twitter @sportscasting19 and subscribe to our YouTube channel.