Tom Brady Will Never Let Ian Eagle Forget the Time He Had Pepsi and a Donut for Breakfast
There's plenty not to like about Tom Brady unless you're a New England Patriots or Tampa Bay Buccaneers fan. It starts with those seven Super Bowl rings and extends to his famously beautiful wife, his own good looks, and the pile of money he's sitting on thanks to the most accomplished NFL career ever.
Ian Eagle adds one more reason to despise Brady: "He doesn't forget s—."
Yeah, we know all about TB12 and healthy eating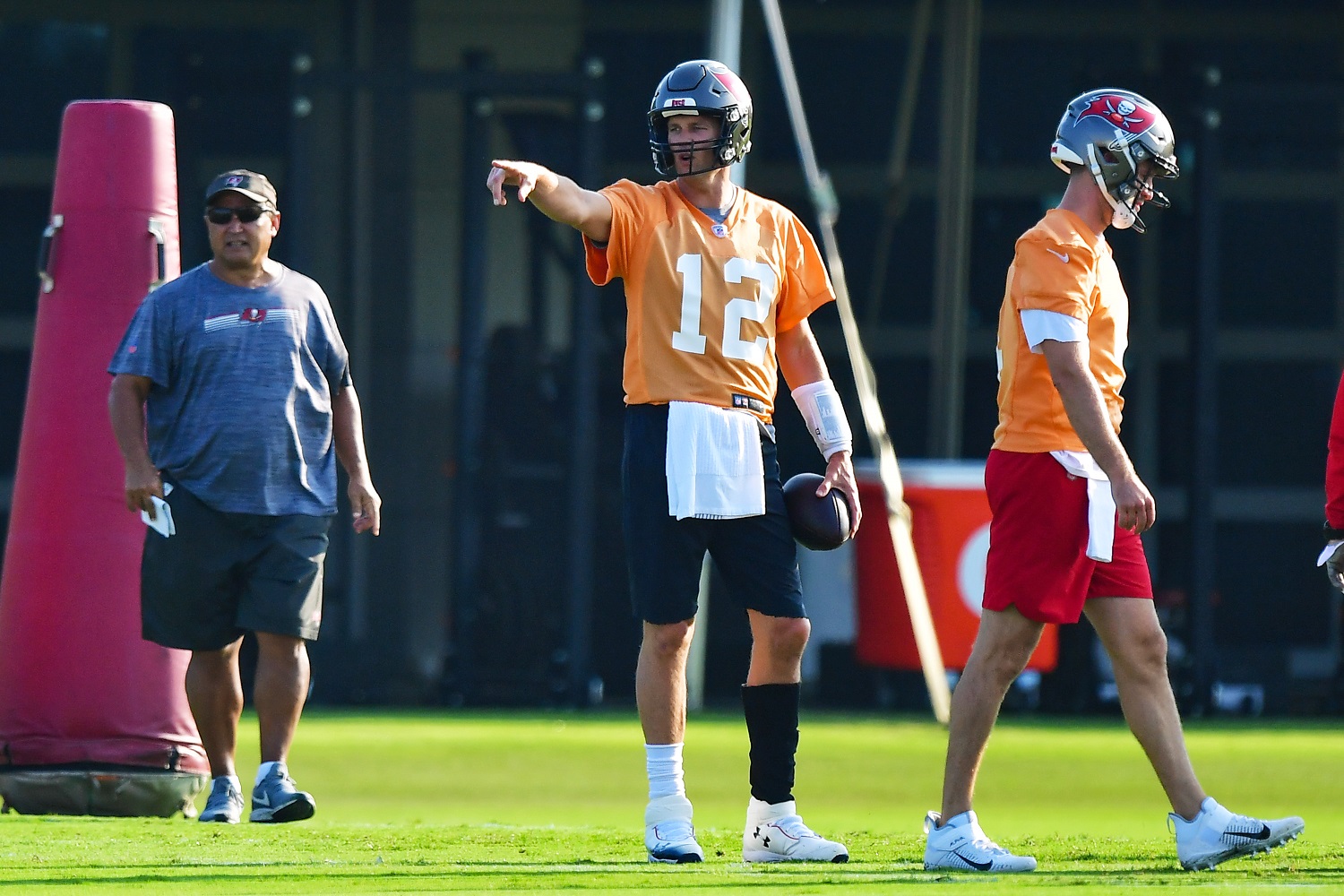 When he's not winning Super Bowls, Buccaneers quarterback Tom Brady continues to focus on his prospering health and fitness brand as well as the training regimen that is helping him continue to play pro football at the age of 44.
It's been impressive dedication for a player who entered the NFL in 2000 as a scrawny-looking physical specimen out of the University of Michigan. Brady teamed up long ago with at-times controversial trainer Alex Guerrero, and the pair formulated the TB12 Method. Shunning popular foods and snacks isn't for everyone, but it certainly works for Brady.
Throw out the knee injury in the 2008 opener, and Brady's durability ranks right up there with any player in the history of the NFL. Add in the fact that he's coming off a 40-touchdown season, his second-most productive year in the league, and it's hard not to marvel at Brady.
But that doesn't mean that average folks have to like him.
Tom Brady will never let Ian Eagle forget that breakfast
As one of the play-by-play announcers at CBS, which primarily covers AFC teams as part of its NFL broadcasting contract, Eagle used to deal with Brady and the Patriots frequently. Appearing on Jimmy Traina's Sports Illustrated podcast, Eagle recalled an episode that offers some insight into why the quarterback is not, shall we say, everyone's cup of coffee.
Eagle recounted the story of an early-morning flight into Boston on too little sleep. He was admittedly dragging when he reached the media room at the Patriots' training facility. But Eagle isn't a coffee drinker and looked toward another form of caffeine.
"First, they bring Dunkin' Donuts, big box. And in the press area, they have sodas, and it was a large Pepsi," he said. "So, I just convinced myself, 'I'm just going to have the Pepsi. That's going to give me the jolt.' And they bring donuts.
"So, Tom walks in. I have a large Pepsi in front of me and a half-eaten chocolate frosted donut. And he says, 'Having a good morning? Ian, how's that all working out for you?' I said, "Oh, no, no, no. Normally, I wouldn't have a Pepsi at 9 a.m. And he doesn't want to hear it. He's like, 'No, no, you're having a Pepsi at 9 a.m.
"And I said, "Well, have you ever had a Pepsi?" He goes, "No, never had soda."
Naturally, it doesn't stop there with Brady.
Ian Eagle on Tom Brady: 'He doesn't forget s—'
Eagle figured the episode with Brady was over, but he got to relive it soon afterward.
"Three weeks later, we have them again, road game," Eagle continued. "First thing he says when he steps up, he's like, 'Where's your donut? Where's your Pepsi?' He knows to keep going back to it. A year later, he'll go back to it.
"He doesn't forget s—."
If there's any consolation for Eagle, it's that he doesn't get to see much of Brady anymore. With the Buccaneers in the NFC, most of Tampa Bay's games land on Fox Sports. And CBS will undoubtedly assign its top team of Jim Nantz and Tony Romo to whichever Bucs games they handle this fall.
CBS has not disclosed its lineup of announcers for the 2021 season, but Eagle will remain prominent in the mix. After previously working alongside analyst Dan Fouts in the booth, he did games last fall with Charles Davis, who came to CBS after a stint at Fox.
Like Sportscasting on Facebook. Follow us on Twitter @sportscasting19.