Troy Aikman's 'Rock Bottom' in Football Came After a Game He Didn't Even Play In
None of Troy Aikman's 75 losses as the Dallas Cowboys' starting quarterback left him feeling as empty as the aftermath of an NFL game played seven years after he retired.
Aikman thinks of it as his "rock bottom" moment. The rest of football remembers it as Super Bowl 42, the day that the New York Giants stomped on the New England Patriots' dream of a perfect season.
Troy Aikman went from winning Super Bowls to broadcasting them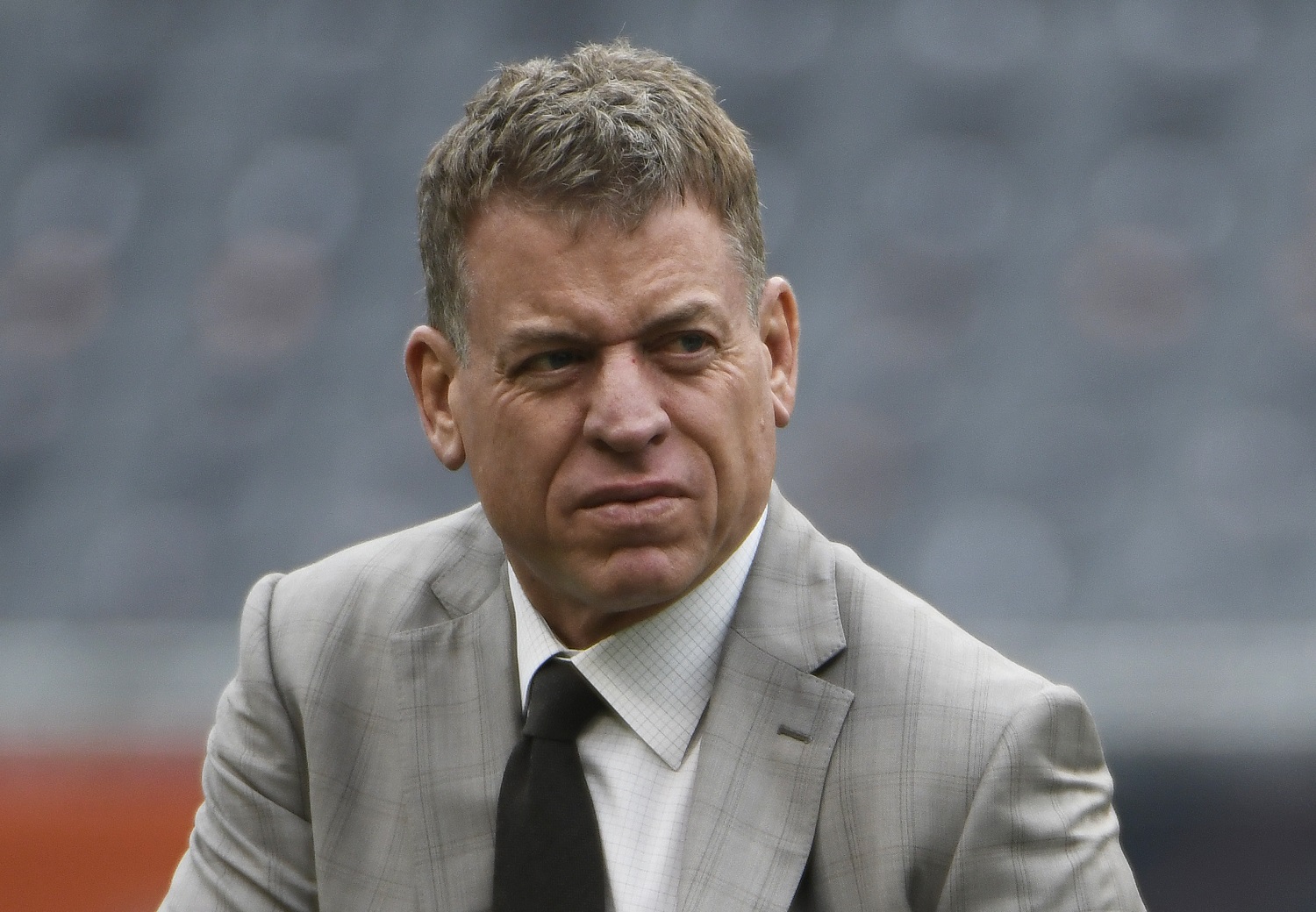 Aikman made an immediate transition from an NFL quarterback with three Super Bowl victories to one of the highest-profile announcers in televised sports.
Aikman retired from the Cowboys after the 2000 season and joined Fox Sports the following fall. A year after that, Aikman moved up to the network's No. 1 team alongside Joe Buck and Cris Collinsworth. He called his first Super Bowl in 2005, which saw the Patriots edge the Philadelphia Eagles, 24-21.
As NFL championship games go, Super Bowl 39 rated in the middle of the pack for being memorable. Aikman's second taste of calling the biggest event in American team sports left a far greater lasting impression. But memories of it stick with Aikman for a reason considerably different than why the average fan still recalls it.
Having played in Super Bowls, this one didn't mean as much to Troy Aikman
Super Bowl 42 came down to Eli Manning connecting with Plaxico Burress for the winning touchdown with 35 seconds to play, but the game endures in fans' memories for two reasons:
David Tyree's ball-to-the-helmet catch to keep the winning drive alive.
The Giants foiled the Patriots' bid for a 19-0 season.
Appearing on The Ringer's Flying Coach podcast co-hosted by Sean McVay and Peter Schrager, Aikman recalled skipping the Fox Sports crew's post-game party in favor of dinner with his wife. While there, he bumped into Ron Jaworski, another quarterback-turned-broadcaster.
Jaworski remained revved up about the thrilling ending to the game. Aikman remembers responding with indifference as "Jaws" recalled Tyree's catch.
"He says, 'Man, what's wrong with you?' Aikman recalled. "And I said, 'Jaws, nothing's wrong, but what did I do? I didn't do anything. All I did was talk about (the game).'"
Aikman explained to Jaworski that watching and analyzing the game didn't match the feelings he remembered from playing. Jaworski walked away, undoubtedly puzzled, and Aikman turned to his wife to explain his moment of clarity.
'I could not be more miserable'
"I may look back on my career in broadcasting and this may be the biggest game that I'll ever call," Aikman told his wife, in the podcast transcribed by Audacy.com. "And here we are, just an hour after the game ended, and everyone's ecstatic, what a great game and great ending, and I said, 'I could not be more miserable.'"
Aikman knew how strange it sounded, but it was a feeling he could not shake.
"I mean, I felt no sense of accomplishment, nothing. And I said to her, 'Man, if this is supposed to be the pinnacle of this profession, then I'm in the wrong profession.' … That that was rock bottom for me in this profession."
Aikman wasn't able to put his thumb on why and when his feelings changed, but he stuck with broadcasting and regained his enthusiasm.
"You want to walk away from your job feeling like you've done something worthwhile and noteworthy," he said, "and I do now when I leave the stadiums."
The Buck-Aikman team remains one of the best-known broadcasting combinations in any sport, so Aikman is obviously back on track.
Like Sportscasting on Facebook. Follow us on Twitter @sportscasting19.