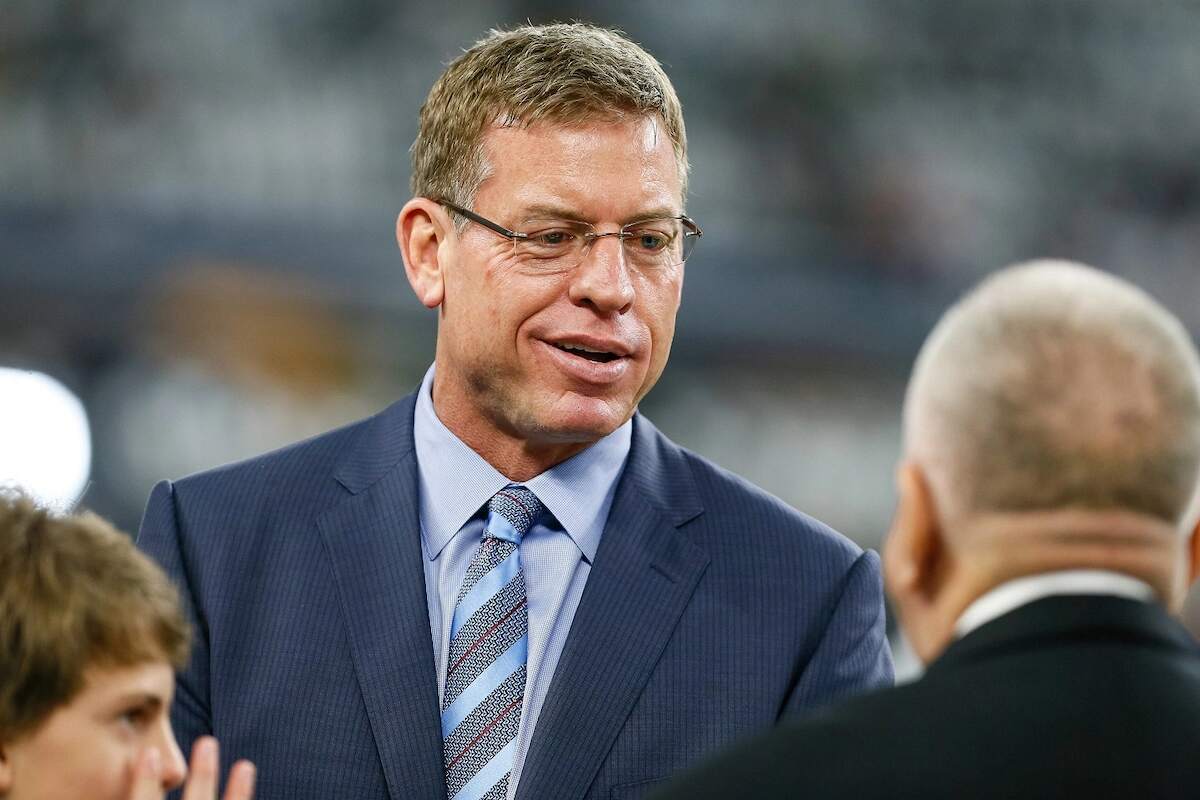 Troy Aikman Says Jerry Jones and Jimmy Johnson Ignored Their Own Advice About Big Egos
Troy Aikman says the clash of egos between Jerry Jones and Jimmy Johnson likely cost the Dallas Cowboys more trips to the Super Bowl and potential championships.
Dallas Cowboys owner Jerry Jones and coach Jimmy Johnson turned the NFL upside down with their blazing-fast rebuild leading to three Super Bowl victories in four years. Troy Aikman racked up three rings from the mini-dynasty. But the Pro Football Hall of Fame quarterback feels cheated that he didn't earn one for each finger on his throwing hand.
Jones and Johnson screwed up a good thing by ignoring the coach's advice to Aikman and his Cowboys teammates.
Jerry Jones ushered in a new era for the Dallas Cowboys
Tex Schramm was the Dallas Cowboys' original president and general manager. Tom Landry was the coach from the start. Together, the pair built an NFL success story. After six long years of struggles out of the gate as an expansion team, the Cowboys posted 20 straight winning seasons beginning in 1966.
The Cowboys made the playoffs 18 times, won two Super Bowls, and appeared in three others behind stars like Roger Staubach and Tony Dorsett. However, losing three straight NFC championships games beginning with the 1980 season signaled the end was near. Though the Cowboys would go 31-17 in the three seasons that followed, the roster was growing old. Some believed Landry was falling behind his peers.
Three straight losing seasons, including a 3-13 mark in 1988, brought about the end. Owner Bum Bright sold to Jerry Jones, who fired Landry and hired college friend Jimmy Johnson from the University of Miami to coach.
Jones and Johnson wheeled and dealed during a 1-15 debut, installed Troy Aikman as their quarterback, and began a massive overhaul. The Cowboys climbed to 7-9 in the following season and then 11-5 with a return to the playoffs in 1991.
The best was yet to come — followed by a disastrous falling out.
Jerry Jones and Jimmy Johnson soared and then crashed
Dallas Cowboys fans' dreams came true with victories over the Buffalo Bills in Super Bowl 27 at the Rose Bowl and Super Bowl 28 at the Georgia Dome. The party ended, literally and figuratively, immediately afterward.
Owner Jerry Jones and coach Jimmy Johnson contemplated a breakup even before they won that second NFL championship together. A running battle had begun over the final say in personnel decisions, compounded by talk that Johnson might bolt to the Jacksonville Jaguars.
Then came the infamous early-morning rant in a bar in which Jones told sportswriters the Cowboys were so good that any of 500 coaches could have steered them to victory. Understandably, Johnson felt disrespected upon hearing the remarks and walked out on the organization.
"We loved playing for him. We were really good, having a lot of fun," quarterback Troy Aikman said on Morten Andersen's podcast for VegasInsider.com. "And, man, our second Super Bowl, when we beat Buffalo in Atlanta — to think that that would be the last game that Jimmy Johnson would coach us. I mean, it's unimaginable to be back-to-back champions and then go back to your third year and not have your head coach be the guy leading the troops."
Jones responded to Johnson's departure by hiring Barry Switzer, the former University of Oklahoma coach.
Troy Aikman calls out the hypocrisy of the Dallas Cowboys brain trust
The Dallas Cowboys lost to the San Francisco 49ers in the NFC championship game to conclude the first season under Switzer. But they won Super Bowl 30 against the Pittsburgh Steelers the following year. However, their consecutive 12-4 seasons came primarily with Johnson's players.
Dallas slipped to 10-6 and then 6-10 in Switzer's final two seasons. The Cowboys have not returned to a conference championship game since.
"I don't want to say, 'Oh, we would have won X number more (under Johnson)," quarterback Troy Aikman said. "What I do know, though, is we would have been competitive a lot longer than we were. We would have been really good and at least had a chance to get to the postseason and win a Super Bowl for a long period of time."
Aikman said Johnson used to console Cowboys players who missed out on Pro Bowl selections by telling them that "there's going to be enough credit to go around for everybody. Everybody is going to have a hand in our team's success."
Aikman said he and the other leaders on the team bought into that. "We did it very happily because we wanted to win," he said. "But the two leaders of our franchise, the owner, Jerry Jones and then Jimmy Johnson, they couldn't make that work because they both wanted all the credit.
"And so that disappointment for me was that egos are what ultimately tore our team apart at a time when the players themselves were sacrificing so much."

Troy Aikman
Like Sportscasting on Facebook. Follow us on Twitter @sportscasting19.