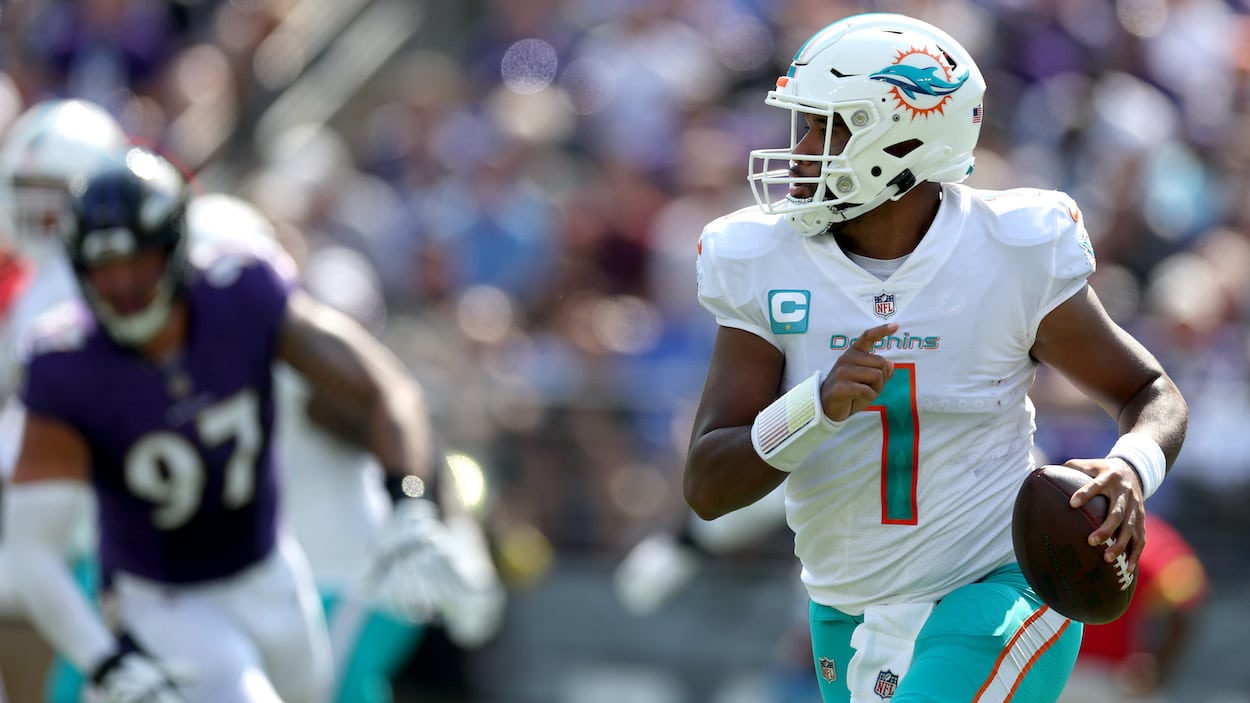 Tua Tagovailoa Doesn't Impress Colin Cowherd Yet After Dolphins Win: 'Congratulations for Hitting a Bunch of Wide Open Guys'
After leading an incredible comeback in Week 2, its easy to praise Dolphins QB Tua Tagovailoa, but Colin Cowherd says not so fast.
One of the NFL's best 2-0 stories after Week 2 is quarterback Tua Tagovailoa and the Miami Dolphins. The third-year signal-caller led his team on a staggering comeback after going down by 21 at halftime vs. the Baltimore Ravens. Sports talk maven Colin Cowherd says everyone needs to pump the breaks on the Tua love, though. Even with his improved numbers (and results), Cowherd isn't ready to crown the Dolphins QB as one of the best in the league yet.
Despite the Dolphins' win, Colin Cowherd doesn't believe in Tua Tagovailoa yet
At halftime of the Dolphins Week 2 matchup vs. the Ravens, Lamar Jackson looked like an MVP candidate, and Miami looked like the same old 'Phins. When the clock counted down to 0:00, though, it was the young signal-caller Tua Tagovailoa with all the buzz.
After leading an impressive comeback and throwing for over 300 yards in the second half alone (more on that below), the overreaction Monday crew is in full effect, praising Tagovailoa to the hilt.
One voice of reason on the other side is Colin Cowherd. He's not crushing Tua. But he's also not ready to crown him as one of the great young QBs in the league just yet.
Tua is going to start putting up big numbers, as we predicted all offseason, and you're going to get fooled and suddenly think he's great," Cowherd said on The Herd with Colin Cowherd. "Congratulations for hitting a bunch of wide-open guys on broken coverage. He's still small and not very athletic with an average deep arm."
Cowherd noted that most of the big throws Tagovailoa hit on Sunday vs. the Ravens were "lay-ups," "practice throws," and great catches by his talented pass-catchers.
The host then asked (and answered) where Tagovailoa ranks among AFC QBs in Week 2 of the 2022 NFL season:
"Is he Josh Allen? Hell no. [Justin] Herbert? No. [Joe] Burrow, despite the 0-2 record? No. Patrick Mahomes? No. Lamar Jackson? Nooo."

Colin Cowherd on Tua Tagovailoa
Cowherd's final verdict is that Tua Tagovailoa is "a capable guy" but limited. The host brought up San Francisco 49ers QB Jimmy Garoppolo as an apt comparison.
While Tagovailoa might not be on the level of the AFC's elite right now — and may never be — he sure had an incredible second half of Week 2.
How the Dolphins came back on the Ravens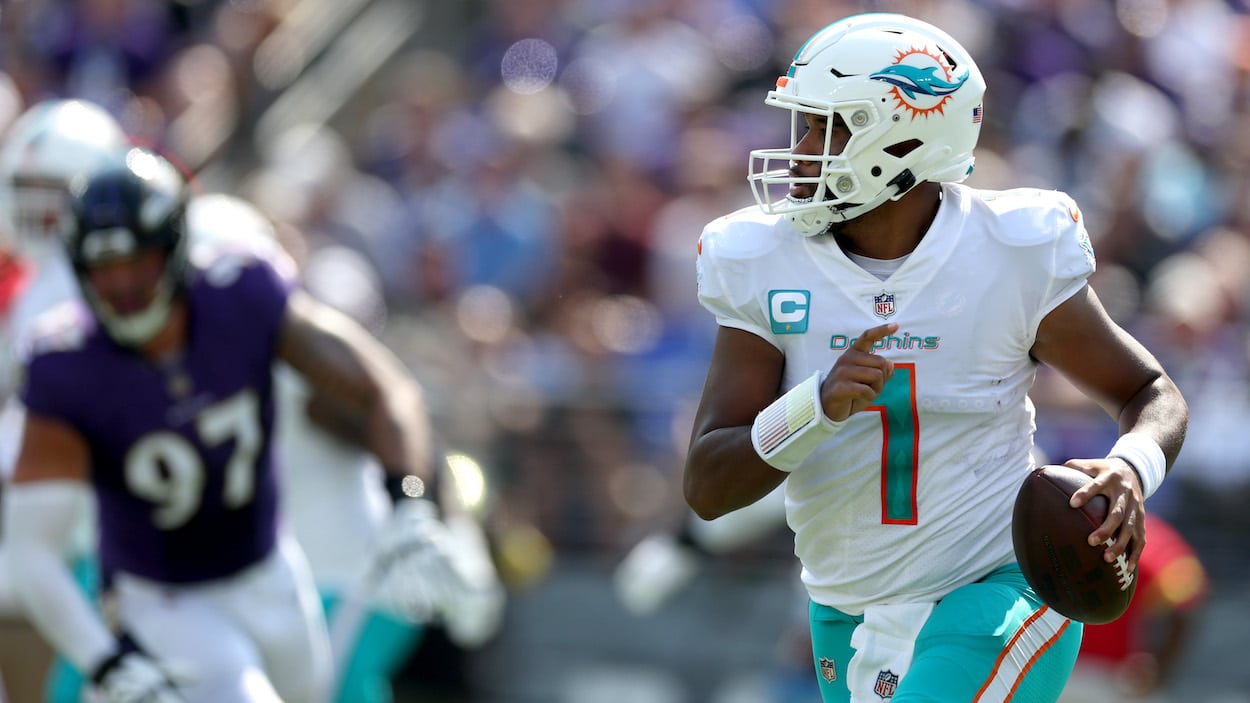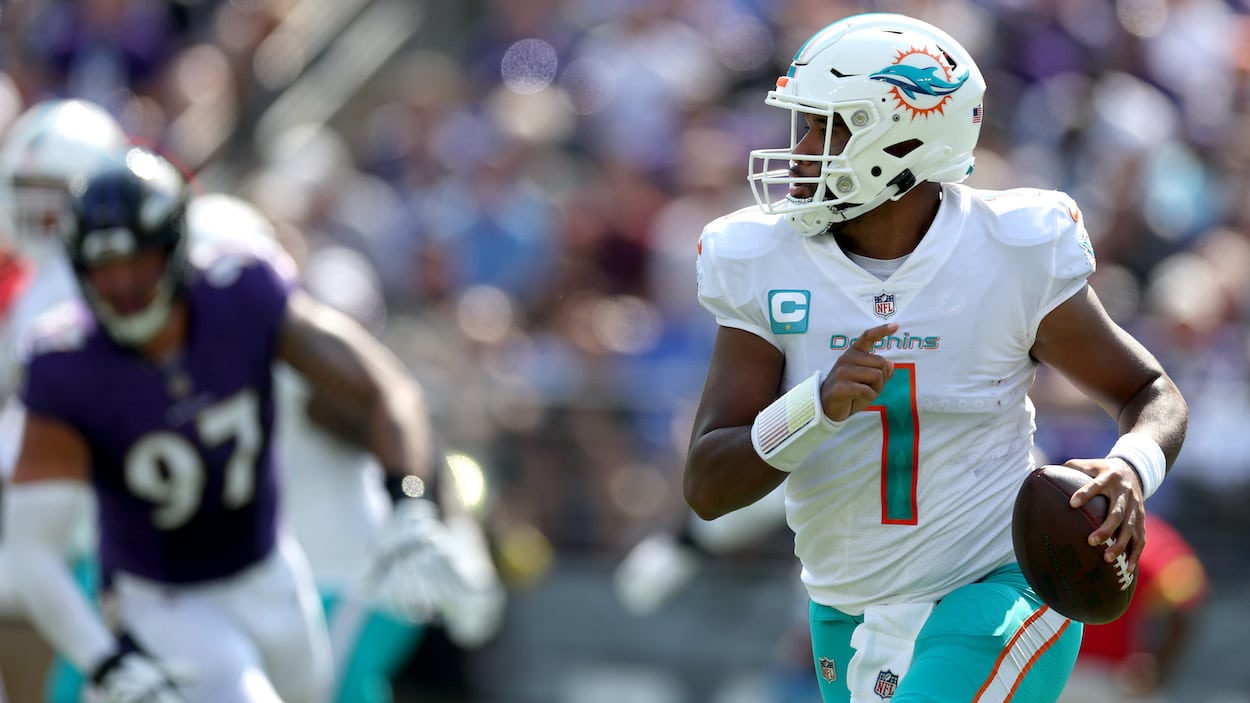 Whether Colin Cowherd is correct or not about Tua Tagovailoa in the long run, the former Alabama QB had an excellent day in Week 2. Or, more specifically, a great second half.
In the first two quarters, the Dolphins' drives went interception, touchdown, punt, interception, end of half. Heading into the locker room, Tagovailoa was 12-of-20 for 150 yards with a TD and an INT.
In the second half, everything flipped.
Tagovailoa turned in on in quarters three and four. In the second half, he was 24-of-30 for 319 yards with an INT and five TDs. In just the second half!
That statistical outburst coincided with wide receivers Tyreek Hill and Jaylen Waddle going off. Waddle finished the game with 11 catches for 171 yards and two touchdowns. Hill was even better, finishing with 11 catches for 190 yards and two scores. And while Waddle's halves were relatively balanced, Hill got eight catches, 169 yards, and both TDs in the second half.
Tua Tagovailoa and the Dolphins also converted 8-of-9 third and fourth downs in half two.
The Dolphins QB has now played two good games (or, really, three good halves out of four) in the 2022 season. One of the things Cowherd is right about, though, is that to get into the conversation with Patrick Mahomes, Josh Allen, Justin Herbert, and Joe Burrow, you have to do it week in and week out.
Let's see if Tagovailoa can do it again in Week 3 as the Dolphins take a step up in competition against the division rival Buffalo Bills.
All stats courtesy of Pro Football Reference