Two Hall of Fame Golfers Are Getting Torched for Accepting the Presidential Medal of Freedom From Donald Trump Just One Day After the Attack on the Capitol
Gary Player and Annika Sorenstam are two of the greatest golfers in the long and storied history of the sport. There's certainly no denying that. Both won numerous major championships during their respective careers and both are members of the World Golf Hall of Fame.
Now, in a normal week, those two receiving the Presidential Medal of Freedom, the highest civilian honor the United States has to offer, from President Donald Trump probably wouldn't get a ton of attention. After all, it's an honor that's been bestowed upon a few other golfers over the years, including Tiger Woods, who accepted the same award last year to very little fanfare. But this hasn't been a normal week, has it?
On Wednesday, throngs of Trump supporters invaded the U.S. Capitol, where our country's lawmakers were counting electoral college votes to confirm Joe Biden's victory in November's presidential election, a result that Donald Trump has refused to accept, which is what started this whole coup in the first place. And make no mistake about it, that's exactly what this was.
But just one day after these horrific and shameful events played out, Gary Player and Annika Sorenstam were at the White House, likely the first two outsiders to see Trump after the incidents at the Capitol, to accept these medals, which easily could have been given to them at another time, and they're getting torched for it.
Gary Player was a longtime supporter of apartheid in his home country of South Africa
Gary Player is certainly no stranger to controversy. The now-85-year-old, who is one of just five golfers to win the career Grand Slam and the only non-American to do so, came under fire back in the 1960s for supporting the policies of prime minister Hendrik Verwoerd in his home country of South Africa. Oh, did we mention that Verwoerd was the man responsible for the creation of apartheid? This is what Player wrote in his 1966 book, "Grand Slam Golf." (h/t The Cricket Monthly)
"I must say now, and clearly, that I am of the South Africa of Verwoerd and apartheid … a nation which … is the product of its instinct and ability to maintain civilised values and standards amongst the alien barbarians.

"The African may well believe in witchcraft and primitive magic, practise ritual murder and polygamy; his wealth is in cattle. More money and he will have no sense of parental or individual responsibility, no understanding of reverence for life or the human soul which is the basis of Christian and other civilised societies.

"A good deal of nonsense is talked of, and indeed thought about 'segregation'. Segregation of one kind or another is practised everywhere in the world."

Gary Player
These words caused a lot of problems for Player over the years. Activists staged many protests at tournaments in which he participated and fans would consistently call him a racist during rounds. The 24-time PGA Tour winner would later disavow these comments as he said that he and others had essentially been brainwashed.
Annika Sorenstam supported Donald Trump in the recent election
Arguably the greatest female golfer of all time, Annika Sorenstam recorded 72 victories on the LPGA Tour, good for third on the all-time wins list, and 10 major championships, tied for the fourth-most in history.
Sorenstam has long been one of the biggest ambassadors for women's golf and had to endure plenty of sexist comments when she teed it up with them men on the PGA Tour in 2003. So it was a bit surprising to see her supporting Donald Trump in the recent election given the president's awful record with the fairer sex.
But there she was retweeting Jack Nicklaus' big statement supporting Trump, which is certainly her right, and even joined the president for a two-on-two match in 2019 in which Sorenstam and Sen. Lindsey Graham (R-South Carolina) defeated Donald Trump and…you guessed it…Gary Player.
Gary Player and Annika Sorenstam are getting slammed for accepting the Presidential Medal of Freedom from Donald Trump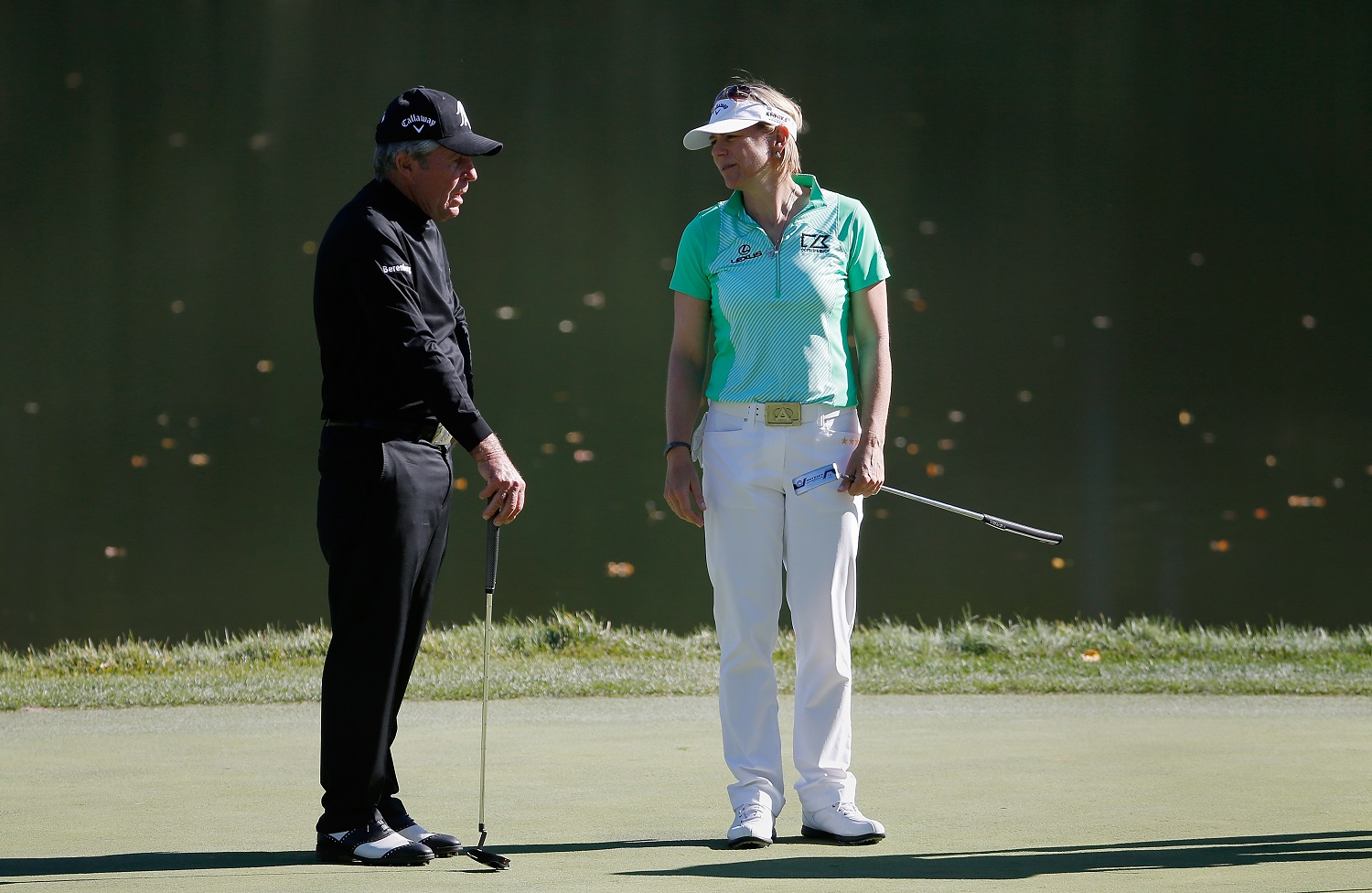 In a private ceremony at the White House on Thursday, just one day after President Donald Trump essentially incited the riot on the U.S. Capitol, Gary Player and Annika Sorenstam joined him at the White House to accept the Presidential Medal of Freedom and people certainly aren't happy about it.
The ceremony, which also included a representative for Babe Didrikson Zaharias, who was receiving the award posthumously, was originally scheduled for last March but was postponed due to the coronavirus crisis, which, by the way, is still a thing. But you don't postpone it the day after the U.S. Capitol was attacked for the first time since the War of 1812?
Look, Player and Sorenstam have done great things for the game of golf but this is simply a bad look, not just for them but for the sport itself. While things have gotten slightly better over the years, it's still a mostly-white sport that struggles to attract people of color and women, two groups with whom Donald Trump doesn't have the best track record. Yes, I understand that the president only has a dozen days left in office and wanted to get this in. But on that day? Really? A day when the country truly needs leadership and this was the focus?
Even Gary Player's son, Marc, didn't want his father to be at the White House on Thursday. Sure, the two don't have the best relationship but that's beside the point.
And Marc Player certainly wasn't the only one objecting.
Trust us, there was certainly a lot more like that while there were also some who defended the ceremony. Overall, however, the consensus was that this ceremony should not have taken place on the day that it did and that Gary Player and Annika Sorenstam should have just refused to go. But they didn't and that was their choice.
USA Today writer Christine Brennan said that their respective "reputations are sullied forever" while also saying that Zaharias likely wouldn't have wanted anything to do with "that awful man," obviously referring to Donald Trump.