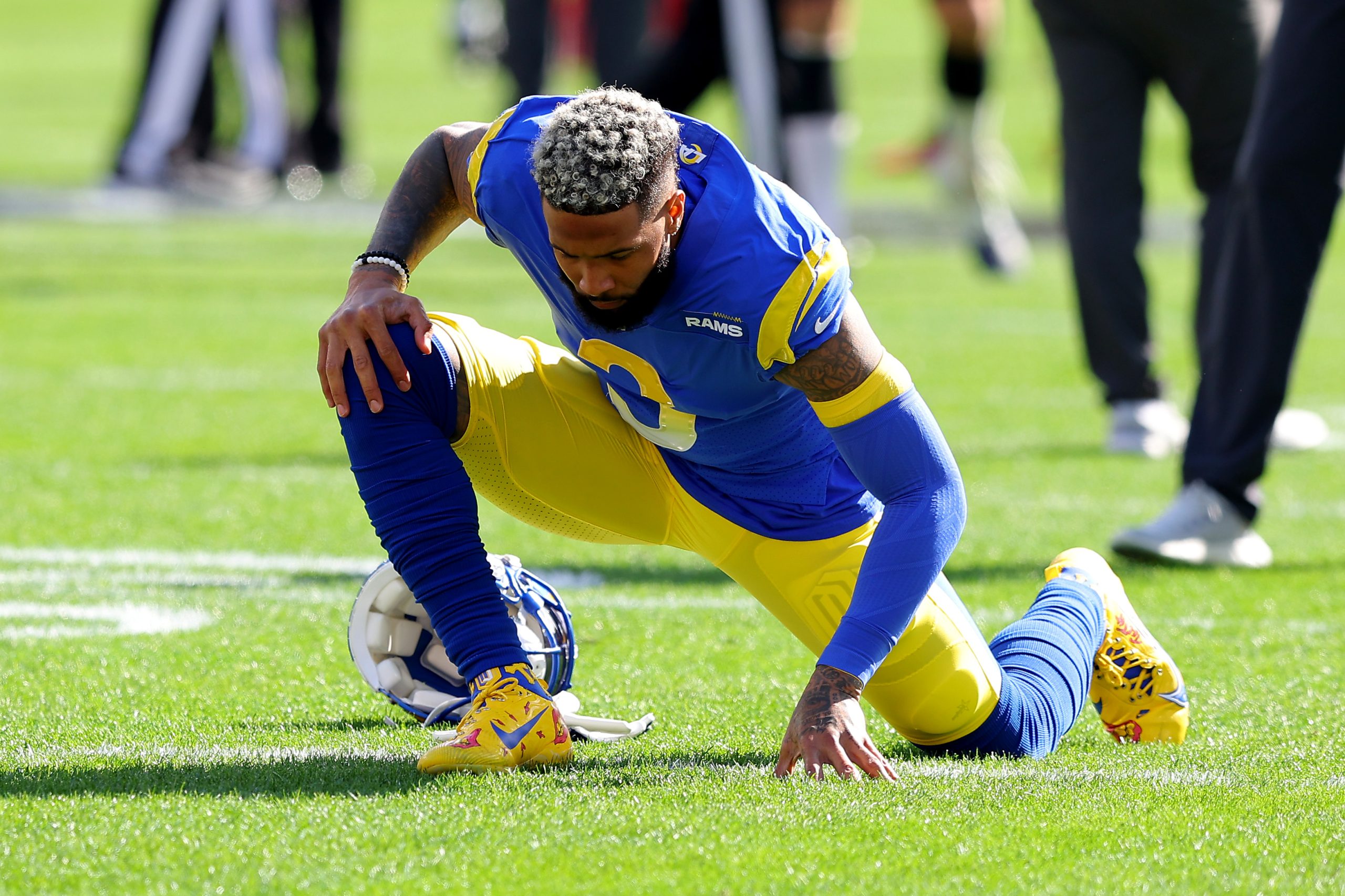 Was Odell Beckham Jr. a Problem in New York? Former Giants Teammate Prince Amukamara Has a Question for Him
Was Odell Beckham Jr. a problem with the Giants? A former teammate doesn't think that was the case.
Odell Beckham Jr. has a reputation. Whether it's deserving is the question. The Los Angeles Rams wide receiver bounced from the New York Giants to the Cleveland Browns to his current team. Many have labeled him a problem in the locker room, selfish, and a distraction.
Former Giants teammate Prince Amukamara doesn't believe those are accurate descriptions of Beckham, who is ready to take part in Super Bowl 56. Amukamara said the controversies revolving around Beckham are "opinion-based." He said he'd love his former teammate to answer one question.
For Odell Beckham Jr., Super Bowl 56 is his time to shine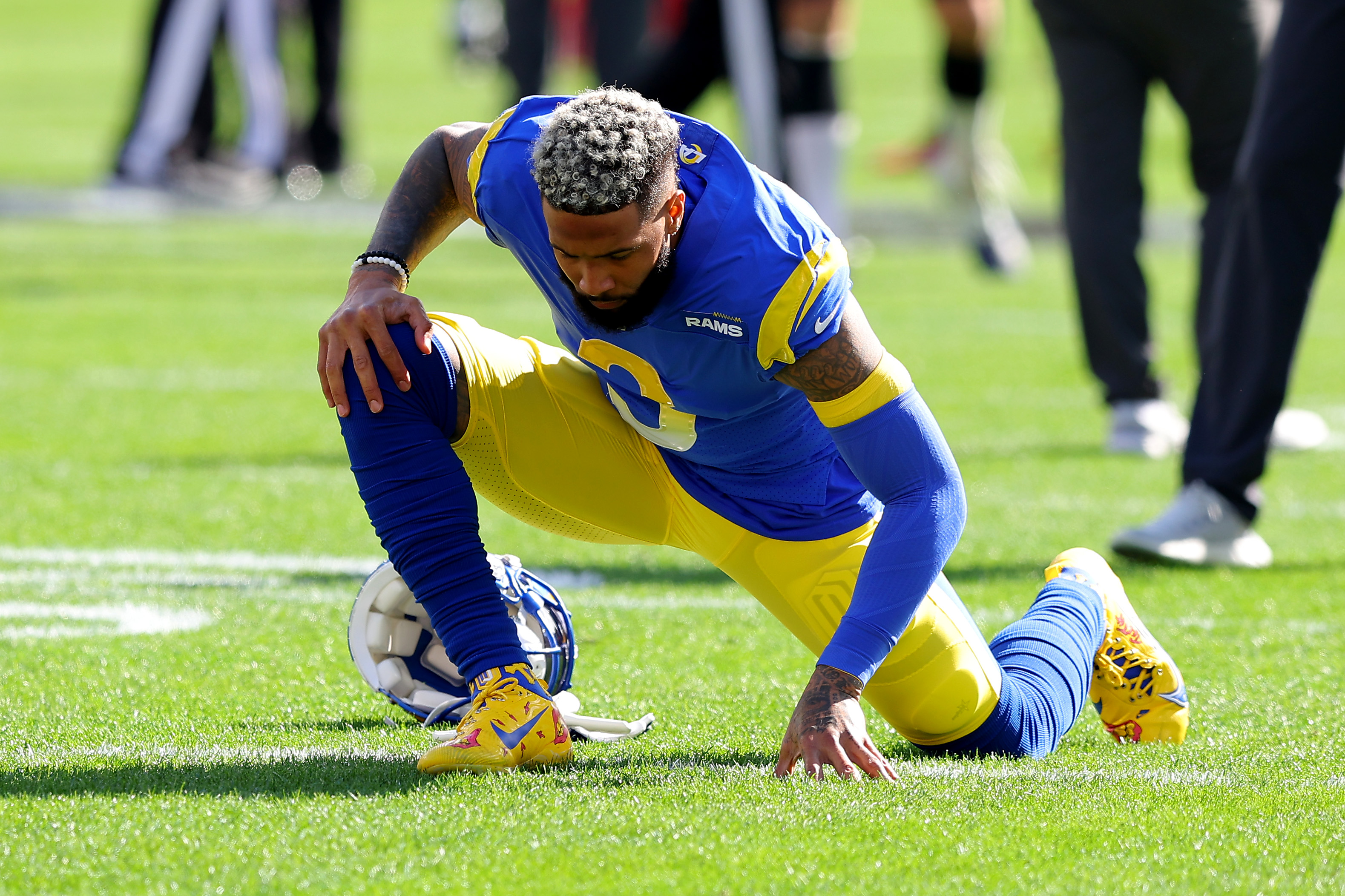 Beckham Jr. has been through a lot. Some say it's self-inflicted. In any case, Beckham is happy right now and right where he wants to be — playing a home game in Super Bowl 56.
Beckham's career has been disrupted by a pair of significant injuries. With the Giants, he fractured his ankle early into the 2017 season. In Cleveland, he tore up his knee in 2020. He spent five seasons with the Giants and made a name for himself with his one-handed grab during a 2014 game against the Dallas Cowboys.
Beckham has also had some run-ins with teammates, including quarterback Eli Manning. In a 2018 interview with ESPN, Beckham was asked if he thought the Giants had a problem at quarterback. He certainly didn't appear to have Manning's back.
"I don't know," Beckham said then. "Like I said, I feel like he's not going to get out the pocket. He's not — we know Eli's not running it. But is it a matter of time issue? Can he still throw it, yeah, but it's been pretty safe and it's been, you know … cool catching shallow (routes) and trying to take it to the house. But I'm, you know, I want to go over the top of somebody."
The Giants eventually traded him to the Browns, where he never connected with quarterback Baker Mayfield. He had an uneventful ride with the Browns, catching seven touchdown passes in his two-plus years in Cleveland. The Browns released him, and he eventually landed with the Rams.
Prince Amukamara said he would ask Odell Beckham Jr. one question
Beckham may have not had the greatest relationship with Manning. He had a rocky relationship with the media at times. He punched a wall at Lambeau Field, causing some damage after a loss. Beckham had his moments, but was he really a problem?
Amukamara, a cornerback selected by the Giants in the first round of the 2011 NFL Draft, spent two seasons with Beckham as Giants teammates. He said the incidents that included Beckham getting on all fours and pretending to pee after scoring a touchdown or fighting with cornerback Josh Norman that resulted in a suspension were nothing as far as he was concerned.
Those are subjective, those are opinion-based," Amukamara said, per Paul Schwartz of The New York Post. "You saw him doing the dog pee, that can be seen as dramatic, I see that as he's having fun with the game.
"The Josh Norman thing, that's just a pissing contest, it's a barbarian sport. Even with him proposing to the net, that was kind of his brand, dancing. Being in New York, that's always heightened because of the market. The Eli thing, I can't even comment on that."
Amukamara said he had no problems with Beckham. He said he would love to find out if Beckham had any regrets doing any of this stuff.
"That would be a good question for Odell: Do you regret any of your actions that you did in New York?" Amukamara said. "Go down memory lane and see what he says."
Amukamara said he's excited for Beckham to play in the Super Bowl
Amukamara said it was Beckham, then a young player in the NFL, who came to his support when he found himself struggling on the field as an established player in the league.
"Hyping me up, gassing me up, and it was great hearing that from him," Amukamara said, "because that's a guy that plays with a lot of confidence and so he just reminded me of who I was and how I got to where I was, and that was a big milestone in my season.''
Amukamara knows Beckham has a great deal of confidence in himself, but he said there is no ego in him off the field.
"A guy with his type of celebrity, who's internationally known, he's always been the best at not big-timing people," Amukamara said.  
Amukamara will be cheering on his old teammate Sunday against the Cincinnati Bengals.
"Excited for him, man," said Amukamara. "The thing with Odell is that he knew he still had a lot of ball left in him. I knew, most people knew. But, if we're being real, his going from team to team and then the performance not being there, you kind of ask 'Dang, is this it for Odell?' And I'm sure Odell doesn't want to just be known for 'the catch,' even though that's not a bad thing to be known for. But to have 'Super Bowl champion' next to your name, it's awesome. I'm sure excited for him."