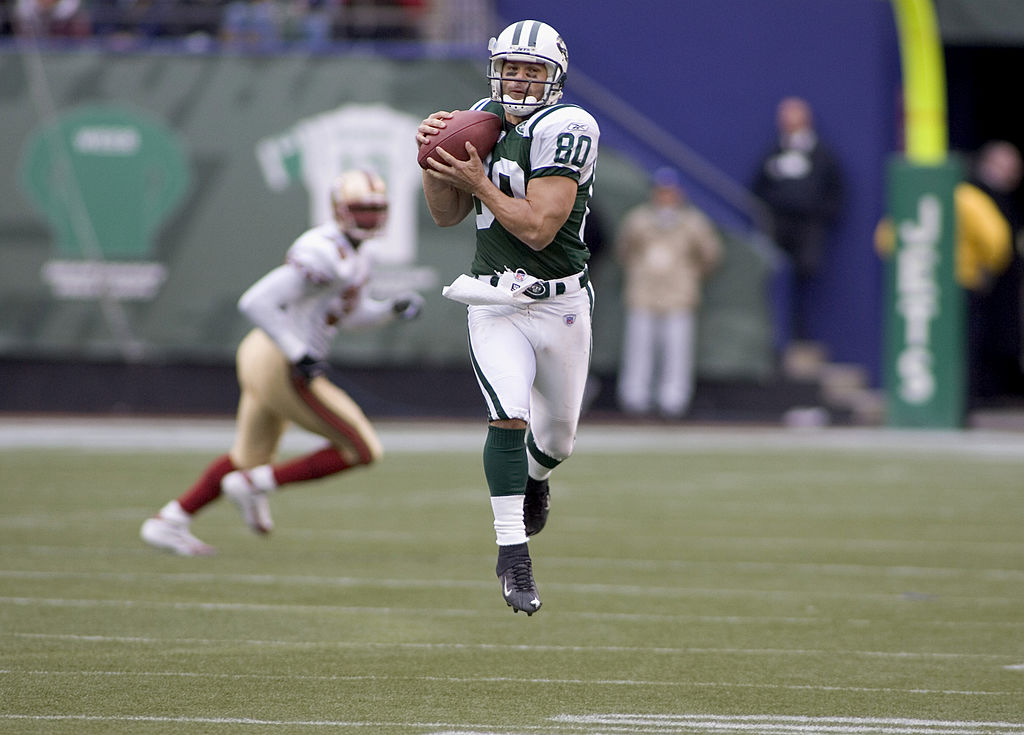 Wayne Chrebet Went from NFL Wide Receiver to Wall Street Executive
During his NFL career, New York Jets receiver Wayne Chrebet played blue collar football. In retirement, however, he's become a Wall Street executive.
While it's easy to write off NFL players as a bunch of dumb jocks, that would be incredibly naive. Ryan Fitzpatrick, for example, attended Harvard and majored in economics; Myron Rolle was a Rhodes Scholar before becoming a neurosurgeon. Then there's former New York Jets wide receiver Wayne Chrebet.
During his playing career, Chrebet won over the New York fan base by putting his body on the line and giving it everything he had on Sundays. Now, he's letting his mind do the heavy lifting and working as a Wall Street executive.
Wayne Chrebet's unlikely NFL career
Despite posting a strong college career at Hofstra, no NFL teams were interested in Wayne Chrebet after graduation. The receiver, however, managed to earn an invitation to New York Jets training camp; despite being stopped at the gate by an overzealous security guard who thought he was too short to be a football player, Chrebet made an impact.
Against the odds, Chrebet made the team and found a home with the New York Jets. While he never had the flash or raw talent of Keyshawn Johnson, the undersized receiver proved to be invaluable. No matter what happened on the field, you could count on Chrebet to give it 100% and come up with a big catch when the Jets needed someone to step up.
Unfortunately, his playing style ultimately caught up with him. In 2005, the receiver was forced to retire after suffering a severe concussion; he played 152 games for the Jets over 11 seasons, pulling in 580 catches for 7,365 yards and 41 touchdowns.
From wide receiver to Wall Street executive
After his playing career ended, Wayne Chrebet contained to suffer from post-concussion symptoms. Despite that reality, the former wide receiver eventually found a new home: the board room.
During his time with the Jets, coach Bill Parcells advised Chrebet to put some money aside for retirement; that inspired the wideout to start learning about finances. That interest eventually led to a second career.
In 2008, Chrebet joined Morgan Stanley Smith Barney; after four years at the firm, he joined Barclays, where he served as an Assistant Vice President in the Wealth and Investment Management division. When Stifel acquired Barclays Wealth Americas, Chrebet made the move as part of a six-person management team.
Wayne Chrebet is keeping busy beyond the boardroom
All work and no play, however, makes Wayne Chrebet a dull boy. The former wide receiver doesn't spend all his time making phone calls and crunching numbers; he's also a devoted fantasy sports player.
In 2015, Ted Berg of For The Win chronicled Chrebet's trip to FanDuel's World Fantasy Baseball Championship. "I picked it up last football season, continued on during basketball, and now to baseball," the receiver explained. He also credited fantasy sports with keeping his mind engaged on a daily basis.
Although he made it to the championship, Chrebet was sure to emphasize fantasy sports weren't a full-time calling for him, however. "I just enjoy the rush of it," he explained. "It keeps me sharp: The studying, the analysis. I try not to put too much time into it; I've got three kids and a job."
During his time with the Jets, Wayne Chrebet always gave 100 percent. While he may be spending his time in an office, it's safe to assume he's putting in the same level of effort.