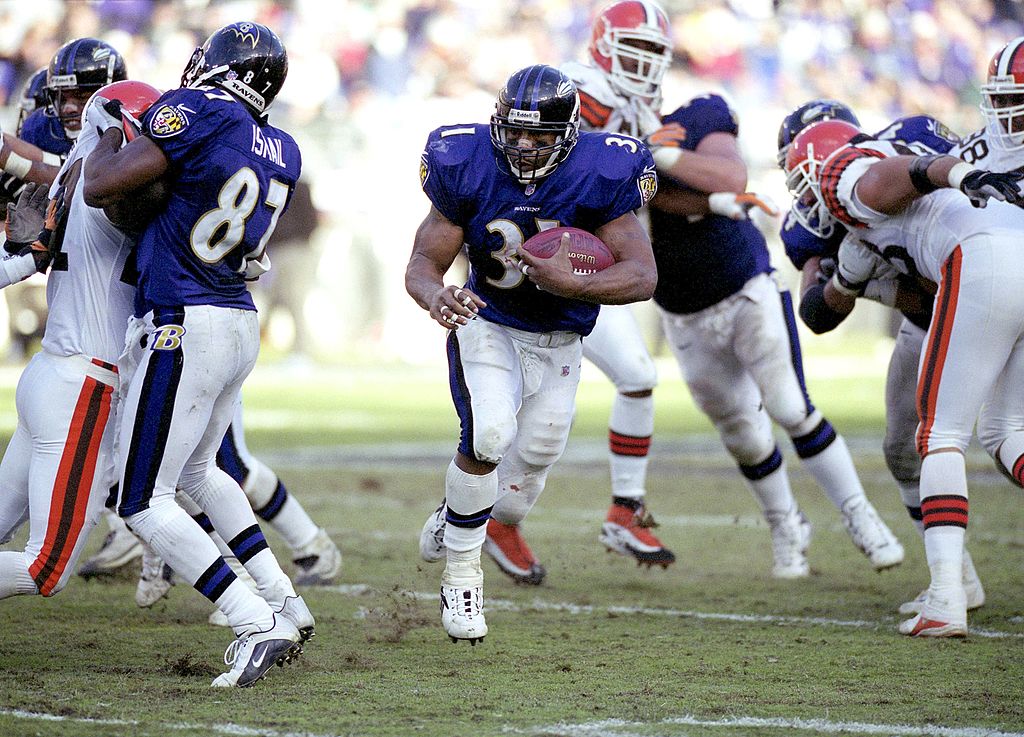 What Happened to Former Ravens Star RB Jamal Lewis?
Jamal Lewis was a great running back in the NFL. He is not in the Hall of Fame, though, so is he the most underrated back of all-time?
From 2000 through 2009, Jamal Lewis was one of the best running backs in the entire NFL. However, when discussing the top running backs of the 2000s and future Hall of Fame running backs, Lewis' name never really seems to come up. Is he the most underrated running back of all-time?
Jamal Lewis was a star for the Tennesse Volunteers
Jamal Lewis was one of the best running backs in the country at the University of Tennessee. This was especially the case in 1997 as he had 1,364 rushing yards and seven touchdowns. He also had 266 receiving yards and two touchdown catches. He helped lead the Volunteers to an 11-2 record that year and they finished No. 7 in the final AP poll of the season. 
Lewis only played in five games in 1998 due to injury but he had a nice bounce-back year in 1999. Lewis had 816 rushing yards in 10 games that season to go with seven touchdowns. He also had 15 catches for 193 yards and one touchdown. 
Going to the NFL in 2000, Lewis finished his college career with 2,677 career rushing yards and 17 rushing touchdowns. He also had 39 career receptions for 475 receiving yards and four touchdowns. 
The most underrated running back in the NFL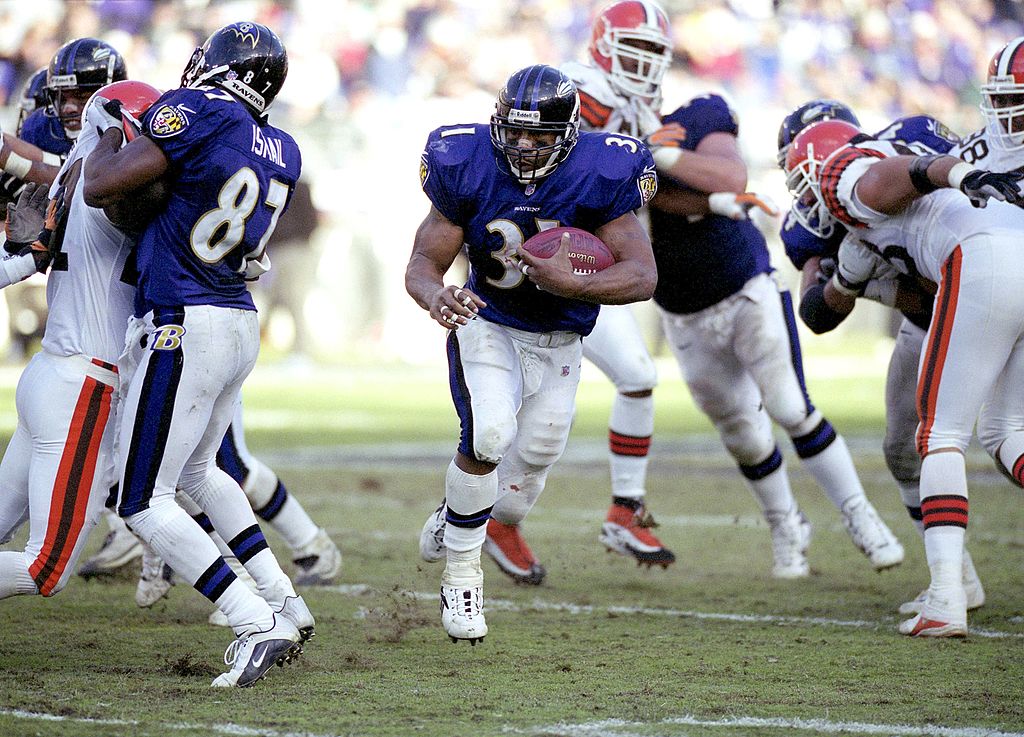 The Baltimore Ravens selected Lewis with the No. 5 overall pick in the 2000 NFL draft and he was an immediate star in the NFL. In his rookie season with the Ravens in 2000, Lewis ran for 1,364 yards and six touchdowns. Lewis even helped the Baltimore Ravens win the Super Bowl that season. He ultimately ran for 102 yards and one touchdown in the Super Bowl win over the New York Giants.
He missed the 2001 season due to injury but after that, he came back and ran for 1,000 or more yards in six of the next seven seasons. Additionally, in 2003, he earned the only Pro Bowl selection of his career, in addition to earning first-team All-Pro honors. He ultimately led the league in rushing yards that season as he ran for an insane total amount of 2,066. That went along with a career-high 14 rushing touchdowns. Those stats were good enough to earn him the AP Offensive Player of the Year award that year.
Lewis ultimately finished his career with the Cleveland Browns as he played three seasons with them. He rushed for 1,000 yards or more in two of those seasons. The only season he did not reach 1,000 yards was in 2009 when he only played in nine games. 
Lewis retired after the 2009 season. He finished his career with 10,607 career rushing yards (25th all-time) and 58 career rushing touchdowns. Additionally, his 2,066 rushing yards in 2003 are the third-most for a single-season in NFL history. So, with such a great season like he had in 2003 on his resume to go with the 25th-most rushing yards in NFL history and a Super Bowl ring, why is Lewis not in the Hall of Fame?
What is Lewis up to now?
Since retiring, Lewis has stayed pretty quiet for the most part. However, in May 2018, Bleacher Report wrote a story about him. He ultimately opened up about having suicidal thoughts and having post-traumatic effects of concussions.
"Many days, Lewis turns the key of his car, starts driving to school, to work, anywhere, and completely forgets where he's going. 'It's a normal thing,' he says. 'Like, Where am I at?'" Tyler Dunne wrote in the Bleacher Report article. "When this happens, he tries to stay calm, keep driving in the same direction, and usually a light bulb turns on eventually."

Bleacher Report
He has found success professionally outside of football, though. Bleacher Report wrote that "he's the president of Southeast Exhibits and Metro Retail Solutions, spearheading signage at both Mercedes-Benz Stadium and SunTrust Park."
Additionally, Lewis was in the news for giving his opinion about the 2019 Ravens team. TMZ reported that he thinks the 2000 Ravens would have a slight advantage over them. He, reportedly, said that the fact that they had linebacker Ray Lewis meant that they might have been able to stop quarterback Lamar Jackson. 
Jamal Lewis was one of the greatest NFL players in the 2000s. While he might not be talked about very often and is not extremely involved in the NFL, people should not forget that he was one of the toughest players to stop from 2000 through 2009. He needs to be in the Hall of Fame.