What's Mercedes' Plan if Lewis Hamilton Really Retires From Formula 1 Racing?
Everyone seems to have an opinion on whether Lewis Hamilton will return to racing this year after the heartbreaking end to the most recent Formula 1 season. However, only one person knows what he might be thinking, and that person is the seven-time series champion.
Hard as it is to imagine that he won't come back in a bid for the record-breaking eighth World Drivers' Championship, the powerful Mercedes team has to resign itself to the possibility that it might have to replace the winningest F1 driver by the March 20 start of the season.
So, what would Mercedes' move be if it must tackle 2022 without Hamilton?
Mercedes gets what it wants in Formula 1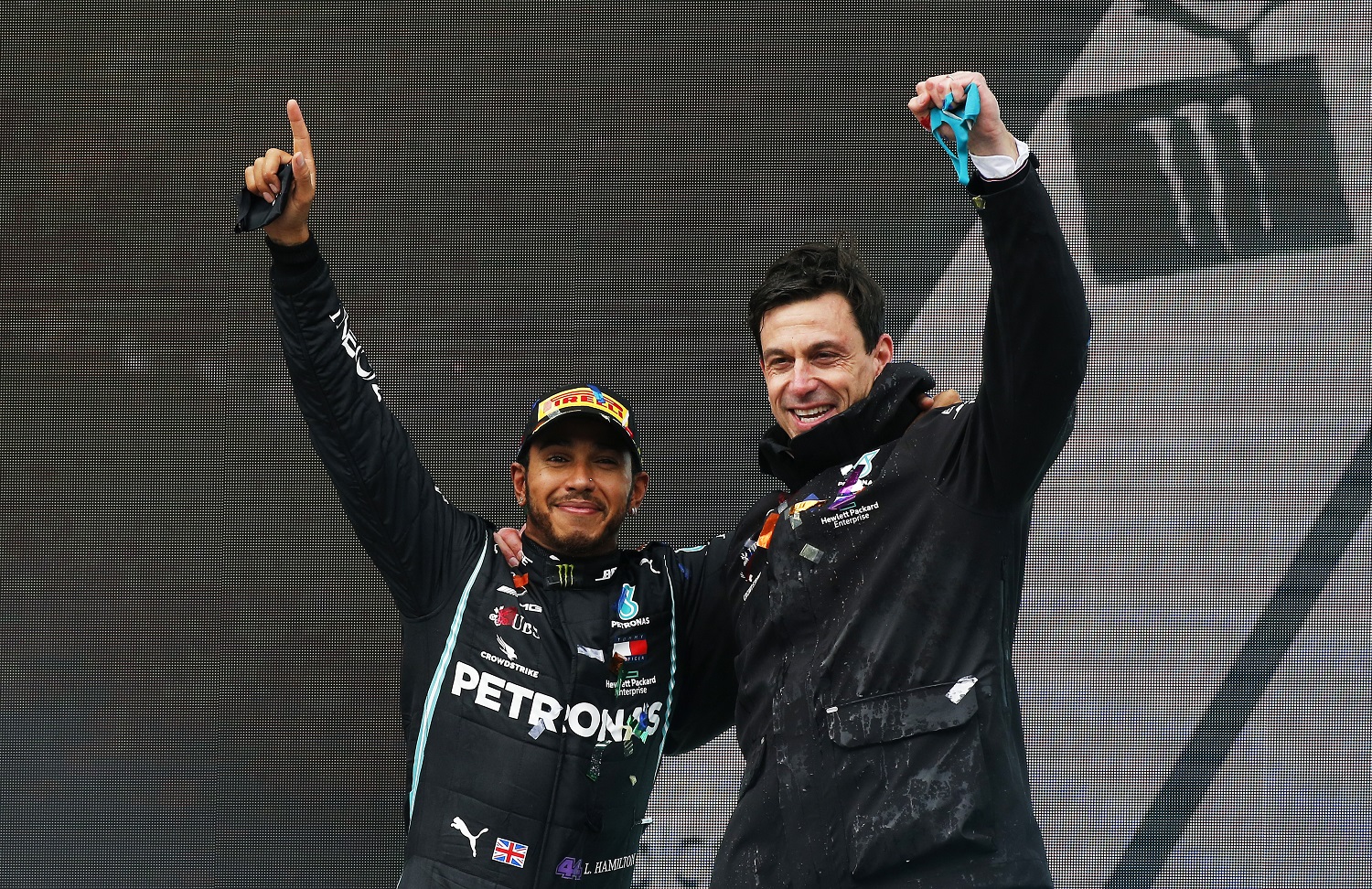 Mercedes' two trademarks since its return to Formula 1 in 2010 have been a commitment to become the absolute best and a willingness to pay for it. After more than half a century away from the sport, Mercedes announced its return by luring seven-time champion Michael Schumacher out of retirement.
When Schumacher left Formula 1 for good, Mercedes responded by throwing more resources behind Nico Rosberg and bringing in Lewis Hamilton, who already owned 21 race victories. When Rosberg exited after winning the World Drivers' Championship in 2016, the team brought in Valtteri Bottas, who gave the outfit 10 victories in five years while playing a supporting role to Hamilton.
Along the way, Mercedes has spent lavishly on R&D, displacing Ferrari and Red Bull when it comes to putting the fastest cars on the track.
Midway through the just-concluded season, team principal Toto Wolff and the rest of the Mercedes brass made the decision not to extend Bottas' contract, instead signing George Williams for the upcoming season.
So, Mercedes knew it would put one new driver on the track. The thought that the organization might be seating two new drivers in 2022 almost certainly never occurred to anyone.
Mercedes is unlikely to look within to replace Lewis Hamilton
Other than accepting knighthood at Windsor Castle, Lewis Hamilton has stayed out of the spotlight since finishing second to Max Verstappen at the Abu Dhabi Grand Prix, the race that decided the 2021 World Drivers' Championship. Many have speculated regarding whether Hamilton will complete the final two years of his contract, and even Toto Wolff has admitted he is uncertain of the Formula 1 star's plans.
If Hamilton retires, Mercedes faces a challenge. Nico Rosberg retired just days after his championship season, and even that left scant time for the team to react. The Bahrain Grand Prix is just 79 days away, never mind the testing that a new driver will need.
On paper, Formula 1 teams would look to their reserve drivers. However, the Silver Arrows didn't even do that in 2020 when it only needed a one-off sub because Hamilton tested positive for COVID-19. Instead, Mercedes borrowed George Russell from the Williams team.
Now, of course, Russell is in the lineup full-time as Valtteri Bottas' replacement. The team could look to former Formula 1 driver Stoffel Vandoorne or fellow Mercedes reserve Nyck de Vries as a potential replacement. However, neither comes close to Hamilton's experience or skills.
Incredibly, Lewis Hamilton's replacement could be the man Mercedes just let go
George Russell was able to sub for Lewis Hamilton in 2020 because of the working relationship between Mercedes and Williams. Russell came up through Mercedes' development program, and the Williams team uses Mercedes engines.
Going back to Williams for a second replacement driver in one offseason is doubtful. On the other hand, McLaren also uses Mercedes engines. However, Racing News 365 points out that McLaren has Lando Norris and Daniel Ricciardo locked down with multi-year contracts.
And then there's the elephant in the room: Valtteri Bottas. Though Mercedes opted not to retain Bottas, the team did not merely cast him off. Out of loyalty to his contribution to Hamilton's success, Mercedes promoted the narrative that Bottas' move to Alfa Romeo was a chance to compete as the No. 1 driver for a team with title ambitions.
Toto Wolff's friendship with Alfa Romeo boss Fred Vasseur, coupled with financial compensation, could overcome the contract hurdles. Certainly, Bottas would fare better in Mercedes equipment and pull down a bigger salary. That would leave Alfa Romeo scrambling for a driver, but they would be more willing to dip into another team's reserve ranks.
Like Sportscasting on Facebook. Follow us on Twitter @sportscasting19.