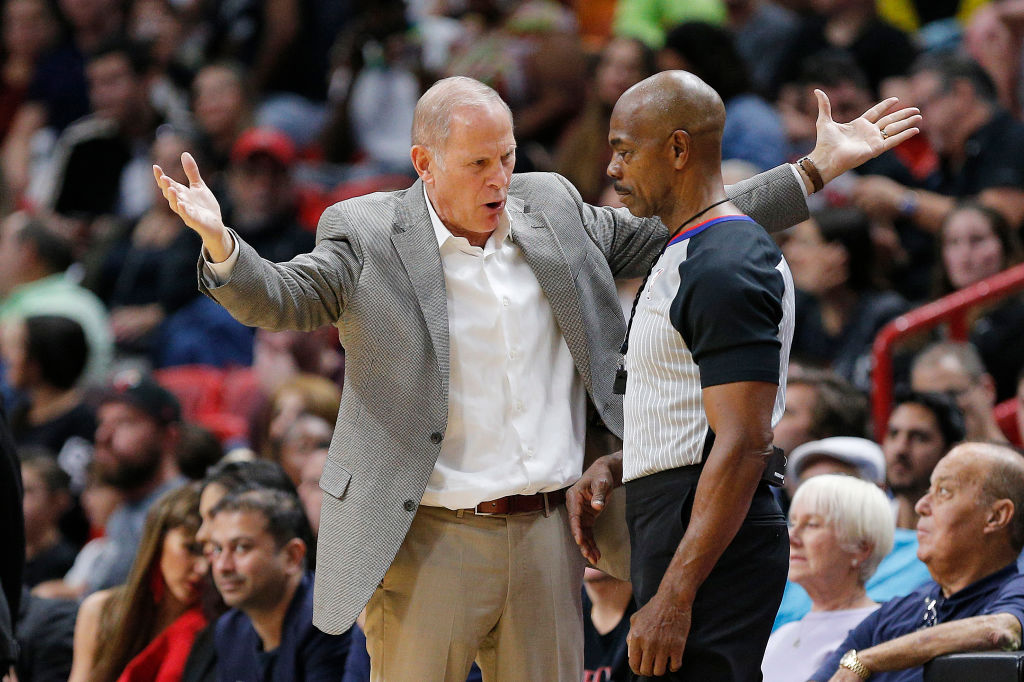 What Was the Quickest Firing of an NBA Head Coach?
John Beilein's stay with the Cleveland Cavaliers was brief but didn't set the NBA record for the shortest coaching tenure.
Four decades of college coaching experience didn't prepare John Beilein for the NBA, though there's a case to be made that the culture of the Cleveland Cavaliers had more to do with his demise than his ability did. After all, we're talking about a franchise that hasn't won a playoff series without the assistance of LeBron James since 1993.
And as brief as the former University of Michigan coach's career was, Beilein doesn't own the inglorious record for short stay on the NBA sideline.
John Beilein lasted 54 games with the Cleveland Cavaliers
The Cleveland Cavaliers phrased it as a resignation out of kindness to a man with an impeccable reputation, but John Beilein, 67, was fired this week with a 14-40 record two-thirds of the way through his first season as coach.
People point to Beilein's age and his lack of prior experience in the NBA as factors in his inability to succeed with the Cavaliers. He was already losing the locker room because of his hard practices before having to apologize to his players for calling them out as "thugs" during a film session, from which there would be no recovering.
In fairness to Beilein, however, there's not much talent on the Cleveland roster. In addition, pro athletes in any number of sports have a history of being standoffish with outsiders and sometimes even childish. After the thugs remark, players began playing songs with that word in the lyrics around Beilein.
Jerry Tarkanian was a much worse match for the San Antonio Spurs
John Beilein's failed tenure in Cleveland isn't even the fastest forced exit for a coach who started on the bench at the beginning of a season. That distinction belongs to Jerry Tarkanian, perhaps not-so-coincidentally also a veteran of the college coaching ranks.
Tarkanian came and went in 20 games with the 1992 San Antonio Spurs. Tarkanian was a legend at UNLV, where his teams were known as Tark's Sharks and made four trips to the NCAA Final Four.
His record with the Spurs was a respectable 9-11 with the help of fourth-year pro David Robinson, but Tarkanian clashed with owner Red McCombs over the need for an experienced point guard after Rod Strickland left as a free agent and at one point found himself hospitalized with chest pains.
Two others who didn't stick around very long
Not far behind on the list of coaches who didn't last long was Bob Weiss, who made it 30 games into the 2005-06 season with the Seattle Supersonics. Though Weiss had experience running the San Antonio Spurs, Atlanta Hawks, and Los Angeles Clippers, he hadn't been a head coach in the 12 years before arriving in Seattle.
The Supersonics were 13-17 at the time of his departure and went only 22-30 the rest of the way under Bob Hill.
Third place on the list of short stays belongs to Rudy Tomjanovich with the 2004-05 Los Angeles Lakers. Brought in following the departure of Phil Jackson, Tomjanovich got off to a 24-19 start in his return to the sport after being treated for cancer.
Despite speculation that run-ins with young star Kobe Bryant were behind his departure, Tomjanovich cited mental and physical exhaustion as the reason for his resignation.