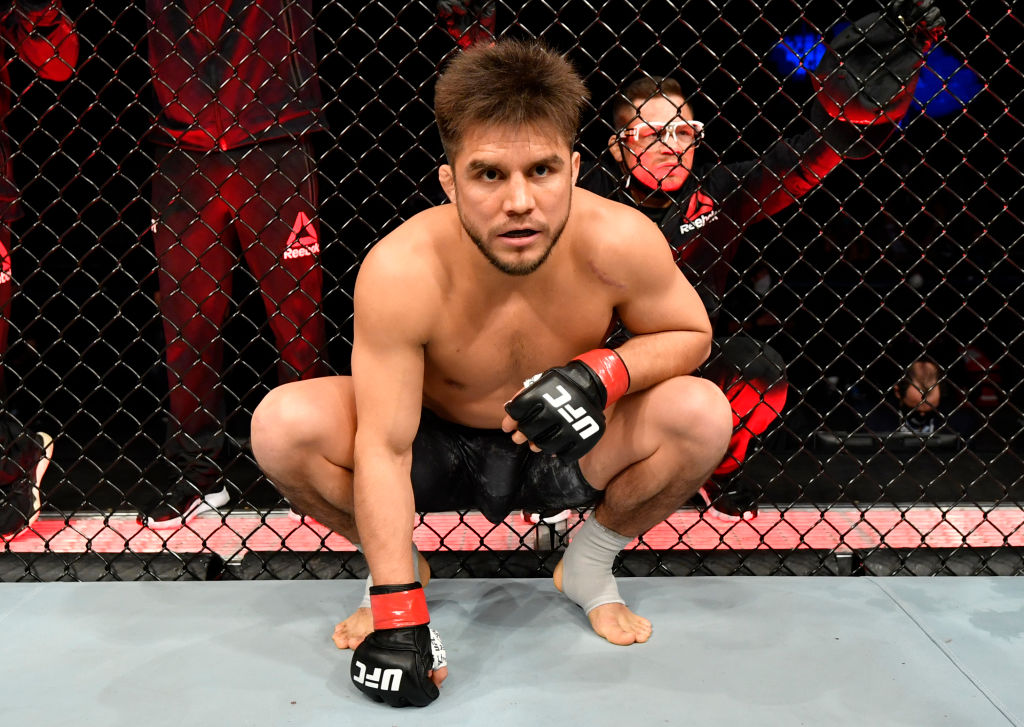 What Will It Take to Make UFC Champ Henry Cejudo Fight Again?
Henry Cejudo wants to hold three UFC championships at once.
It's taking Henry Cejudo less time to come out of retirement than it did to beat any of his last six UFC opponents. Oh, sure, the flyweight and bantamweight champion hasn't officially ended the retirement he announced last month, but he's now discussing the conditions of his return.
Henry Cejudo has been a champion is two sports
The word "quit" wouldn't seem to be in Henry Cejudo's vocabulary. After all, he's a guy who's succeeded repeatedly in his athletic career, beginning with his pursuit of glory in freestyle wrestling.
Cejedo won gold medals in wrestling at the 2008 Olympics in Beijing as well as in the Pan American Games. Having reached the pinnacle of the sport, he moved on to mixed martial arts in 2013. He signed less than two years later with the UFC, where he has posted a 10-2 record.
Cejudo lost to Demetrious Johnson in April 2016 in his first crack at the UFC flyweight championship, but he would win the title in the rematch in August 2018 by scoring a split decision.
He made one defense of that championship in 2019, but Cejedo already had his sights set on a bigger challenge: holding titles in two classes concurrently. He made it happen a year ago with a TKO of Marlon Moraes to secure the vacant bantamweight crown.
That made him one of just four fighters to reign over two weight classes at once.
Henry Cejudo said he was retiring, but few believed him
Henry Cejudo was scheduled to fight Jose Aldo at UFC 249 last month in a defense of his bantamweight championship. When Aldo ran into visa problems in early April, Dominick Cruz stepped in. Cejudo scored a TKO when the referee stopped the fight with two seconds remaining in the second round.
Instead of basking in the glow of becoming just the second fighter to have made successful defenses in both classes while holding two belts, Cejudo, 33, immediately announced his retirement from fighting.
He had no sooner announced he was quitting than Cejudo said he could be persuaded to fight again if the money was right. Money has become a theme in the sport since, with light heavyweight champion Jon Jones suggesting last week he wants out of the UFC and then Conor McGregor announcing his retirement this week in what sounded like a push for more money.
Cejudo had vacated his flyweight championship in February, though the title remains vacated. On May 24, the UFC took him at his word regarding retirement and also repossessed his bantamweight crown.
This is what it will take to bring him back
Henry Cejudo, Conor McGregor, Daniel Cormier, and Amanda Nunes have all held two UFC championships concurrently. Cejudo wants to be the first fighter to hold three at once.
"I want a third title because I want to be different," he said. "There's a lot of champ-champs. Obviously, there's only one 'Triple C.' There's only one Olympic champ, flyweight champ, bantamweight champion of the world but it's just to cement it and go in the history books as the greatest mixed martial artist of all-time."
Cejudo's road to the third title goes through Alexander Volkanovski for now, and UFC boss Dana White has responded to Cejudo's overtures by rejecting them. He has instead booked the featherweight champion against No. 1 contender Max Holloway in a rematch next month at UFC 251 in Abu Dhabi.
Neither Volkanovski nor Holloway has fought since last December, when Volkanovski took the belt by unanimous decision. The quick rematch isn't unprecedented, but it is as much about White showing Cejudo who's boss as it is about the considerable fan interest in seeing Volkanovski take on Holloway again.
For his part, Cejudo seems to be doing his best to move himself to the front of the line for a title shot by the end of 2020 by lobbing bombs.
"I'm satisfied with my career," he told TMZ. "There would only be one fight that would really bring me back, that would really wake me up in the morning. That's against — other than Ryan Garcia — that would be Alexander Volkanovski, that overgrown midget. I would love to make him bend the knee.Henry Cejudo