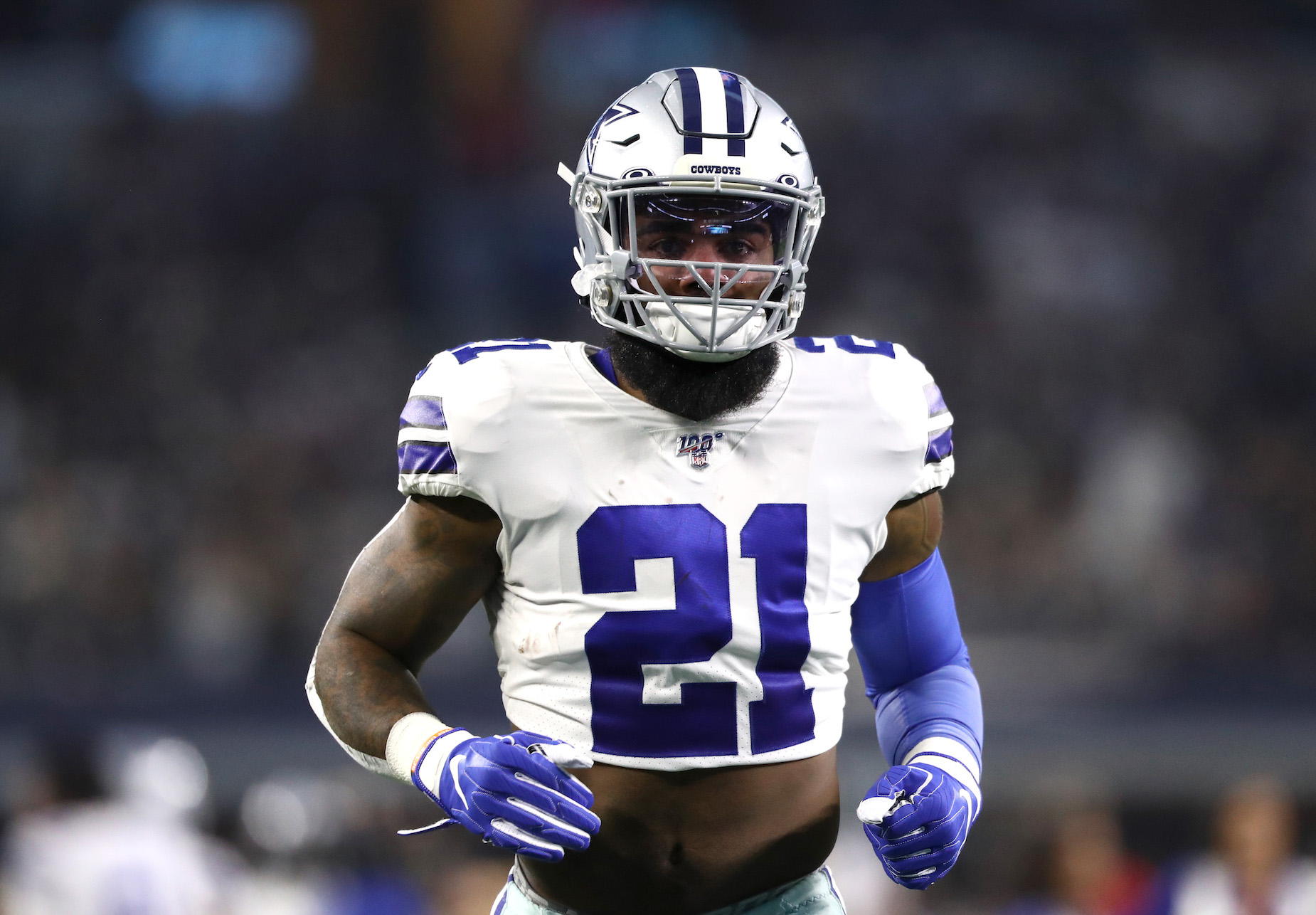 Why Does Ezekiel Elliott Wear a Small 'Crop Top' Jersey?
If you're a Dallas Cowboys fan, you've probably noticed that Ezekiel Elliott wears a 'crop top' jersey. What's behind the running back's signature style?
Whether you're watching a football game on television or in the stadium, it's not always easy to tell the players apart. Sometimes jersey numbers get obscured in the crowd; helmets and shoulder pads, which can hide other distinguishing features, don't help matters. Dallas Cowboys running back Ezekiel Elliott, however, is impossible to miss.
While the running back sports the same uniform as everyone else, he's been known to hit the field with his stomach exposed. So why does Ezekiel Elliott roll up his jersey to rock a "crop top" on Sundays?
Ezekiel Elliott is one of football's top running backs, independent of his jersey
In the modern NFL, running backs have fallen down the pecking order; they've viewed as more of a cog in the machine than the focal point of the offense. Ezekiel Elliott, however, has the talent to be any team's main man.
Elliott played his college football at Ohio State, where he started his career sitting behind Carlos Hyde. Once he took over the starting job, though, Zeke immediately made up for lost time. He piled up 1,878 yards and 18 touchdowns as a sophomore; the running back followed that up with a 1,821 yards and 23 touchdown campaign, before entering into the 2016 NFL draft.
Elliott joined the Dallas Cowboys as the fourth-overall pick and immediately slotted into the starting lineup. He promptly rushed for 1,631 yards and 15 touchdowns, establishing himself as one of the NFL's brightest young talents.
While there have been some bumps in the road—Elliott missed time in 2017 after domestic violence allegations and held out ahead of the 2019 campaign—the running back has kept up his strong production. Through Week 6 of the 2020 season, he's piled up 5,818 rushing yards and 45 rushing touchdowns; for all of the Cowboys' overall issues, he's been a consistent performer.
Why does the running back wear a 'crop top' jersey and show off his stomach?
Ever since his time at Ohio State, Ezekiel Elliott has hit the field wearing a 'crop top' jersey, pulled up over his stomach. While that might seem like a bizarre fashion choice for a football player, the running back has a simple reason for his signature look.
"I just don't like how loose jerseys are at the bottom, so I just tuck it up and roll it," Elliott told For The Win during his time at Ohio State. "I get in trouble for it every once in awhile. I'll have to come out at halftime, pull my jersey down and tuck it in."
That trend continues in the NFL, with Elliott toeing the line between rolling up his jersey and violating the league's uniform rules.
As spelled out by ESPN, the NFL's rulebook states that a player's "jersey must cover all pads and other protective equipment worn on the torso and upper arms, and must be appropriately tailored to remain tucked into the uniform pants throughout the game." That reality probably explains why Elliott isn't showing off his abs on every play.
Ezekiel Elliott's 'crop top' jersey also shows off his new tattoo
If we take Ezekiel Elliott at his word, his preference for crop top jerseys simply boils down to comfort. His signature look, however, also carries another benefit, at least from a style perspective.
Earlier this season, Elliott hit the field with a new tattoo, reading "Feed Me" across his stomach. That phrase, of course, is a reference to his traditional on-field celebration—the running back has been known to mime and 'eating' gesture—and the fact that he wants the offense to 'feed' him the ball. If his jersey wasn't rolled up, no one could see that mantra.
Wearing a crop top jersey isn't conventional and, as established above, technically violates the NFL rules. Given Ezekiel Elliott's success at both the collegiate and professional level, though, he probably won't abandon his signature style anytime soon.
Stats courtesy of Sports-Reference and Pro-Football-Reference