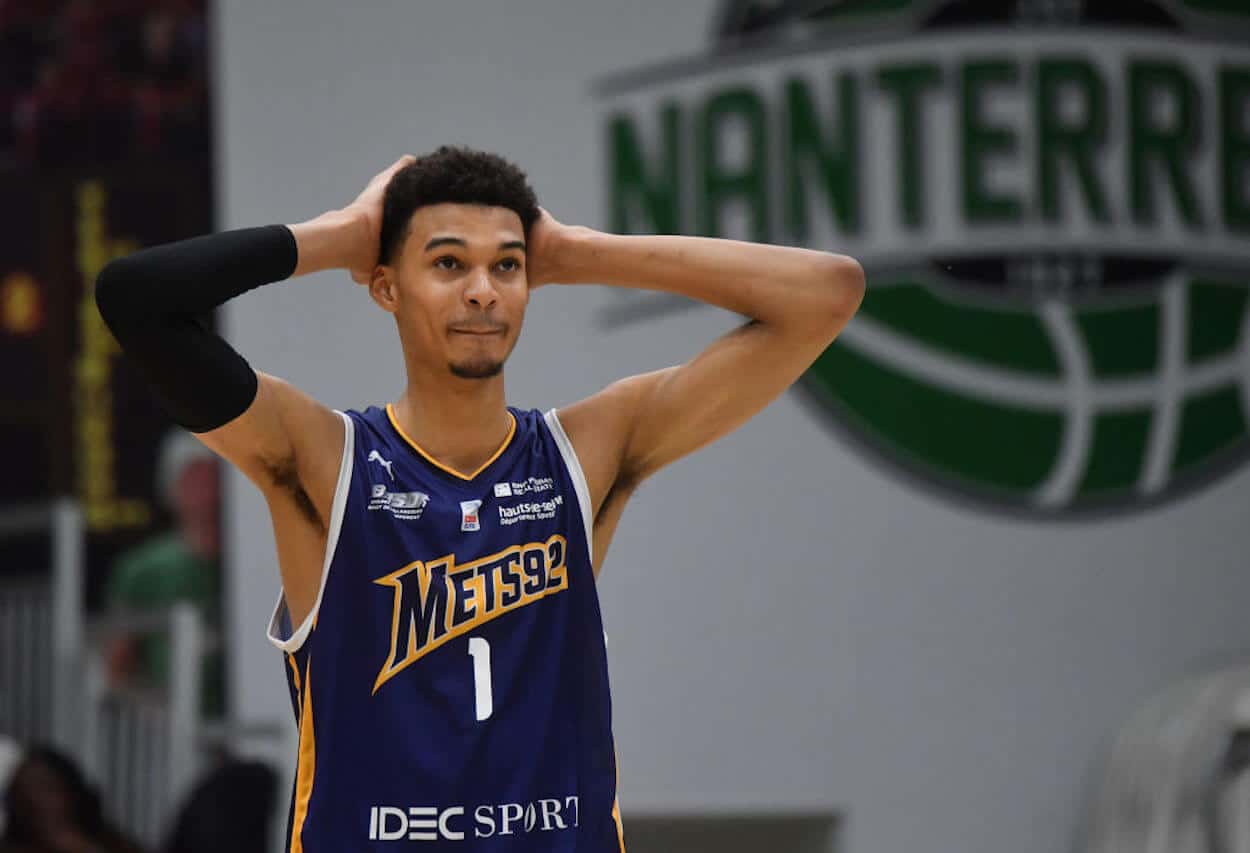 Why Isn't Victor Wembanyama in the NBA Draft Combine?
If you were hoping to see Victor Wembanyama in 2023 NBA Draft Combine action, you're going to be sorely disappointed.
At the risk of painting with a broad brush, most top-tier NBA players follow a similar road to the Association. After making a name for themselves in college, the prospects will declare for the draft. They'll then attend the NBA Draft Combine and, when the big day finally arrives, join a professional team. Victor Wembanyama, however, is doing things a bit differently.
The biggest deviation is apparent: Wemby is French, so he's been playing in his home country instead of attending an American college. But now we know there's a second shift. The big man, for better or worse, won't be attending the 2023 combine.
What's behind that decision? Let's break it down.
Victor Wembanyama will be taking part in the LNB Pro A postseason rather than the NBA pre-draft process
One of the complaints that surfaces in modern sports is that athletes are just chasing a paycheck rather than showing loyalty to their team. And whether you think that's a genuine issue or not, it's tough to take issue with Victor Wembanyama's actions.
At this point in time, everyone knows the teenager's plans. He has officially entered the 2023 NBA Draft and seems like a lock to become the first overall pick. Even if something incredible happens, Wemby won't fall any lower than the second spot.
Based on that reality, you might assume that Wembanyama has his feet up and is counting the days until he starts raking in massive amounts of money. And while he probably has an eye toward the future, it's not affecting the big man's commitments.
Down the stretch in the LNB Pro A campaign, the young star didn't hold himself out of the action; despite the risk of injury, he was taking the floor. Now that the playoffs are around the corner, things are reaching a new level.
Since the Metropolitans 92 are still in action, Wembanyama will be taking part in their postseason campaign. That schedule — the club's final regular-season game is on May 16 — means he won't attend the 2023 NBA Draft Combine. Attending the 2023 NBA Draft Lottery is probably off the table, too.
It's even possible that Wemby's club could be in action around the time of the draft itself. Would that be a big enough occasion for the talented teenager to fly to America? At this point, only time will tell.
If any prospect has the clout to skip the combine without consequences, it's Wembanyama
And while it might seem surprising that Victor Wembanyama won't be attending the 2023 NBA Draft Combine, his choice seems pretty logical. With all due respect to the pre-draft process, you aren't going to learn anything new about the teenager this close to the big day. If you aren't impressed by the teenager's existing track record, it's unlikely that a few uncontested jump shots on an empty court will change your mind.
The biggest potential sticking point could be medical examinations since Wemby did struggle with injuries during his early professional career and places some serious strain on his joints by virtue of being so tall. With that being said, though, the relevant teams will find a way to do their due diligence; this isn't the first time a high-profile player has skipped the combine, and you aren't going to let that absence stand in the way of selecting a franchise player.
And while there may be a few downsides for fans, too — we won't get to see the center scrimmaging against other prospects or get an official ruling on his height without shoes — there is a major silver lining to the news. The fact that we're talking about the draft combine means we're getting closer to seeing Victor Wembanyama taking part in competitive NBA action.
That's what we've all been waiting to see.