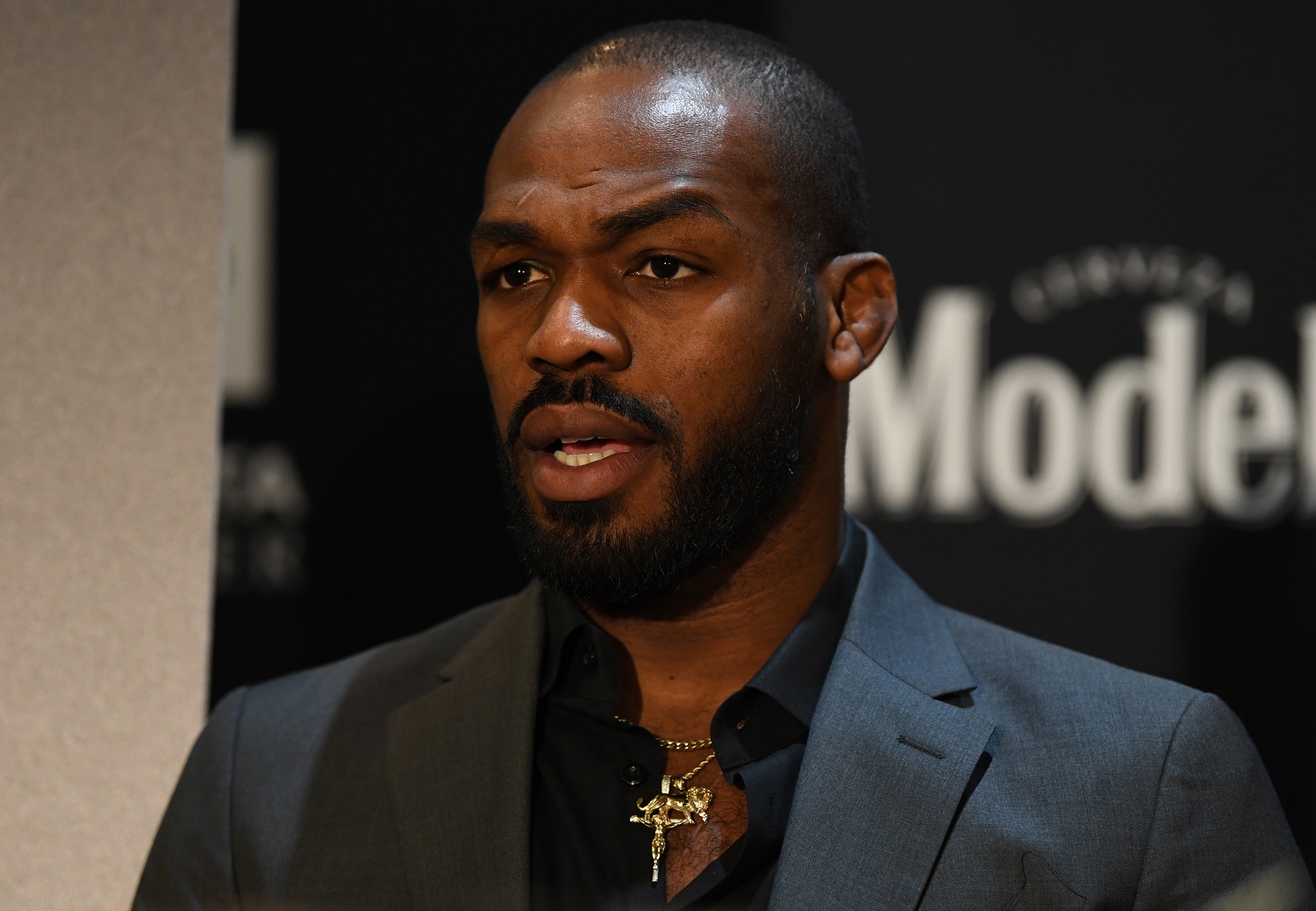 Will Past UFC Champion Jon Jones Ever Fight as a Heavyweight?
Multi-time UFC light heavyweight champion Jon Jones is close to unleashing a one-two punch by returning to the octagon. The current middleweight champ factors into his plans.
Dropping UFC fighters Junior dos Santos and Alistair Overeem helps tidy up the dominant MMA organization's heavyweight roster, but Jon Jones remains missing in action. More precisely, the multi-time champion in the sport is missing in inaction.
Dana White's organization has come through the first 12 months of the pandemic in better shape than some other pro sports, but the continued absence of arguably its biggest name deprives the sport of a headliner who can turn any UFC card into a bigger weekend deal than the NCAA Tournament, The Masters, baseball's opening day, or the start of the NBA playoffs.
Finally, however, there is some clarity as to when we will see Jones return to the octagon. It could be in the form of an epic one-two punch.
Jon Jones has been out of UFC octagons for more than a year
The last time Jon Jones stepped into the octagon was at UFC 247 on Feb. 8, 2020, when he scored a decision over Dominick Reyes to retain his light heavyweight championship. That was followed by Jones making noise about leaving the UFC or quitting the sport entirely. There was little doubt that money was at the root of his discontent.
Other MMA outfits would have been hard-pressed to pay Jones what he wanted, especially coming off three straight victories via decision that weren't leaving pay-per-view buyers eagerly awaiting his next fight.
It's not like he was going to join brothers Arthur and Chandler Jones as a football hero, so the man known as "Bones" needed a new plan while waiting out the pandemic. To his credit, Jones did come up with a solid idea: Moving up to the heavyweight division, where the money is generally better and where there are fresh matchups to be made.
The UFC heavyweight division is on the move
Jon Jones vacated his light heavyweight championship in August 2020, and Jan Blachowicz earned the title by beating Dominick Reyes via TKO the following month. Blachowicz will defend against current middleweight champion Israel Adesanya on March 6 at UFC 259. There are no heavyweight fights on that card, but the division is nevertheless coming into focus.
Ciryl Gane decisioned Jairzinho Rozenstruik on Feb. 27, 2021, to become a top-five contender, and champion Stipe Miocic takes on top challenger Francis Ngannou at UFC 260 on March 27. Throw in the news that former champ Junior dos Santos and Alistair Overeem have been released, and there's suddenly room to shake up the entire heavyweight class.
And that would work nicely in conjunction with the arrival of Jon Jones, the multi-time light heavyweight titlist with a 26-1 career record.
Jon Jones has been bulking up for his heavyweight debut
Jon Jones' year-long absence from UFC octagons hasn't been a total waste. He has been bulking up and actively training for the first of two lucrative and potentially memorable fights that he could take on this year.
UFC president Dana White is committed to allowing Jones to face the winner of Stipe Miocic vs. Francis Ngannou, MMA Junkie recently reported. Assuming there isn't an injury involved, the Jones fight could happen early this summer, after which Miocic or Ngannou can shut down for the rest of the year.
For Jones, however, there's another big payday ahead. He has been sniping with Israel Adesanya, the UFC middleweight champion. If Adesanya beats light heavyweight champion Jan Blachowicz at UFC 259, it gives him until the end of the year to pack on some additional muscle.
A fight between Jones and Adesanya – theoretically the heavyweight champ against the man already holding two titles concurrently – would shape up as the sport's most talked-about battle in years.
Like Sportscasting on Facebook. Follow us on Twitter @sportscasting19.