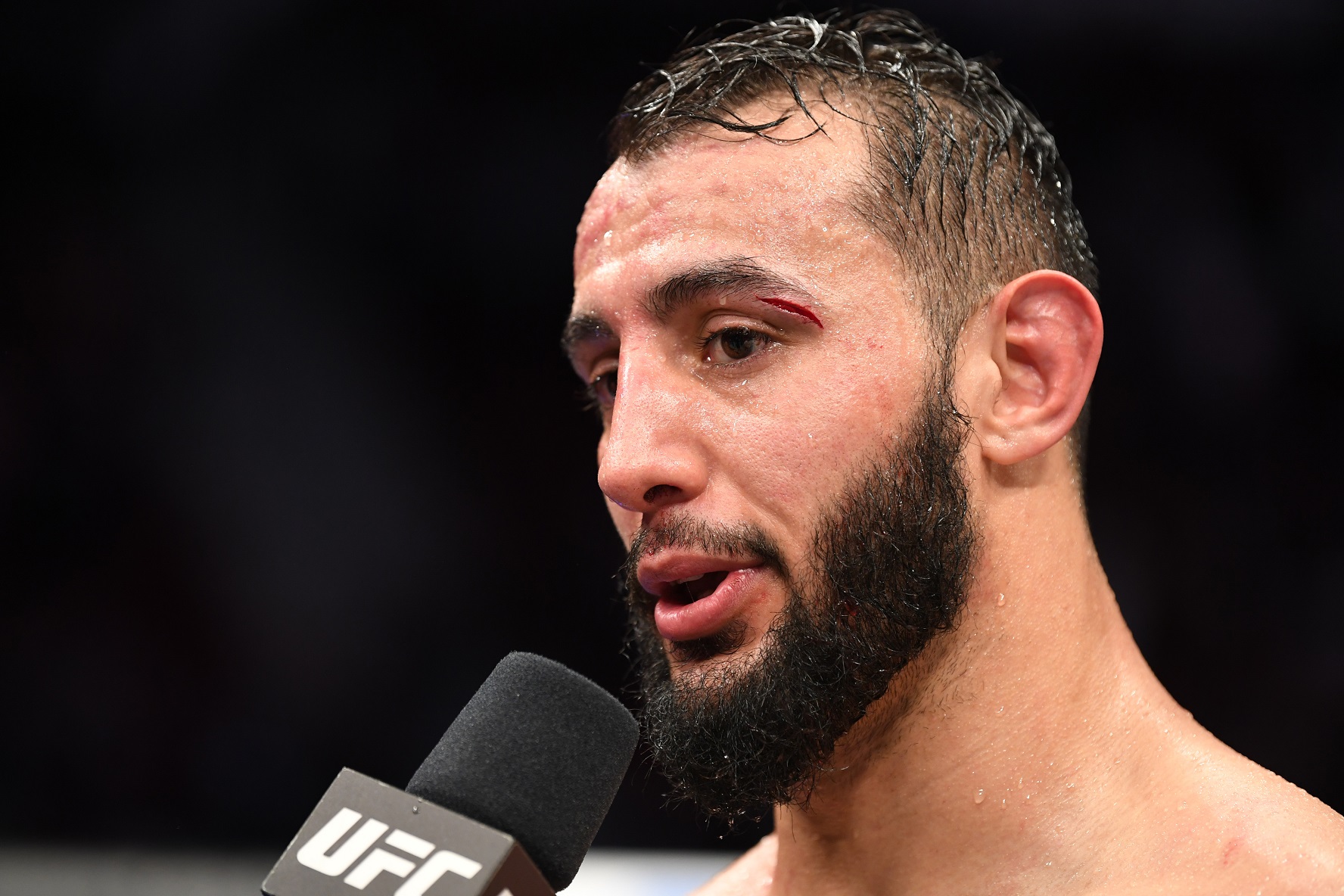 UFC Star Jon Jones Wants More Money, So Dominick Reyes Just Cashed In, Too
With Jon Jones out of the picture, Dominick Reyes is positioned to win the UFC light heavyweight championship.
Few observers of the mixed martial arts scene took talk of Jon Jones leaving the UFC seriously earlier this year. As unhappy as Jones was about how much he earned as one of the most accomplished fighters in the history of MMA, his career options were limited.
Jones has apparently found a sensible path to bigger paydays. His decision should also result in better pay for a few of his fellow combatants.
Jon Jones is moving up, making room for Dominick Reyes
Jon Jones has already done everything that there is to be done in the light heavyweight division of the UFC. He owns victories in the past two years against four of the top five contenders in the division. For good measure, he also defeated heavyweight Daniel Cormier, who just lost his rematch with Stipe Miocic.
There are no prospective light heavyweight opponents for Jones who will get the pay-per-view cash register ringing. There are also no other realistic places for him to go to earn the money he feels he deserves.
In light of that, Jones has made the logical decision by announcing that he is surrendering his championship belt. He'll now seek a path to the heavyweight championship.
Getting his shot at the title shouldn't be all that complicated given that Cormier has retired, leaving a large gap between Miocic and the pack. Francis Ngannou will get his crack at Miocic, and then Jones absolutely must get his shot.
In the interim, Jones can schedule a ranked opponent and collect the sort of plus-sized check commanded by top heavyweights.
Jon Jones opens the door for other light heavyweights
Jon Jones has issued a $100,000 challenge to UFC light heavyweights. He will pay that amount to the charity of the first champion to make six consecutive successful title defenses. Jones can fund the challenge by putting $2,500 into an interest-bearing account since it'll be about 40 years before anyone collects.
Jones' record is eight title defenses, but he recognizes that mark is out of everyone's reach.
"Was going to challenge a light heavyweight to beat my world championship record but we all know that's probably not happening in this lifetime," he tweeted.
Challenge aside, Jones has opened the door for fighters in the stagnant light heavyweight division to make money. By surrendering his championship, he instantly turned half a dozen fighters into title contenders.
That sets up several fights that fans will buy on PPV because the bouts will have meaningful title implications.  The first fighter to benefit appears to be Dominick Reyes, who boasted on Twitter that he has signed a contract.
Reyes didn't elaborate, so it wasn't immediately clear whether the contract was for an upcoming bout or a multi-fight deal. But Jones' departure makes Reyes the top name among light heavyweights for now, so there is likely more money coming his way. That will also trickle down to other contenders as the division reboots while adjusting to life without Jon Jones.
Dominick Reyes will get first crack at the title
With Jon Jones finally out of the picture while awaiting a chance in the heavyweight division, the light heavyweights have some work ahead to fill the title vacancy and re-sort the list of contenders to set up attractive fights to dot the next half-dozen major cards.
The line forms behind Dominick Reyes, whose only loss in 13 fights was a decision to Jones at UFC 247 in February in a fight that some observers are convinced Reyes won. ESPN reports that the UFC's first choice is to pit Reyes against No. 3 contender Jan Blachowicz, probably at UFC 253 on Sept. 26. That's not a perfect solution since Thiago Santos beat Blachowicz in February 2019. But Santos is already fighting Glover Teixeira.
The results of those fights give UFC president Dana White instant possibilities for headline fights to kick off 2021 and make the light heavyweight division interesting again.