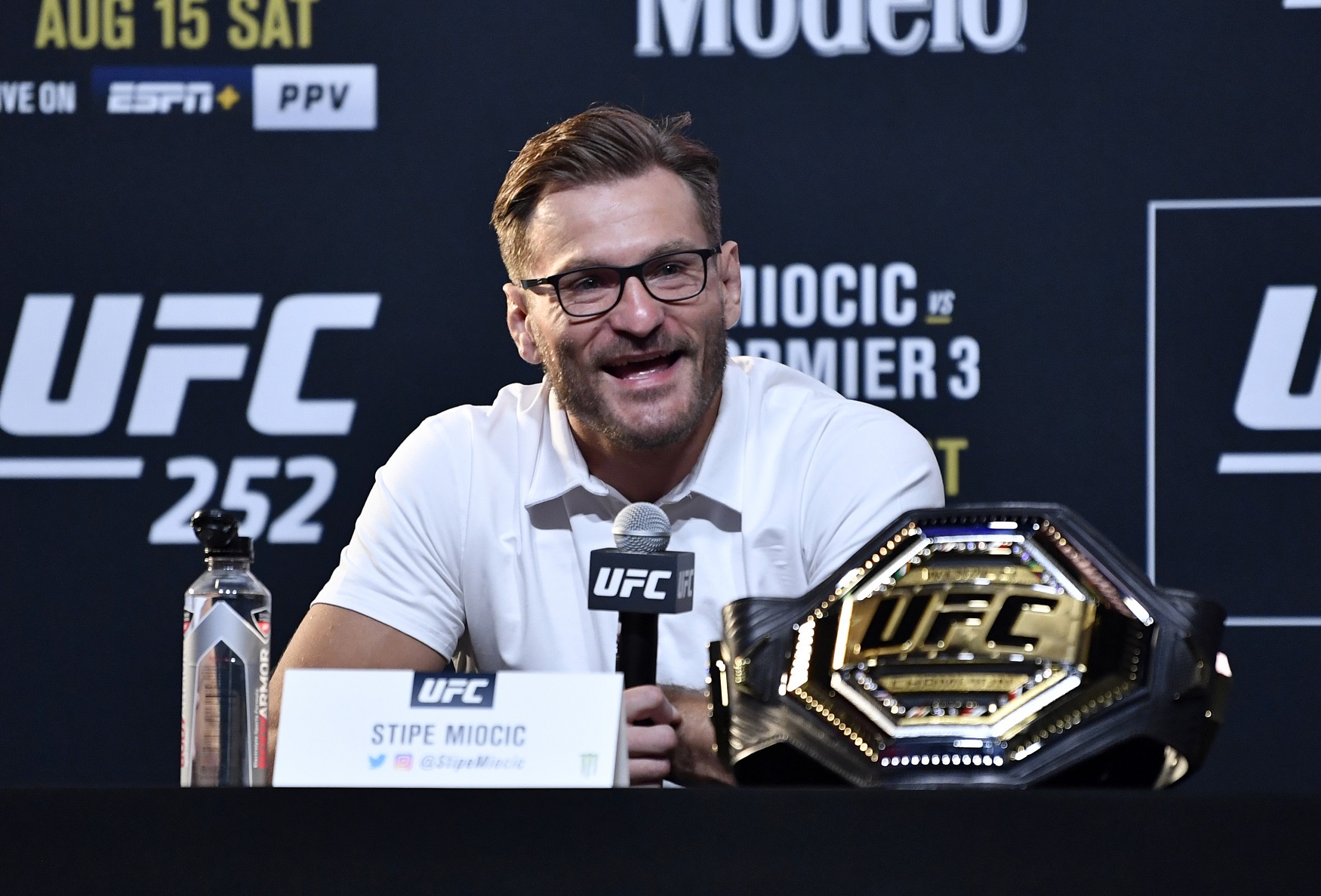 Stipe Miocic's Net Worth Means the UFC Star Won't Tap Out in Retirement
Stipe Miocic's net worth exploded with the help of his first two UFC heavyweight fights against Daniel Cormier.
No one can ever accuse Stipe Miocic of not giving mixed martial arts fans their money's worth. The UFC heavyweight champion has walked away with performance of the night honors in five of his last 10 bouts.
It's no coincidence that four of those five victories came via first-round knockouts. Miocic is a heavy hitter in the octagon, which translates into big showings for the UFC at the box office and a decent net worth for him.
UFC 252 is the rubber match with Daniel Cormier
It's usually not smart business for the UFC to ask a fighter to take three consecutive matches against the same opponent. The third bout is invariably a tiebreaker, which usually means there won't be much separation between them in the rankings regardless of the result. That clogs up the rankings at the expense of others anticipating moving up.
In the case of UFC 252, however, it's only natural for heavyweight champion Stipe Miocic to make Daniel Cormier his opponent for the third straight time. For starters, they've traded the title in their two outings, both well-received by fans.
Rematches shouldn't be automatic, but they might as well be in an instance like this in which Miocic and Cormier have separated themselves from the rest of the division. Francis Ngannou is the second-ranked contender behind Cormier, but he lost to Miocic and then Derrick Lewis back-to-back in 2018. He's since fought his way back and should earn a crack at the title soon.
Cormier won by knockout vs. Miocic 4:33 into the first round at UFC 226 in Las Vegas in July 2018. Miocic won via a fourth round TKO in August 2019 at UFC 241 in Anaheim, California.
Stipe Miocic has been consistently good
At 19-3 with 15 knockouts, Stipe Miocic is anything but a fluke champion. A former Golden Gloves boxing champion and college wrestler who also excelled in baseball, Miocic has shown that his real athletic gift is inside the octagon.
After turning pro in 2010, Miocic rattled off six victories in 16 months to earn his first UFC contract. His only blip in his next seven outings was a knockout loss at the hands of Stefan Struve eight years ago. He would lose again in December 2014, this time by decision to Junior dos Santos, but the 6-foot-4, 233-pound heavyweight was on his way.
Miocic captured the heavyweight crown from Fabricio Werdum with a first-round knockout at UFC 198 in May 2016. After two first-round knockouts and the unanimous decision over Francis Ngannou to set a heavyweight record for consecutive successful defenses, he lost the belt to Daniel Cormier.
Thirteen months later, Miocic reclaimed the championship in the rematch, earning the ninth UFC fight-night bonus of his career in the process.
Stipe Miocic's two-pronged net worth strategy
Stipe Miocic has pocketed $1. 5 million from his two head-to-head confrontations with Daniel Cormier. Under Nevada State Athletic Commission rules, his payout from the latest rematch will be disclosed shortly after UFC 252.
At 37 years old, Miocic likely doesn't have many more fight checks in his future. But that shouldn't worry him on two fronts.
Firstly, Miocic has built a tidy post-retirement savings account. Celebrity New Worth pegs his worth at $4 million, and that's all but certain to grow since the heavyweight elites command $500,000 or more per fight even before performance bonuses or provisions for sharing pay-per-view revenue.
In addition, however, Miocic has been working as a part-time paramedic and firefighter in his native Ohio. Miocic has said in the past that he may pursue full-time work as a firefighter after he leaves the UFC.