Wilt Chamberlain Took Some Shots at Kareem Abdul-Jabbar Before and After His Scoring Record Was Broken
Wilt Chamberlain was the NBA's all-time leading scorer for 18 years. Then came along a player named Lew Alcindor, later known as Kareem Abdul-Jabbar. On April 5, 1984, Abdul-Jabbar used his patented skyhook to break Chamberlain's mark of 31,419 career points.
While there was mutual respect between the two legendary centers, Chamberlain took some subtle shots at Abdul-Jabbar before and after his record was broken.
Wilt Chamberlain earned the respect of Kareem Abdul-Jabbar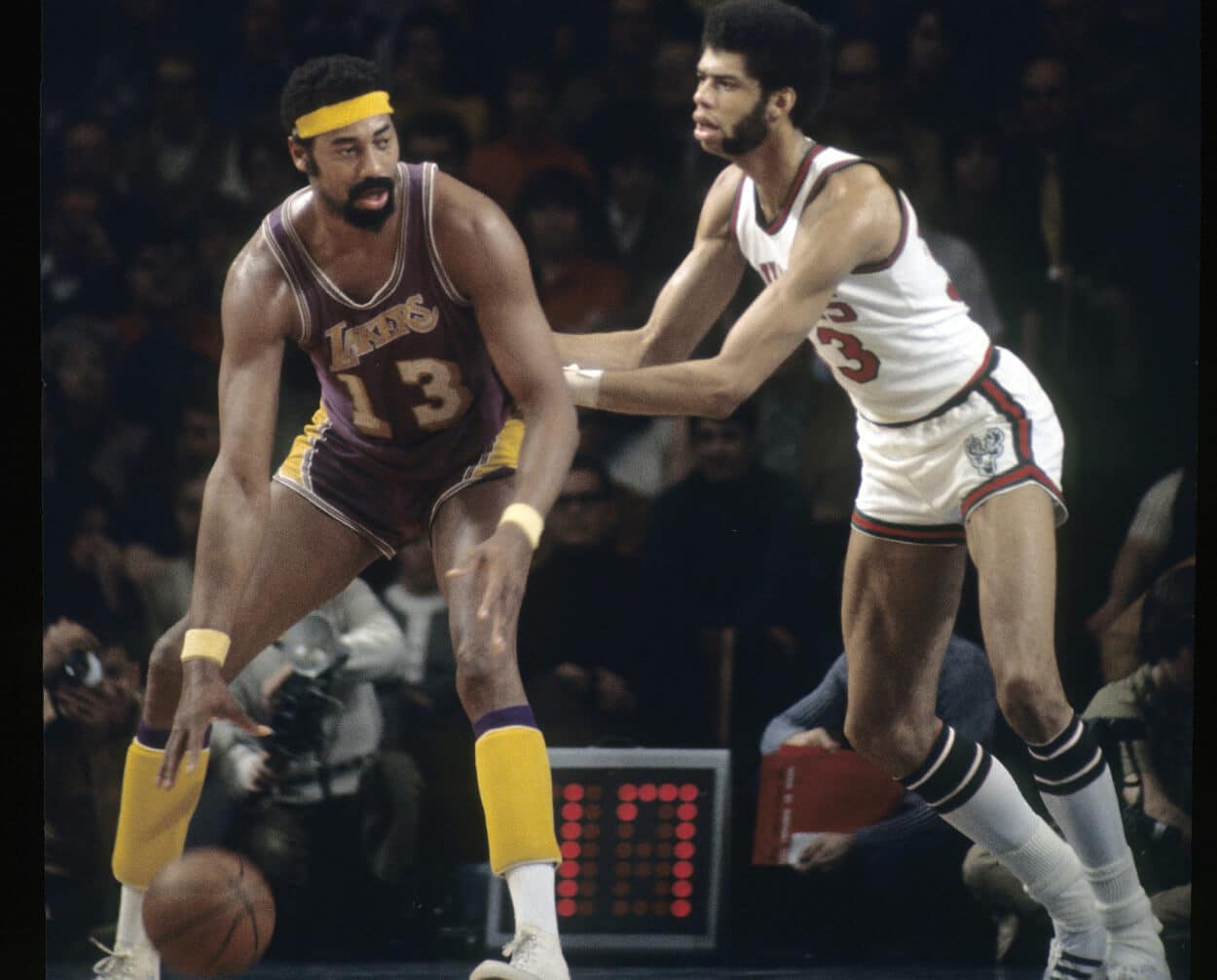 During his 14 years in the NBA, Chamberlain put up bigger numbers than any other player. He often was labeled selfish and a me-first player with the statistics he produced.
Chamberlain led the league in scoring in his first six seasons. In his third year with the Philadelphia Warriors, he scored 100 points in a 169-147 victory over the New York Knicks. That season, he averaged 50.4 points and 25.7 rebounds. Nobody has ever had a season like that. Despite the lofty numbers, Chamberlain didn't win the MVP that year.
While the voters didn't give Chamberlain the respect he deserved, Abdul-Jabbar certainly respected the man. After Abdul-Jabbar's record-breaking day in a 129-115 win over the Utah Jazz, he turned his attention to the man he just surpassed.
"I have immense respect for him," Abdul-Jabbar said after the game, per The Associated Press. "I know for a fact that Wilt doesn't appreciate the fact that for a lot of his career, he was taken for granted.
"There's no way I can eclipse him totally. He proved his greatness a long time before I started playing basketball."
Chamberlain took a couple of digs at Abdul-Jabbar before and after he set the record
Abdul-Jabbar broke the record in Las Vegas, one of 11 "home" games the Jazz played that year to help draw more fans. Chamberlain didn't attend the game, but he went to LA the following night as the Lakers honored their record-setter. According to Robert Cherry's biography of Chamberlain Wilt: Larger than Life, Chamberlain was on his best behavior that night.
Cherry wrote that a couple of months later, Chamberlain let off some steam when reflecting on Abdul-Jabbar's achievement.
"Kareem breaks my scoring record, and he gets a brand-new Mercedes, a $65,000 car," Chamberlain said, per Cherry. "This is one of the 103 records I owned, and nobody gave me a popsicle."
Cherry wrote about Chamberlain's insecurities and how he felt he had to remind people of his place in the game. He said every so often Chamberlain would take a "potshot" at Abdul-Jabbar as he inched closer to his record.
"If I dropped down from Mars into the middle of an NBA court today without anyone knowing who I was, it would be a week before they'd say, 'Chamberlain is the best. Who is this guy Kareem Abdul-Jabbar?'" Chamberlain said.
Abdul-Jabbar was well aware of what was going on.
"As my fame and accomplishments increased, so did his animosity," Abdul-Jabbar wrote of Chamberlain in a 2022 Substack article. "Winning the championship the year before, in my second year in the NBA, seemed to put him over the top."