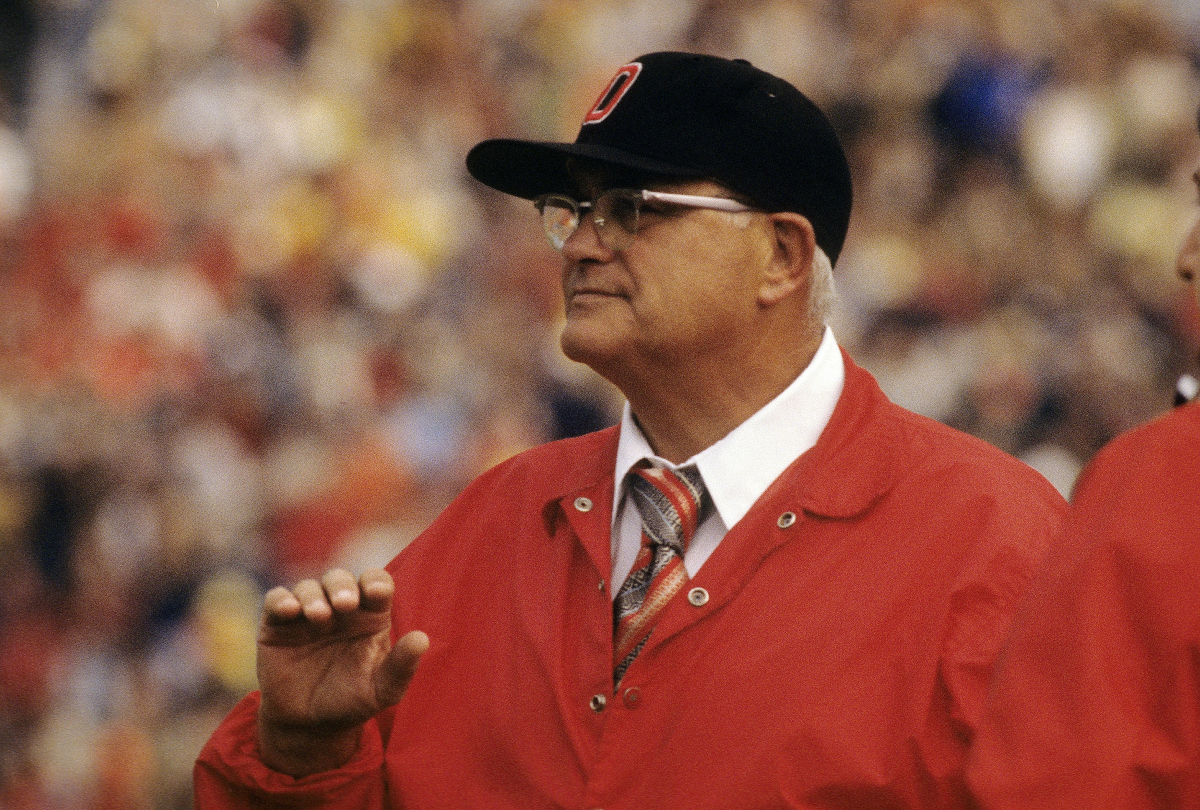 Woody Hayes' Dominant Run at Ohio State Came To an Abrupt End After He Foolishly Punched a Player From Another Team
Woody Hayes was one of the most legendary coaches of all-time at Ohio State. However, his dominance came to an end after he punched a player.
Woody Hayes is an Ohio State Buckeyes icon. He helped lead them to five college football national championships and ultimately made the program the dominant one it is today. However, Hayes' tenure with the Buckeyes came to an abrupt end. This came after he foolishly punched a player on another team.
Woody Hayes won five national championships with Ohio State
Ohio State is one of the most dominant college football programs in the country. However, it really didn't become as respected as it is today until Woody Hayes became the team's head coach.
According to Ohio State's site, Hayes first coached the Buckeyes in 1951. After going 4-3-2 in his first season and 6-3 in each of the next two seasons, Howard Cassady (an eventual Heisman Trophy winner) and other great players led the Buckeyes to a 10-0 record and an AP national championship in 1954.
The Buckeyes then won another championship just a few years later in 1957 after going 9-1.
Hayes then made Ohio State one of the most dominant programs of all-time in the 50s and 60s. He ultimately led them to five national championships (1954, 1957, 1961, 1968, and 1970). They also won 13 Big Ten championships with Hayes and had three Heisman Trophy winners, including Archie Griffin, who won two.
However, in 1978, Ohio State's dominance with Hayes came crashing down.
Woody Hayes punched a player on the Clemson Tigers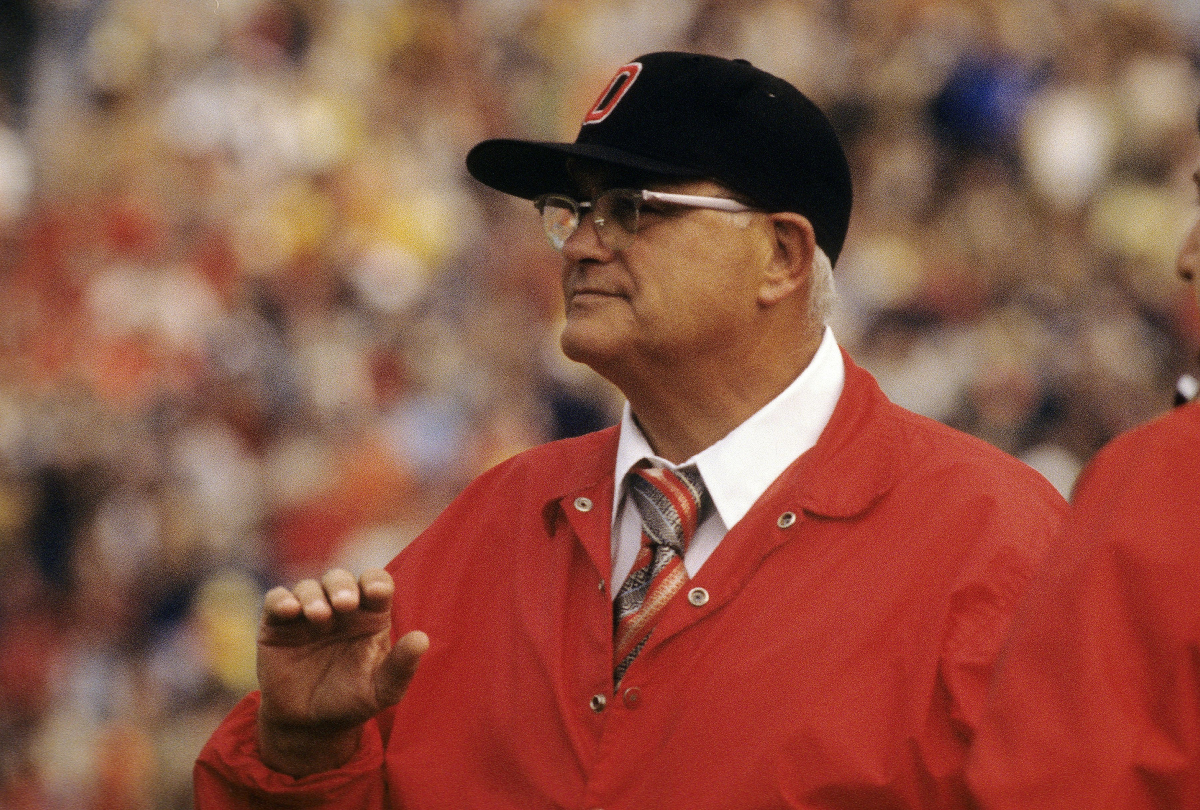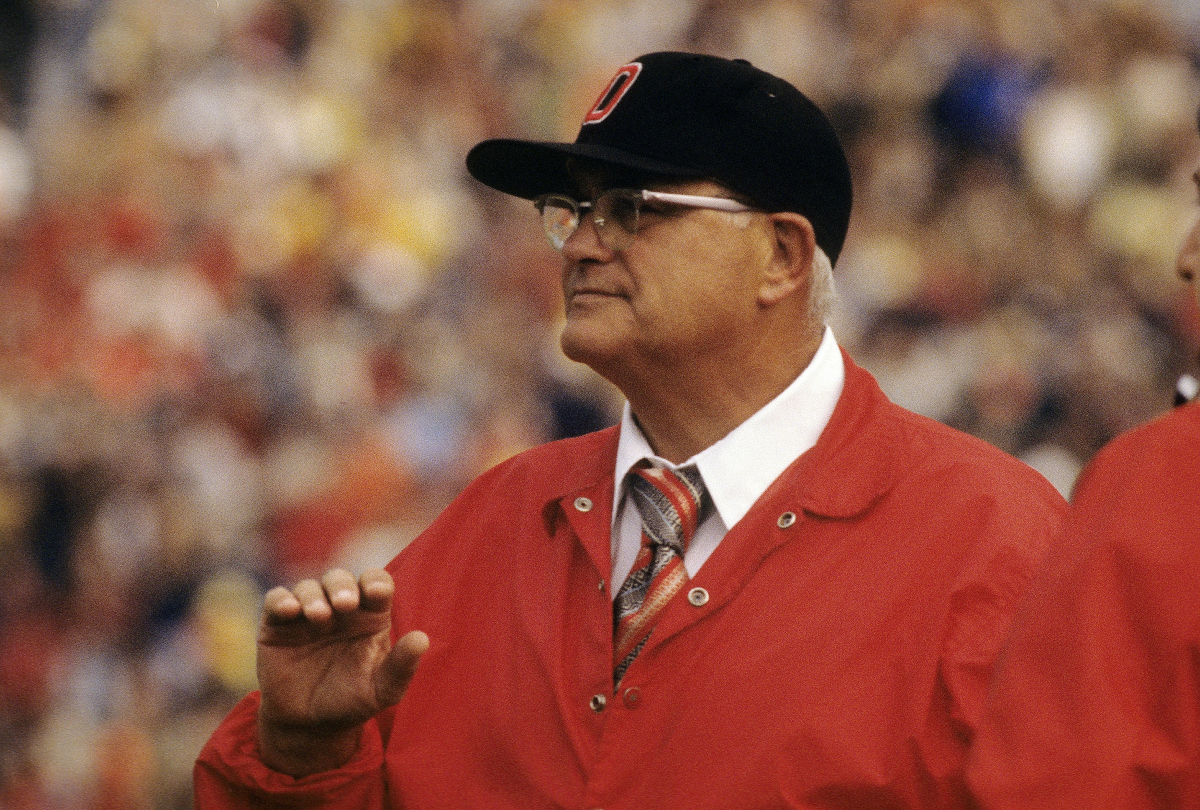 The Buckeyes weren't a great team in 1978 by any means. They were just OK, as they went 7-4-1 and made the Gator Bowl where they played the Clemson Tigers.
While Ohio State's program was much better than Clemson's at that time, Clemson was the better team in 1978. According to ESPN, Clemson ultimately held a 17-15 lead in the Gator Bowl with a couple of minutes left, but the Buckeyes were on Clemson's 24-yard-line. However, on third down, freshman quarterback Art Schlichter threw an interception right to Clemson nose guard Charlie Bauman.
Bauman then returned the interception toward the direction of Ohio State's sideline before ultimately getting tackled near Hayes' feet. ESPN reports that Clemson linebacker Bubba Brown said he then heard Hayes scream to Bauman, "You SOB, I just lost my job!"
Soon after, ESPN writes that "Bauman jumped to his feet and looked toward the stands. Hayes pulled the back of Bauman's jersey toward him, then swung his right arm at Bauman's throat."
Hayes was actually known for hitting players at OSU, and it often even became a joke.
"I think if you spent four years at Ohio State and Woody didn't hit you, you felt cheated," former Ohio State linebacker Glen Mason said, according to ESPN.
However, the 1978 Gator Bowl was different. Athletic director Hugh Hindman met with Hayes after the game. Then, while the team was on the plane on their way home the next day, Hindman announced Hayes' firing.
Sure, Ohio State had some good seasons after firing Hayes, but it took years for them to become dominant again.
Ohio State didn't win national championships again for 30 years
It took years for Ohio State to become as dominant as it was with Hayes again.
After winning a national title with Hayes in 1970, the Buckeyes didn't win another one until Jim Tressel came along and led them to a national championship during the 2002 season. Tressel then led them to two more national championship game appearances, but they didn't win a title again with him.
While Tressel made OSU one of the country's top teams again, Urban Meyer helped take the Buckeyes to the next level when he took over the program in 2012. In Meyer's third season with Ohio State in 2014, he helped them win the first-ever College Football Playoff national championship. He also led them to another CFP appearance during the 2016 season.
Meyer also helped OSU become a factory for great NFL players, as Buckeye alums include Ezekiel Elliott, Michael Thomas, Joey Bosa, Nick Bosa, and Chase Young. The 2018 season was then Meyer's final season, and Ryan Day has since continued OSU's tradition of excellence. He led them to two CFP appearances and a national championship game in his first two seasons.
The Ohio State Buckeyes have one of the most storied traditions in college football. While Jim Tressel, Urban Meyer, and Ryan Day have helped them become one of the country's top programs, Woody Hayes is the one who intitially put them on the map before ultimately getting fired.
Like Sportscasting on Facebook. Follow us on Twitter @sportscasting19.