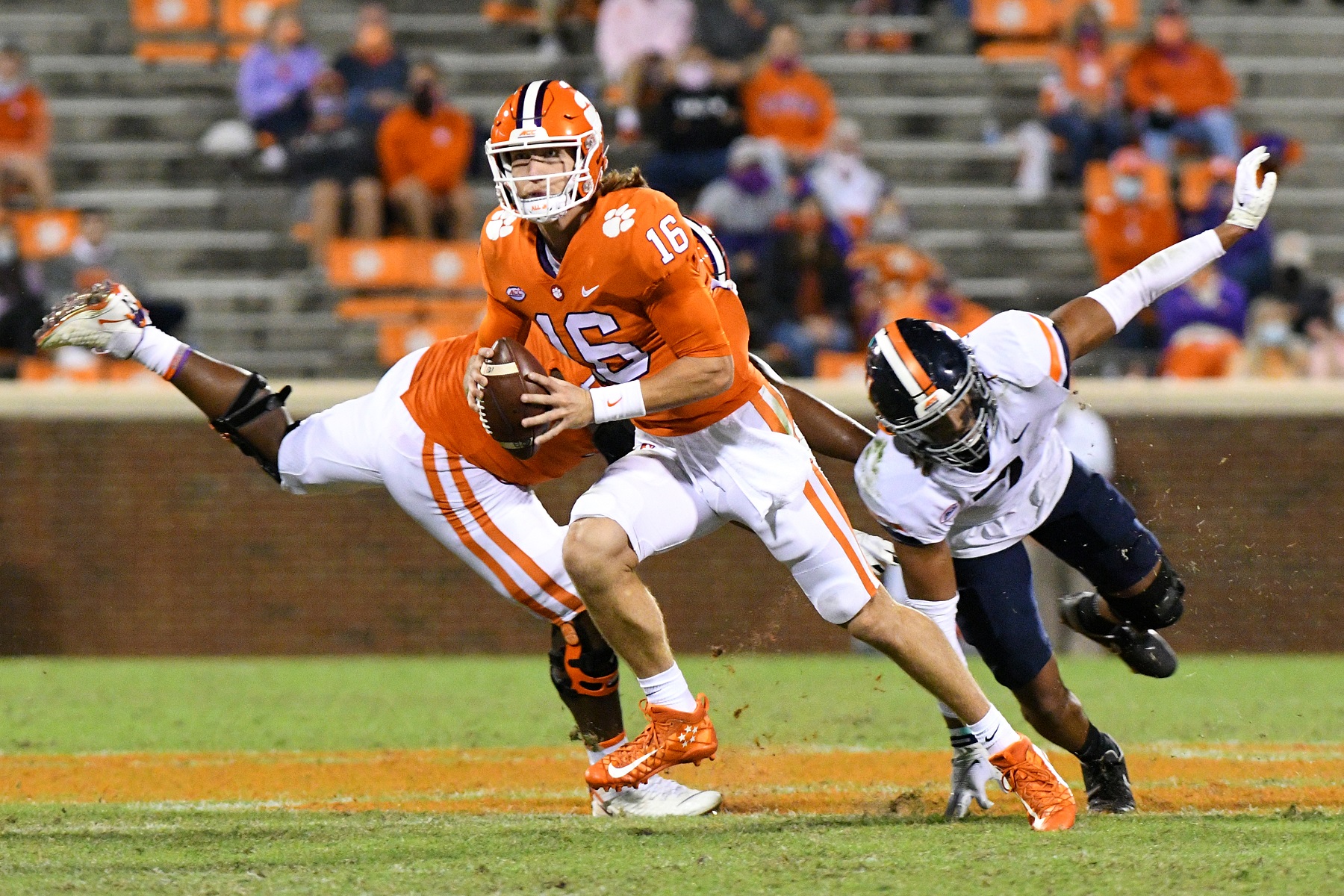 Would You Bet $1 Million on Clemson This Weekend To Win $1,000?
Trevor Lawrence and Clemson are 46-point favorites vs. Syracuse. However, that's not even the most outlandish betting proposition.
People of a certain age will remember a Jim Croce song that warned against tugging on Superman's cape, spitting into the wind or pulling the mask off "that ol' Lone Ranger." All good advice. But if Croce had lived to the age of 77, he'd also be advising you today to avert your eyes. Trevor Lawrence and Clemson are going to apply a wicked beatdown on Syracuse University.
This college football game has the potential to be so ugly that one of the common betting options might set some sort of record.
Clemson is being Clemson this season
When it comes to reliability in recent years, the two sure things in college football are Nick Saban's Alabama Crimson Tide and Dabo Swinney's Clemson Tigers. Alabama played in the College Football Championship four straight years and then went "just" 11-2 last season. Clemson has played in the title game four of the past five seasons.
Of the two, Clemson has a distinct advantage. Alabama gets a few cupcake games per season mixed into its SEC schedule. Clemson practically gets a sheet cake of sub-par competition in the ACC.
How bad is the ACC? While Clemson was going 14-1 last season, each of the other 13 conference members lost at least five times. And it's not as though that was a fluke, because 11 of them lost that many games in 2018, and 10 did so in 2017. Miami and North Carolina might be on the rebound, but there are no teams in the ACC that strike fear into the heart of the Tigers.
Clemson is off to a 5-0 start and has been ranked No. 1 in the country all season, and the Tigers are gaining steam. Led by Heisman Trophy favorite Trevor Lawrence, the Tigers applied a 73-7 beating to Georgia Tech last week.
Lawrence has thrown for 15 touchdowns and just one interception while running back Travis Etienne has carried 67 times for 436 yards. The completion rate for opposing passers is under 50%, and the defense yields just 2.6 yards per rushing attempt.
A COVID-19 outbreak is the only way Clemson isn't going back to the playoff semifinals.
Syracuse is being Syracuse this season
It's interesting that Syracuse University has played Clemson tough in four of the past six years. They even beat the second-ranked Tigers, 27-24, in a Friday the 13th stunner midway through the 2017 season.
But the Orange are just 24-30 in Dino Babers' four-plus years as their head coach, and this season has been a nightmare. Syracuse is 1-4 and coming off a home loss to Liberty University, a relatively new FBS program that had never beaten an ACC opponent before.
Syracuse has a lot to overcome. Between COVID-19 opt-outs and injuries, including to quarterback Tommy DeVito, Baber's squad is down to fewer than 60 scholarship players. That exacerbates their No. 1 issue – an inability to recruit enough players capable of competing against a Power 5 schedule.
You'll have to bet $1 million to make $1,000
Oddsmakers have taken notice of just how bad the Oct. 24 game at Clemson could be. The top-ranked Tigers have been installed as 46-point favorites over Syracuse University. The over/under has been set at 61.5, and the only drama figures to be whether Clemson hits that number by itself – and by the end of the third quarter.
With non-conference games against FCS schools who've moved their schedules to the spring due to the pandemic impossible this season, a 46-point spread could be as bad as it gets in 2020. It figures to be a tempting enough spot so that sportsbooks end up taking normal action on the game.
There's one bit of action they won't be taking, however. According to VSiN.com, the money-line bet on Clemson is -100,000. That means that a $1,000 winning wager on Clemson to win outright – the point spread doesn't matter – would net the better $1.
Put another way, you would have to place a successful $1 million bet on Clemson to net $1,000.
Like Sportscasting on Facebook. Follow us on Twitter @sportscasting19.