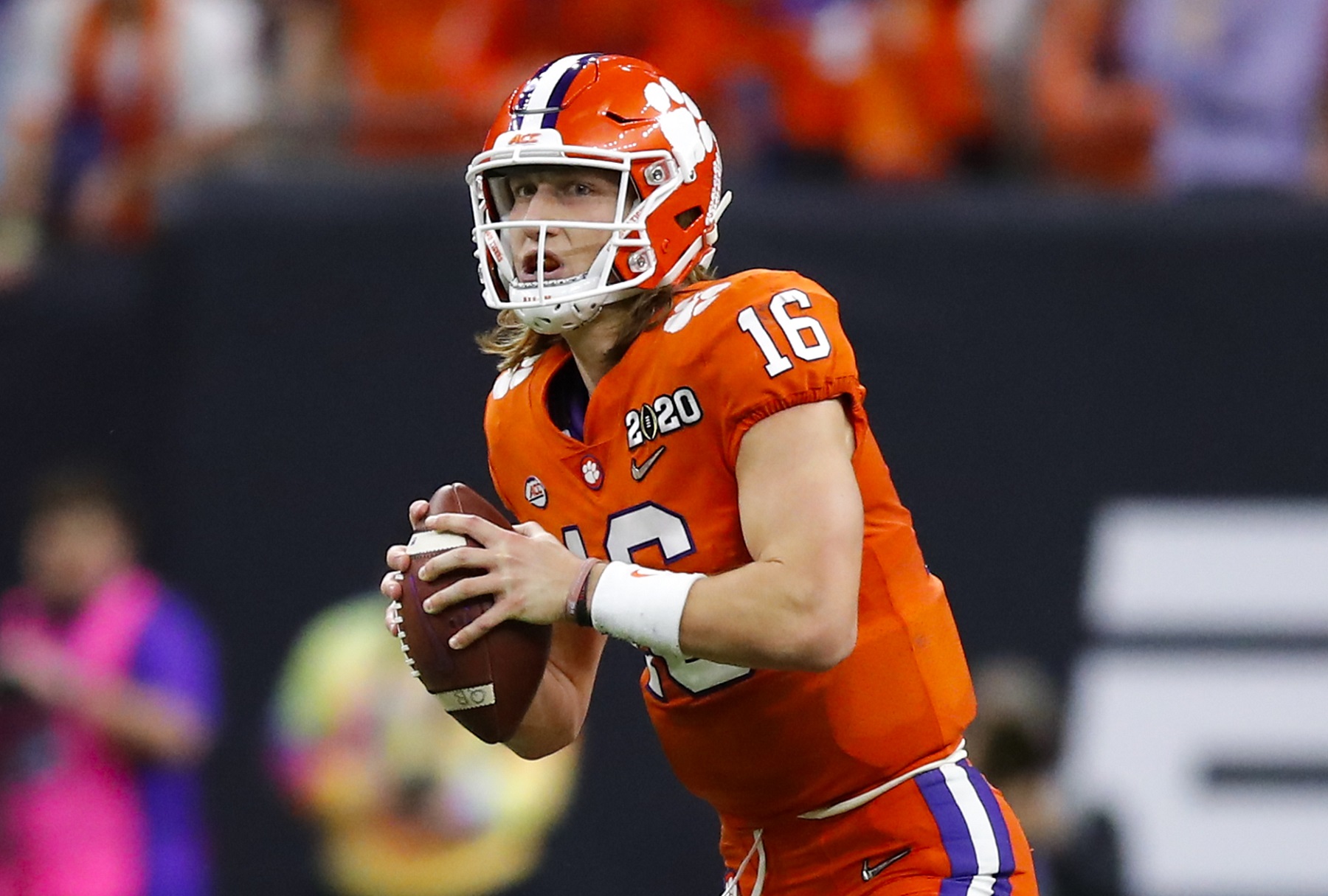 Dak Prescott Should Tell Trevor Lawrence He's Getting Bad Advice From a Pro Bowl Receiver
Trevor Lawrence of Clemson is a potential No. 1 NFL draft pick, but a retired star suggests staying in school if the New York Jets hold the top pick.
Talk may be cheap, but advice can be costly. It's a concept that Clemson quarterback Trevor Lawrence presumably understands. If he doesn't quite grasp it, though, then the potential No. 1 NFL draft pick ought to reach out to Dallas Cowboys star Dak Prescott.
The advice that former Atlanta Falcons Pro Bowl receiver Roddy White just gave college football's best-known player may have made sense as recently as two weeks ago. Now, however, it looks more like gambling with someone else's money.
In the case of Lawrence, it's a lot of money.
Roddy White to Trevor Lawrence: Don't go to the Jets
Roddy White has been out of football for five seasons, but it will be a long time before he's forgotten. An 11-year pro with the Atlanta Falcons, he posted one of the most productive eight-year stretches the NFL has seen.
White was the Falcons' first-round draft pick out of Alabama-Birmingham in 2005 after catching 71 passes and scoring 14 times as a senior. White's first two seasons saw modest production: 59 catches for 952 yards and three touchdowns.
From 2007-14, White was a terror for opposing secondaries. In eight seasons, he caught 706 passes for 9,405 yards and 59 touchdowns. He was selected to four Pro Bowls and retired with 808 catches and 63 scores. Clearly, the man knew his way around the NFL.
White is also fluent in college football talk. He follows Clemson because he is related to Tigers offensive coordinator Tony Elliott, so White knows all about star quarterback Trevor Lawrence.
White was asked in an interview with The Big Lead whether he had thoughts for Lawrence about his future. His advice consisted of telling Lawrence to avoid the New York Jets. The Dallas Cowboys had a nice stretch with Troy Aikman, Tony Romo, and Dak Prescott at quarterback; the Jets have been the antithesis.
"Tell Trevor if the Jets get the first pick, don't go," White said.
The case for Trevor Lawrence staying at Clemson
The New York Jets are in the hunt for the No. 1 pick in the 2021 NFL draft at a time during which they must have doubts about incumbent quarterback Sam Darnold. The Jets will have to decide on Darnold's fifth-year option at the end of this season, which is off to an 0-6 start.
There are nine one-win teams at the moment, so it's not as though the Jets have a lock on the first pick. If they do land the spot, though, former Atlanta Falcons receiver Roddy White thinks any quarterback should have reservations about going there.
"They do not know how to put anything together over there as far as quarterbacking, as far as weapons around a quarterback, as far as anything doing with offensive talent," White told The Big Lead.
The Jets' recent failings at quarterback have included Mark Sanchez (first round, 2009), Geno Smith (second round, 2013), Christian Hackenberg (second round, 2016), and potentially Darnold (first round, 2018). Combined, they don't add up to one Dak Prescott in Dallas or Patrick Mahomes in Kansas City.
Dak Prescott is why Roddy White's advice is dangerous
Trevor Lawrence has two strong seasons behind him at Clemson and is off to a great start as a junior with 15 touchdown passes, 1,544 yards, and just one interception through five games. He's the leader in the Heisman Trophy race midway through the season.
Lawrence has been widely regarded as the obvious No. 1 pick for more than a year now. Joe Burrow of LSU went to the Cincinnati Bengals at No. 1 earlier this year and signed for nearly $36.2 million over four years. It's not clear yet how the pandemic's hit to revenue sharing between NFL players and owners will affect the way rookies are paid next year. But the money will still be good.
Returning to Clemson in 2021 is no guarantee that he wouldn't have to play for the New York Jets or another team lost in the NFL wilderness in 2022. Worse still, there's the Dak Prescott scenario.
Prescott could not come to an agreement on his second contract with the Dallas Cowboys and was playing the 2020 season with a franchise tag paying him $31.4 million. While that's a big number, it pales in comparison to the four- or five-year deal he might have signed next offseason.
Prospects for that deal are uncertain following the compound ankle fracture and dislocation he sustained on Oct. 11 against the New York Giants.
If Lawrence returns to Clemson in 2021, he risks an injury that could delay or even entirely derail his NFL career before he takes a single snap – or cashes his first check.
That should be reason enough to disregard Roddy White's advice.