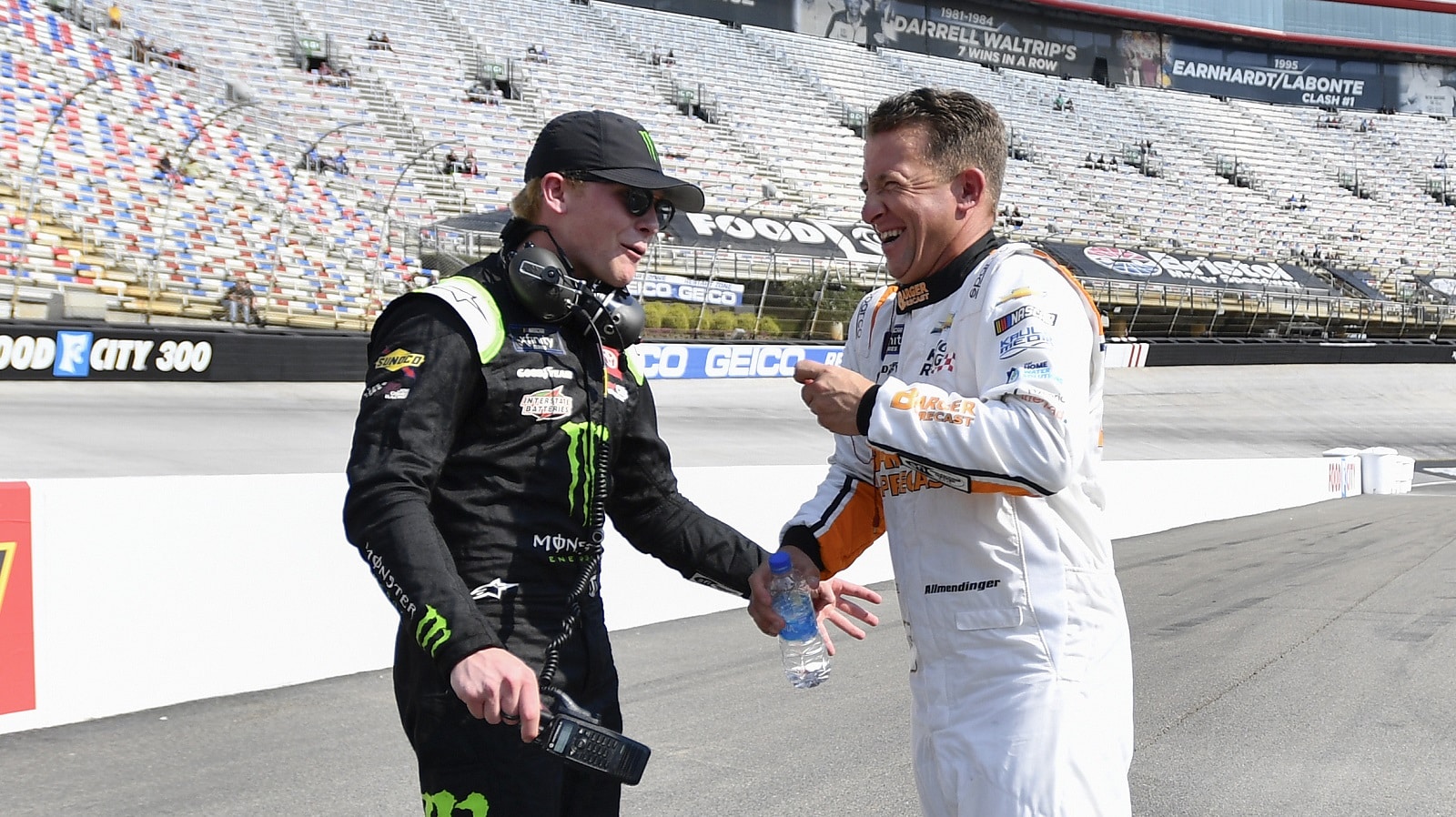 An Xfinity Series Star Swears Ty Gibbs Makes Him Even Better
AJ Allmendinger says Ty Gibbs forces him to up his game on NASCAR tracks every weekend.
The careers of AJ Allmendinger and Ty Gibbs are about as different as can be, yet here they are fighting for an Xfinity Series championship each Saturday and then battling in the NASCAR Cup Series the next day with pride on the line.
When the season began, the Cup Series was part-time work for Allmendinger, whose primary objective – in fact, the reason he was brought back to full-time racing in 2021 – was to win a series title for the trophy hunters at Kaulig Racing. Meanwhile, the Cup Series wasn't even on Gibbs' radar when teams rolled into Daytona in February because everyone assumed he was looking at two full seasons in the second tier before moving up.
Here they are now, side by side, and the veteran says the kid is forcing him to up his game.
How Ty Gibbs and AJ Allmendinger got here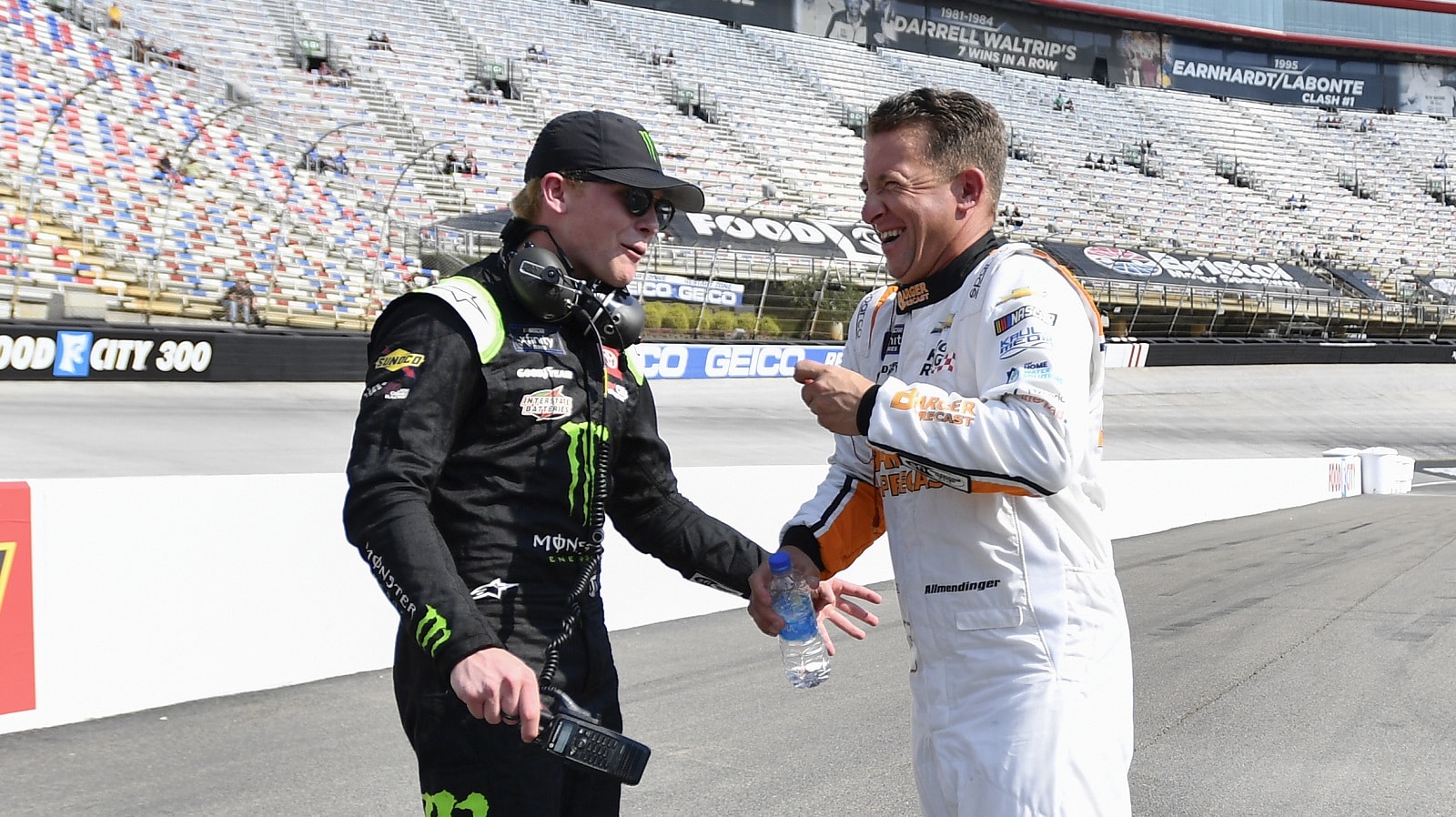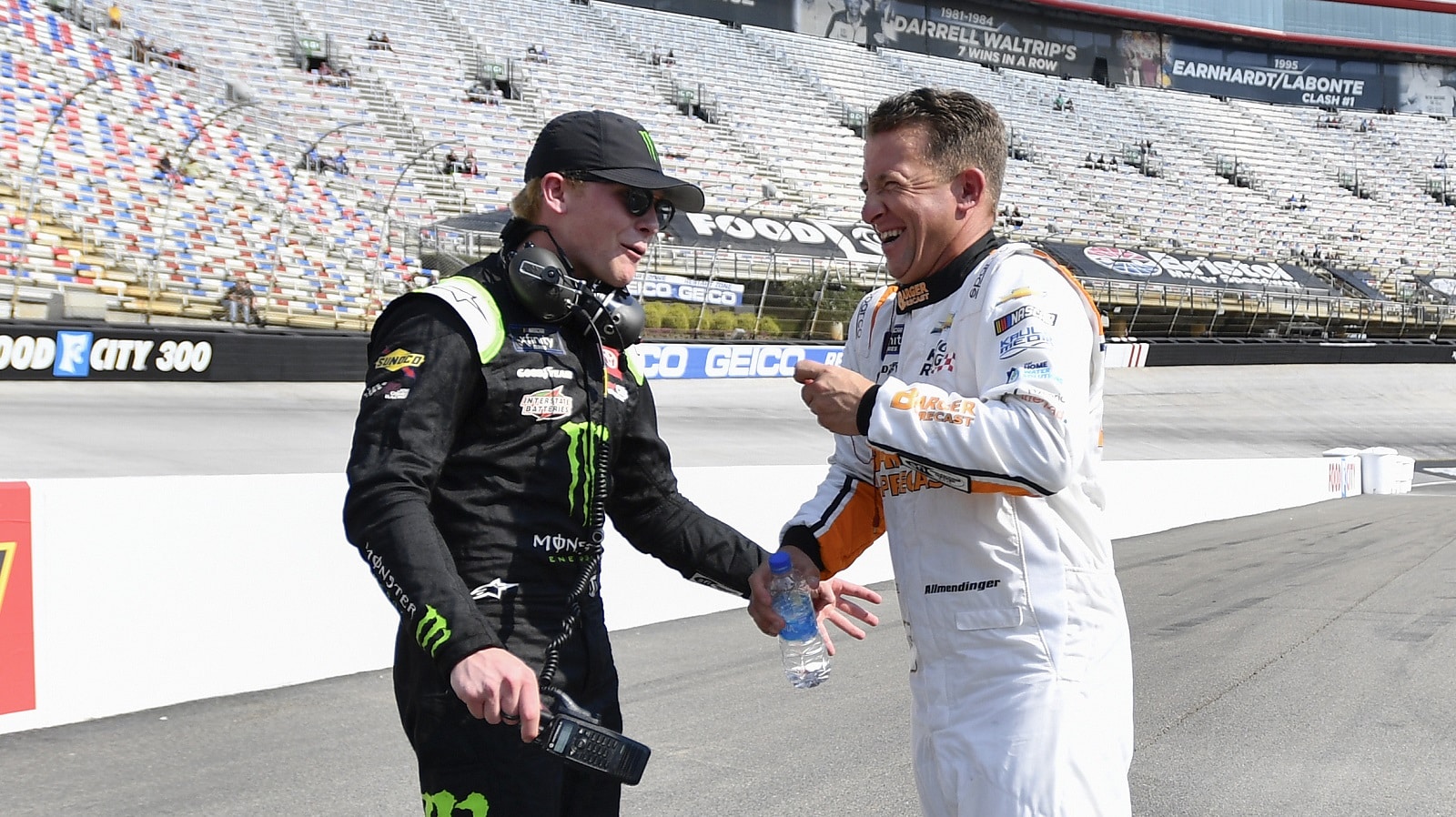 AJ Allmendinger came to NASCAR by way of open-wheel-racing. After winning five races in the Champ Car World Series in 2006, Allmendinger shifted his attention to NASCAR. And though he was running in the top 10 in the Cup Series frequently enough by 2011 to be a threat, he was never a smash hit. To this day, he owns just two victories and 15 top-five results in 397 starts.
Allmendinger, 40, has caught his proverbial second wind in the Xfinity Series. He won five races and finished fourth in the 2021 series. This season, he has won another five races, nailed down the regular-season title, and continues to battle for a spot in the Championship 4.
Gibbs, 20, has followed a different career path. The grandson of the Joe Gibbs Racing owner tore up the ARCA Menards Series and NASCAR K&N Pro Series for three seasons as a teen, but he still went into 2021 without a full-time Xfinity Series ride.
That didn't stop Gibbs from winning his Xfinity debut on the Daytona road course and then piling it on from there. In 48 starts over two seasons, he has won nine races and finished in the top 10 in 30.
Subbing for Kurt Busch in the second half of the Cup Series season, he has posted just one top-10 result in 13 starts. Still, some honest drivers out there on Sunday afternoons realize his future is brighter than their pasts.
AJ Allmendinger says Ty Gibbs makes him even better
Noah Gragson, Josh Berry, and Justin Allgaier will have a say at Homestead-Miami and Martinsville, but Ty Gibbs and AJ Allmendinger are two top threats to reach the Xfinity Series Championship 4 and win the title. Their combined stat line in 2022: 10 victories, 28 finishes in the top five, 46 finishes in the top 10.
Regardless of how the next three weekends play out, they're going to be facing off with even more at stake in 2023. Kaulig Racing has already announced Allmendinger will drive full-time in the No. 16 Chevy in the Cup Series. Gibbs has not officially inherited Kyle Busch's JGR No. 18 Toyota. That's a formality his grandfather will address after the season ends.
"I can't imagine being where he is in life at such a young age, and you get kind of thrust in the spotlight," Allmendinger told reporters last weekend in Las Vegas.
Allmendinger alluded to controversies engulfing Gibbs at times, "but what he's really good at is just not on the race track itself. If you really look at it, he doesn't make a ton of mistakes and put himself in bad positions. But he's got so much talent."
That talent of the driver half his age is keeping Allmendinger on his toes. "Dinger" isn't afraid to admit it.
"I love racing against him because it pushes me to my limits, and I have to be at my best and maybe even go levels that I don't think I have sometimes, even just trying to run with him.

"So, he'll be around for a long time, no doubt on that."

AJ Allmendinger
Got a question or observation about racing? Sportscasting's John Moriello does a mailbag column each Friday. Write to him at [email protected].
Have thoughts on this topic? Keep the conversation rolling in our comments section below