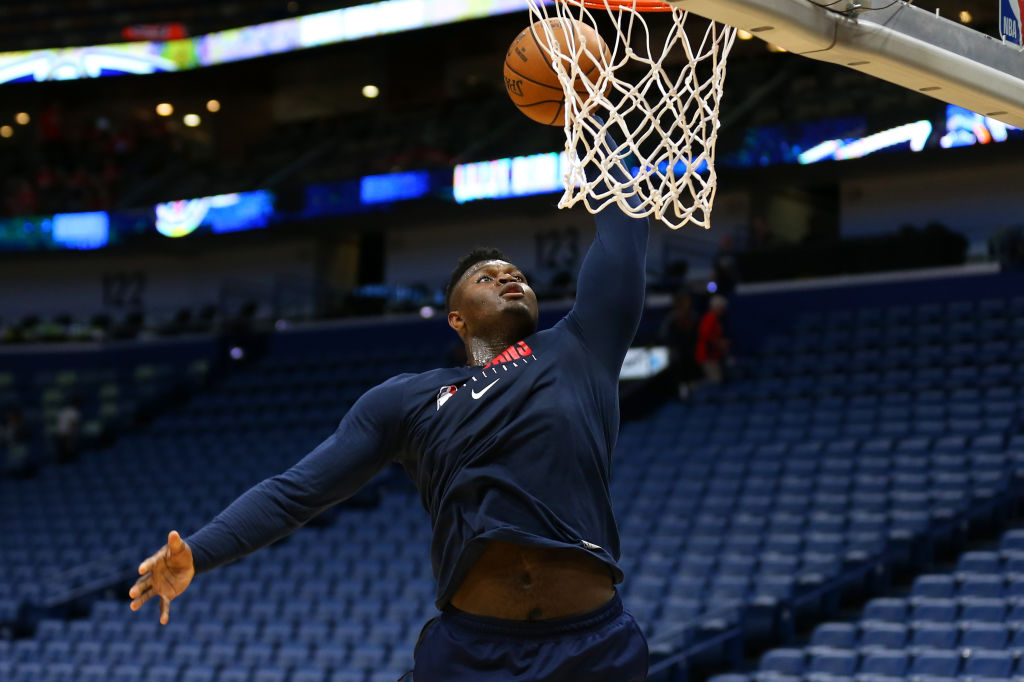 Zion Williamson is Doubtful for Monday's Game, but That's Still a Positive Sign
Zion Williamson is officially doubtful for Monday's game. That's still a positive sign for the New Orleans Pelicans rookie, though.
Ever since his first game at Duke, basketball fans have been waiting for Zion Williamson's NBA debut. While the day hasn't arrived yet, it is finally getting closer. The New Orleans Pelicans expect their star rookie to return to action on Wednesday night.
Zion won't be in action on Monday when the Pelicans visit the Memphis Grizzlies, but he still seems to be on track to debut on Wednesday night. In this case, the injury report is bearing some good news.
Zion Williamson's long road to recovery
By now, Zion Williamson's knee issues are well documented. The big man sprained his right knee when he tore through his sneaker at Duke; he then missed most of the Las Vegas Summer League after bruising his left knee. Then, on the eve of the regular season, Williamson missed a preseason game due to knee soreness; a few days later, he had surgery to repair a torn right meniscus.
While there was some uncertainty during Williamson's rehab—the process was estimated to take six to eight weeks, but stretched well beyond that timeframe—but the forward is close to full health. He has been taking part in practices, dunking before games, and, thankfully, looks healthy.
Pelicans executive vice president of basketball operations David Griffin recently revealed that the team plans for Zion to make his full NBA debut on Wednesday night. While there's still an element of uncertainty, it seems like the forward is still on the right track.
Why being 'doubtful' is a good thing for Zion Williamson
Normally, being listed on the injury report isn't a positive sign. For Zion Williamson, however, it's a step in the right direction.
While the forward won't play on Monday against the Hornets, the Pelicans listed Zion as "doubtful" on their injury report. That might not seem like a major sign of progress, but it is an upgrade; Williamson has been designated "out" for every game this season.
The NBA prefers that teams move their players gradually through the status hierarchy; it appears that the Pelicans are doing just that, by upgrading Zion from out to doubtful rather than bumping him straight up to full availability. While we can't be 100% sure that Williamson is healthy until he hits the floor, this small upgrade could be the final step paving the way for his return.
What can we expect on Wednesday night?
If everything goes according to plan, the eyes of the sporting world will be on New Orleans come Wednesday night. But what can we expect from Zion Williamson if he really does make his NBA debut against the Spurs?
Obviously, there will be a great deal of excitement. During his time at Duke, Williamson proved that he's a freakish athlete capable of doing just about anything on the court; during his limited preseason minutes, he was still able to thrive against NBA competition. David Griffin even stated that the rehabilitation process made Zion a bigger, better, and healthier player.
At the same time, though, it's important not to build unrealistic expectations. While Williamson is incredibly talented, he's also a young player who's spent months on the sidelines; the Pelicans have already said they'll ease him into action, rather than throwing him into the deep end right away. Even in a best-case scenario, Zion will have some rust to work through.
No matter how he does in his first couple of games, though, Zion Williamson's return is still a great day for basketball fans everywhere. Hopefully, it's the start of a long—and injury-free—career.