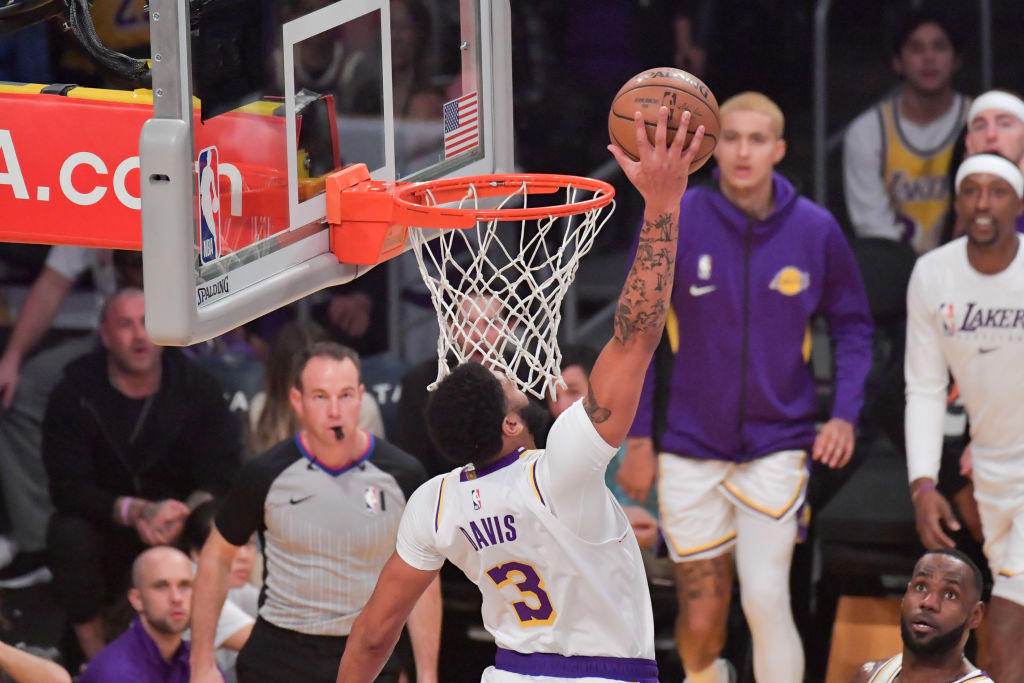 1 Reason Why Anthony Davis Won't Participate In the NBA Slam Dunk Contest
Los Angeles Lakers big man Anthony Davis is no stranger to throwing down at the rim, but he's not prepared to participate in the NBA Slam Dunk Contest.
While the event might not be the spectacle that it once was, everyone loves the NBA Slam Dunk Contest. One of the coolest things about sports is seeing professional athletes do things that no human should be capable of; there's no better example of that than flying through the air like a superhero. Los Angeles Lakers forward Anthony Davis, however, has no desire to take part in the event.
While Davis has a one of a kind skill set, he's only willing to dunk during games. The Lakers' big man recently gave reporters one simple reason why he won't participate in the contest.
Anthony Davis' time with the Los Angeles Lakers
While he might not have left New Orleans in the best circumstances, Anthony Davis has been thriving with his new team. The Los Angeles Lakers are sitting atop the Western Conference standings, and their new forward is playing a pivotal role in their success.
During his first 35 games with the Lakers, Anthony Davis has poured in just over 27 points per night. The big man is also pulling down 9.4 rebounds and dishing out 3.2 assists per game. His impact isn't relegated to the offensive end of the floor, though. Head coach Frank Vogel has demanded that his team play tough defense, and the Lakers have complied. The club is fourth in overall defensive rating, fifth in opposition second-chance points, and sixth in opposition points in the paint; Davis himself is averaging 2.6 blocks an outing.
While it's not clear if Davis will remain in Hollywood long-term, the Lakers won't be complaining right now. With him and LeBron James, they have a legitimate shot at winning the NBA title.
Saying no to the Slam Dunk Contest
As you might assume from his size, Anthony Davis is a prolific dunker. The forward has thrown down at the rim 100 times this season; only Giannis Antetokounmpo and Rudy Gobert have taken it to the rack more frequently.
Despite that reality, Davis insists that he won't take part in the annual NBA Slam Dunk Contest. While his skill set works well during competitive games, he doesn't believe it will translate well to the event.
"That's not me," Davis told reporters. "In-game dunker only. The stuff I see Dwight [Howard] do and all these other guys—Zach LaVine—I can't do that. No."
Anthony Davis could still participate in the Slam Dunk Contest, though
While Anthony Davis doesn't want to compete in the Slam Dunk Contest, there's one specific way that he could still take part. The Lakers' forward is willing to take the court, but only if it helps his teammate.
According to Shams Charania of The Athletic, Lakers center Dwight Howard will be competing in the Slam Dunk Contest. If the veteran—whose Superman dunk during the 2008 competition may have kicked off a feud with Shaquille O'Neal—needs some help taking home the title, Davis is happy to pitch in.
"I might go out there and help him with something if he wants me to do something," Davis explained. "I actually thought about it when I heard he's going to do it. But me actually participating myself, it probably won't happen."
Anthony Davis might not ever win the Slam Dunk Contest title but, if he wins the NBA Championship with the Lakers, no one will mind in the slightest.