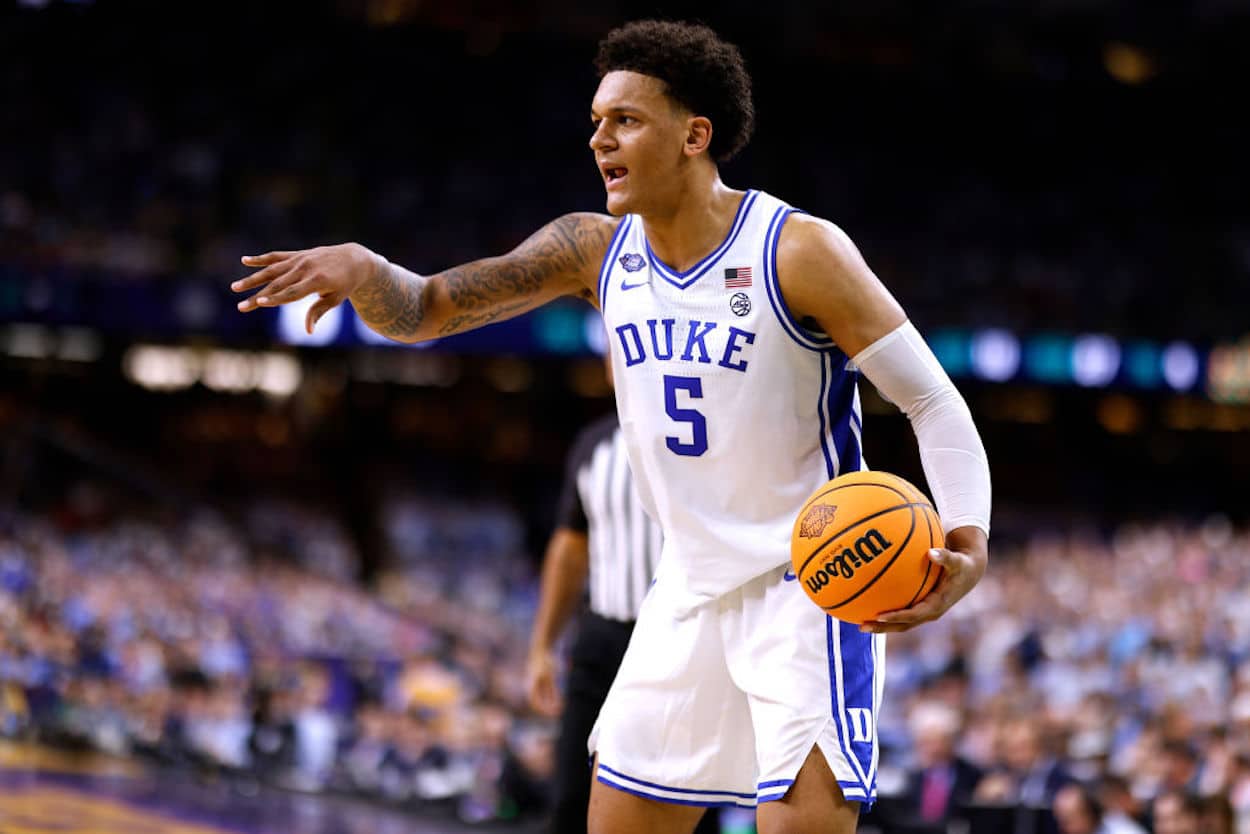 2022 NBA Draft: Assessing Paolo Banchero, AJ Griffin, Mark Williams, Rest of Duke's Professional Prospects
The Duke Blue Devils have plenty of talent in this year's NBA draft. Let's take a closer look at the prospects and what they're bringing to the table.
While the Duke Blue Devils don't have the greatest history of NBA success, things have gotten a bit better in recent years. Jayson Tatum has blossomed into a legitimate star. Kyrie Irving, for all of his warts, is an incredibly talented player with a championship ring to his name. RJ Barrett has grown into a reliable pro, currently outshining Zion Williamson.
At the risk of trying to predict the future, the 2022 NBA draft can add to those ranks. Barring any last-second audibles, five different Blue Devils — Paolo Banchero, AJ Griffin, Mark Williams, Wendell Moore Jr., and Trevor Keels — should hear their names called across the two rounds.
With that in mind, let's take a look at their skill sets and where they could end up.
Paolo Banchero seems like a guaranteed top-three pick
Paolo Banchero is, of course, the first name on the Duke list.
During his time in Durham, the forward showed legitimate do-it-all capability. He profiles as a prototypical NBA wing with impressive size, boasting the ability to run the floor, drain a jump shot, and score off the dribble. He seemed more comfortable shooting three-pointers in rhythm down the stretch, but he'll need to further refine that part of his game at the professional level.
Throughout the predraft process, most analysts have pegged Banchero as heading to Houston, but he could theoretically go anywhere within the top three picks. The Orlando Magic have publicly said they're still evaluating all their options; without a pure positional need, perhaps they like the Duke Blue Devil more than Jabari Smith Jr. Chet Holmgren could be trying to ensure he lands with a specific team, which could bump Banchero up to the second overall spot. Then, there's the scenario in which things hold to form and the forward joins the Rockets.
Either way, you should hear Banchro's name called pretty early Thursday night.
AJ Griffin is a pure shooter who looks like a low-end lottery pick
Between Coach K's final season and Banchero's sheer name recognition, AJ Griffin went somewhat under the radar. The freshman proved to be a pure shooter, converting 44.7% of his long-range attempts, and he possesses enough height and range (listed at 6-foot-6) to handle his business on both ends of the floor.
Although teams might want to check out his medical history — the guard missed some time at Duke with a knee injury, although the program said there was no structural damage — he looks like a capable three-and-D player.
Many recent mock drafts have him joining the New York Knicks as the 11th pick, but there's a legitimate chance New York trades that pick. With that in mind, Griffin could go anywhere in the second half of the lottery selections.
Traditional big men have almost vanished, but Mark Williams showed enough to become a first-round pick
These days, most NBA big men have to possess the athleticism and ability to stretch the floor. While Mark Williams is more at home in the paint than on the perimeter, he still showed enough in Durham to earn an NBA job.
The center's offensive numbers didn't exactly blow anyone away during the 2021-22 campaign — he averaged a shade over 11 points per outing — but Williams proved a do-it-all player down the stretch. He's capable of cleaning the glass on both ends of the floor (averaging 7.4 rebounds per contest), blocking shots with his seven-foot frame (2.8 per game), and getting involved in the pick-and-roll game. He might not be the most mobile big man you've ever seen, but the Virginia Beach native is capable of slashing to the rim on offense, thriving on the defensive interior, and surviving even when he gets pulled out to the perimeter against smaller opponents.
At this point, he's been projected to land with the Charlotte Hornets as the 15th pick; Michael Jordan has reportedly been unhappy with the team's defense, and adding a true rim protector would help change that. He could also fit with Houston at the 17th spot or, should he slide even further, San Antonio at No. 20.
Wendell Moore Jr. and Trevor Keels round out Duke's draft class
Lastly, we come to Wendell Moore Jr. and Trevor Keels. While neither Blue Devil profiles as a can't-miss star, they'll each bring something to their NBA team.
Moore became an all-around player in Durham, averaging 13.4 points, 5.3 rebounds, and 4.4 assists as a junior. He has enough size (6-foot-5) to handle himself on the defensive perimeter and also possesses plenty of experience. The guard might not turn into a star, but it's easy to see him profiling as a capable NBA pro who can spell a star or be a solid rotational option.
Keels, who is listed as 6-foot-4, is an oversized guard capable of using his frame to create mismatches. That's primarily shown on the defensive end of the floor, where he's able to bully smaller guards, but it hasn't translated as cleanly to the offensive side.
The Maryland native showed flashes of his driving ability, although he never really put it all together and ultimately lost his starting job to Jeremy Roach. Brendan Marks of The Athletic also reported that Keels posted some less-than-ideal numbers during his predraft testing, which could further tank his status.
At this point, either of these Blue Devils could hear their name called any time between the end of the first round and the conclusion of the draft. Moore has the higher upside and will likely go first, but Keels shouldn't follow too far behind.
Stats courtesy of Sports-Reference