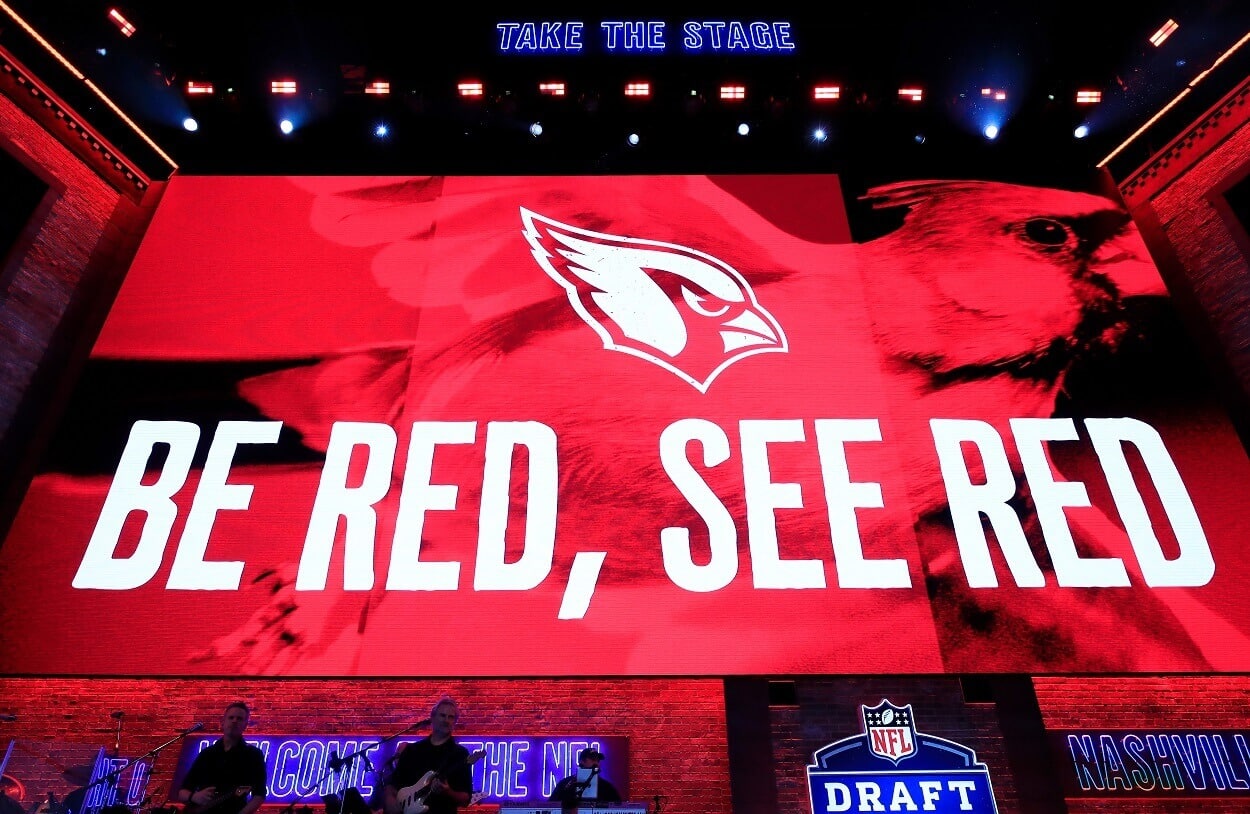 2023 NFL Draft: Which Quarterback-Needy Team Should Convince the Cardinals to Trade the No. 3 Overall Pick?
The Arizona Cardinals could turn the No. 3 overall pick into a haul of assets.
With Kyler Murray coming off ACL surgery and plenty of holes to fill on both sides of the ball, the Arizona Cardinals would be complete fools to think they're one player away from competing for a playoff spot. Armed with the third overall pick in a 2023 NFL Draft class that features four first-round quarterback prospects, new general manager Monti Ossenfort can flip that selection into multiple assets that can be used to rebuild one of the league's worst rosters. 
Of course, it'll take a compelling offer to convince the Cardinals to drop down the board. But with several teams still in need of a long-term answer at the most important position in sports, they should receive ample trade interest for the right to select the freakishly gifted Anthony Richardson. 
So, which team needs to go all-in to land the former Florida Gator? Let's make the case for each of the five contenders who could consider betting big on Richardson's superstar upside.
Indianapolis Colts
Current Draft Slot: No. 4 overall
Current Quarterbacks: Gardner Minshew, Nick Foles, Sam Ehlinger
Do the Indianapolis Colts have to move up the board to land a quarterback? 
No. 
Should Chris Ballard seriously consider sending a pick or two to swap spots with the Cardinals? 
If he wants to continue calling the shots in Indianapolis, then there's no price he shouldn't be willing to pay to go from No. 4 to No. 3. After all, the Colts have done just about everything to find a successor to Andrew Luck other than use a premium pick on a college prospect. 
After coming up short of expectations under a rotating cast of quarterbacks that's included Philip Rivers, Carson Wentz, and Matt Ryan, it's time for Ballard to build around a young, first-round quarterback who can become the face of the franchise. Richardson offers the type of rare skill set that would take the Colts' offense in an exciting direction under former Philadelphia Eagles offensive coordinator Shane Steichen. Plus, the projected top-five pick wouldn't have to play right away since the Colts have a capable bridge guy in Garner Minshew. 
While the Cardinals wouldn't secure the best return by moving down just one spot, they would at least secure an extra asset and still be able to take Alabama pass rusher Will Anderson.
Seattle Seahawks
Current Draft Slot: No. 5 overall
Current Quarterbacks: Geno Smith, Drew Lock
Good for Geno Smith for getting paid. 
Just don't get fooled into thinking John Schneider won't consider taking a quarterback in the first round of the 2023 NFL Draft. In fact, even after signing their incumbent starter to a three-year, $75 million contract, the Seattle Seahawks could invest more resources in the position by maneuvering ahead of the Colts to select Richardson. 
For a team that surprisingly made the playoffs under Smith in 2022, the idea of passing over a positional player at the top of the 2023 draft may seem silly. However, thanks to the Russell Wilson trade, the Seahawks are slated to select fifth overall, and they may not be in that range again for quite some time. 
In this case, Schneider could have the best of both worlds by securing a young, dynamic signal-caller with limitless potential while still having a Pro Bowl starter under a team-friendly contract. In fact, since the Seahawks can get out of Smith's deal after the 2023 season (with a $17.4 million dead-cap hit), they could make a deal with the Cardinals, draft Richardson, and let him spend a full year getting acclimated to the NFL before handing the keys to the offense to him in 2024.
Las Vegas Raiders
Current Draft Slot: No. 7 overall
Current Quarterbacks: Jimmy Garoppolo, Brian Hoyer, Chase Garbers
Like the Seahawks, the Las Vegas Raiders already have a starting quarterback for 2023. And like Seattle, Las Vegas can easily move in a different direction a year from now. 
Although Josh McDaniels and Dave Ziegler unsurprisingly hitched their wagon to Jimmy Garoppolo, they certainly aren't committed to him for the long haul. Given Garoppolo's injury history and limited upside at this stage of his career, the Raiders shouldn't feel too comfortable about the state of their depth chart. 
Unfortunately for McDaniels and Ziegler, they're slated to pick seventh, which puts them out of range for Richardson and perhaps even Will Levis. Moving up would likely cost Las Vegas at least one first-round pick, if not more. 
As much as Raiders fans may want to see Richardson in a black and silver uniform, the reality is that McDaniels and Ziegler can't afford to bypass opportunities to bolster depth at other positions by trading away picks to the Cardinals. Sure, it would be exciting to watch perhaps the most athletic quarterback prospects of all time throw passes to Davante Adams, but the Raiders have too many needs to go broke for a QB.
Atlanta Falcons
Current Draft Slot: No. 8 overall
Current Quarterbacks: Desmond Ridder, Taylor Heinicke, Logan Woodside
The Atlanta Falcons haven't attempted to find an heir to Matt Ryan. 
Will that change this month? 
On one hand, Atlanta seems like a logical landing spot for Lamar Jackson. But with the team reportedly out of the mix for the disgruntled Baltimore Ravens star, the only other option to upgrade at quarterback would be to take one on the first night of the draft. 
However, the Falcons would have to make a five-spot jump to land the raw but talented Richardson. With the front office and coaching staff seemingly behind second-year pro Desmond Ridder, Atlanta looks more likely to use the eighth pick on a Day 1 starter like Georgia defensive tackle Jalen Carter, Texas Tech defensive end Tyree Wilson, or Oregon cornerback Christian Gonzalez.
Tennessee Titans
Current Draft Slot: No. 11 overall
Current Quarterbacks: Ryan Tannehill, Malik Willis
Looking for the biggest sleeper team that could convince the Cardinals to trade the No. 3 pick? 
Don't be surprised if the Tennessee Titans, a franchise picking outside the top 10, make the splashiest move of the 2023 NFL Draft and send multiple selections to Arizona so they can eventually replace Ryan Tannehill with Anthony Richardson. 
Obviously, it would take a huge package of picks to encourage the Cardinals to drop down eight spots and miss out on at least a couple of blue-chip defenders. But if the Titans offer two first-rounders and more to maneuver in front of the division-rival Colts, how can the Cardinals say no? 
As for whether the Titans should pull the trigger on what would be an expensive, franchise-altering trade? 
With Derrick Henry's days as an elite player drawing to a close, it's fair to wonder if Mike Vrabel's team already missed its championship window.