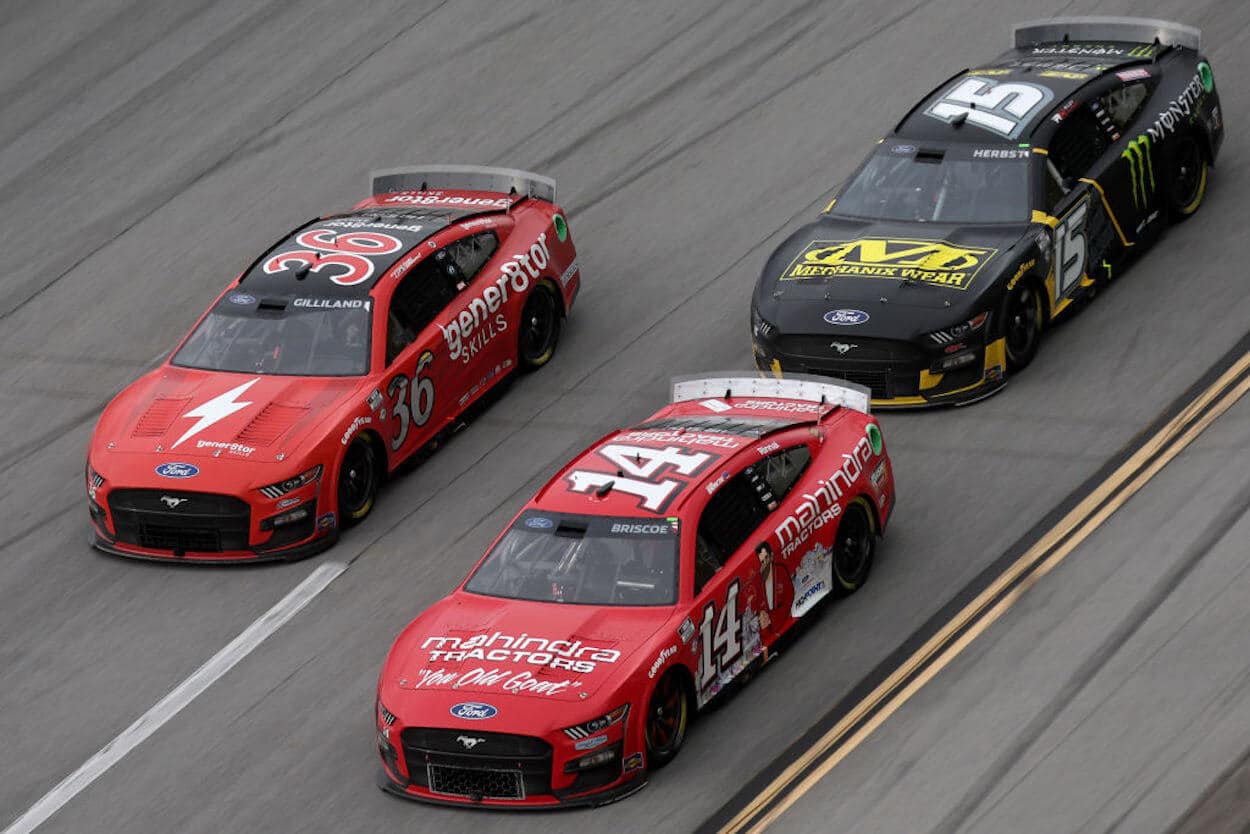 3 Cup Series Drivers Who Are Hot and 3 Who Are Not: Dover Race Week Edition
As NASCAR heads north to Dover's Monster Mile, let's consider which drivers are in good shape and which are in need of a tune-up.
After the carnage of this past weekend's race at Talladega Superspeedway, it's on to Dover Motor Speedway — the NASCAR Cup Series' only 1-mile, high-banked concrete oval.
Up next are the drivers who are hot and those who are not as NASCAR's premier division gears up to compete at the "Monster Mile" on the heels of a wild Sunday at the 2.66-mile Talladega trioval.
Hot: Chase Briscoe
As the only driver with three consecutive top-five finishes, Chase Briscoe is dang near on fire. Even more impressive is the fact that the third-year Stewart-Haas Racing driver has recorded all of these results while nursing a broken middle finger that he had surgically repaired in the week between his fifth-place finish at Martinsville and his fourth-place finish this past weekend at Talladega.
As Briscoe's finger continues to heal — he was in quite a bit of pain with it at Talladega and continues to undergo physical therapy — it should only help his performance and his place in the standings, which has jumped six positions over the last three events.
Hot: Christopher Bell
Atop the points standings for the third week in a row, Christopher Bell continues to carry the banner for Joe Gibbs Racing and looks more and more like a driver capable of making it to the Championship 4 for the second consecutive year.
With his eighth-place finish at Talladega, Bell now owns a league-leading seven top-10s in 10 starts, and his five top-fives are also a series-best.
Hot: Todd Gilliland
Yes, Todd Gilliland. The same Todd Gilliland who was surprised to learn after last season that he wouldn't be back in the No. 38 Front Row Motorsports car full-time for a second consecutive year but would have to share the seat with reigning Craftsman Truck Series champion Zane Smith for select events.
But despite Gilliland not running the entire 2023 season in the No. 38 Chevrolet, he's still managed to enter every race so far — whether it be in that car or another.  This past Sunday at Talladega, the second-generation driver campaigned a No. 36 Chevy for Front Row and finished 10th.
The outcome marked his third top-10 and fourth top-15 in his last five starts with a team that lacks the resources and equipment to consistently compete with the sport's perennial powerhouses. If Gilliland continues to overperform, it'll just be a matter of time before he lands another full-time ride — maybe with a better team. 
Not: Noah Gragson
Little has gone right for Noah Gragson in this his rookie NASCAR Cup Series season, and that continued at Talladega — at least where the final results were concerned.
Gragson was actually enjoying, hands-down, his best race of his Cup career and was in a three-wide battle for second place at Talladega when contact with Ross Chastain sent his No. 42 Legacy Motor Club Chevrolet into the wall and out of the race on the first attempt at a green-white-checkered finish.
With his DNF at Talladega, Gragson sank to 32nd in the standings — next to last among drivers who've entered all 10 races and 12 spots behind rookie rival Ty Gibbs. Gragson has only finished better than 20th just once all year, when he came home 12th at Atlanta.
Not: Austin Dillon
When will the bleeding stop for Austin Dillon? Already enduring an agonizingly difficult season, Dillon took yet another step backward at Talladega with his involvement in a multi-car crash that occurred with over 40 laps of the scheduled distance remaining.
The Richard Childress Racing driver finished last in the 38-car field and remained 29th in the standings — a far cry from his final points ranking of 11th from a season ago. 
Not: Ryan Preece
The hits just keep coming for Ryan Preece — both literally and figuratively. Not only is the first-year Stewart-Haas Racing driver struggling to run anywhere near the front on most weekends, but he took the hardest hit of his career over the weekend at Talladega when Kyle Larson's No. 5 Chevrolet broke loose, shot across the race track and T-boned the front of the No. 41 Stewart-Haas Racing Ford.
Preece, who was going nearly full speed at the time, was unhurt in the collision, but replays both inside and outside of the car revealed it to be quite possibly one of the most brutal impacts a driver has taken in many years.
Due to his DNF, Preece slipped two spots to 28th in the standings, and he remains in search of his first top-10 finish since rejoining the Cup Series full-time following a one-year hiatus.