49ers Tight End George Kittle Was Mere Minutes From Catching Passes From Russell Wilson With the Seahawks
San Francisco 49ers superstar George Kittle is easily one of the top tight ends in the National Football League. Just four seasons into his pro career, the former Iowa Hawkeye has appeared in a Super Bowl, is already a two-time Pro Bowler and a two-time All-Pro, and is clearly a big part of the Niners' future as they signed him to a five-year/$75 million extension ahead of the 2020 season. But according to Kittle himself, he nearly never wore the red and gold as he was very close to being drafted by the Seattle Seahawks.
George Kittle didn't put up crazy numbers at Iowa but was still seen as a solid NFL prospect
Following in his father's footsteps, Kittle took his talents to the University of Iowa after high school but got caught up in a crowded tight end unit in his first two seasons with the Hawkeyes, catching just six passes for 133 yards with zero touchdowns.
His role in the offense expanded during his junior season in 2015, a year in which he caught 20 passes for 290 yards with six touchdowns, good for sixth in the Big Ten. Kittle added 22 receptions for 314 yards with four touchdowns as a senior to finish his collegiate career with 48 catches for 737 yards with 10 touchdowns.
Despite not putting up monster numbers, Kittle was still seen as a solid pro prospect and was one of just 19 tight ends to receive an invite to the NFL Scouting Combine, where he finished sixth in the vertical jump, fifth in the 40-year dash, and third in the broad jump among his position group. Most "experts" had him going in the middle rounds of the 2017 draft, which is exactly where he was taken by the 49ers — but only after a little drama with the Seahawks.
The Seahawks were ready to trade up to draft Kittle in 2017 just before the 49ers nabbed him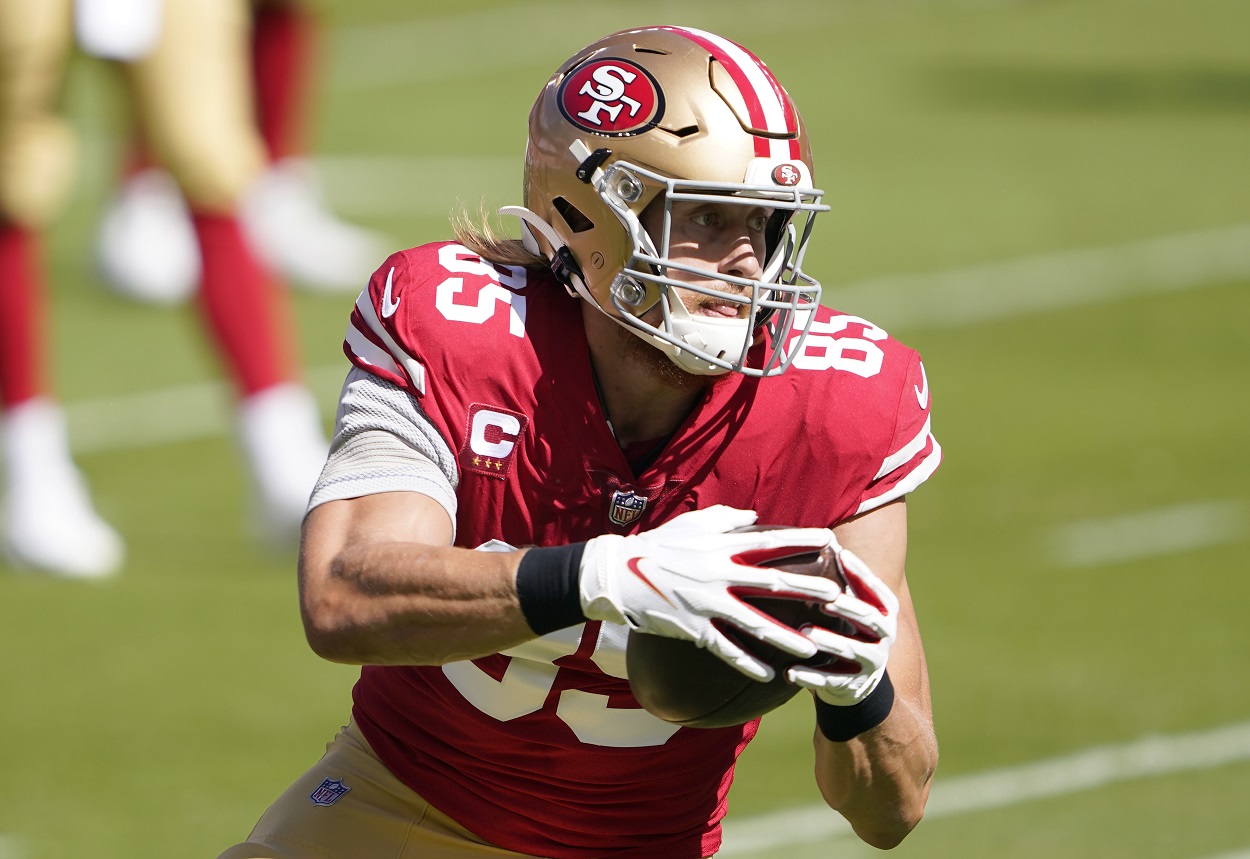 With Kittle still on the board as the fifth round of the 2017 NFL draft began, the Seahawks, who were apparently interested in adding him as another weapon for Russell Wilson, found themselves in a little bit of a pickle as they'd had to forfeit their fifth-round selection after violating CBA rules regarding offseason workouts. But even if they had the pick, it was still only the 26th pick of the round (what would have been No. 170 overall).
In either scenario, Seattle would have had to make a trade to move up to take Kittle and were actually ready to do so just before the 49ers grabbed him with the second pick of the fifth round. Here's how Kittle says things went down on the Stacking the Box podcast.
"It was probably a minute before the Niners called me. My agent says 'the Seahawks are calling me and they're trading up to get you.' Then literally, I'm on the phone with him my agent, and I get a call from the Bay Area.

"He's like, 'hang up on me and answer that.' And then I'm talking to John Lynch and Kyle Shanahan saying that they're drafting and they're excited to work with me."

George Kittle
The 49ers took Kittle with the 146th overall pick and that was that. But can you imagine Russell Wilson having Kittle as another option alongside the likes of DK Metcalf and Tyler Lockett? Scary, right? Think the Niners still would have made that Super Bowl?
The two-time All-Pro has been one of the best tight ends in the NFL with the 49ers
Kittle came in and made an immediate impact with the 49ers, catching 43 passes as a rookie, just five less than his entire career at Iowa, for 515 yards and a pair of touchdowns. He earned Pro Bowl and All-Pro honors the next two seasons (Second Team in 2018, First Team in 2019) with a combined 173 receptions for 2,430 yards with 10 touchdowns, adding an additional eight catches for 71 yards in the postseason as he helped San Francisco to Super Bowl 54.
Injuries limited Kittle to just eight games in 2020 but he should be ready to roll when the 2021 season begins. There's now just the matter of exactly who will be throwing him the ball.
Stats courtesy of Sports Reference