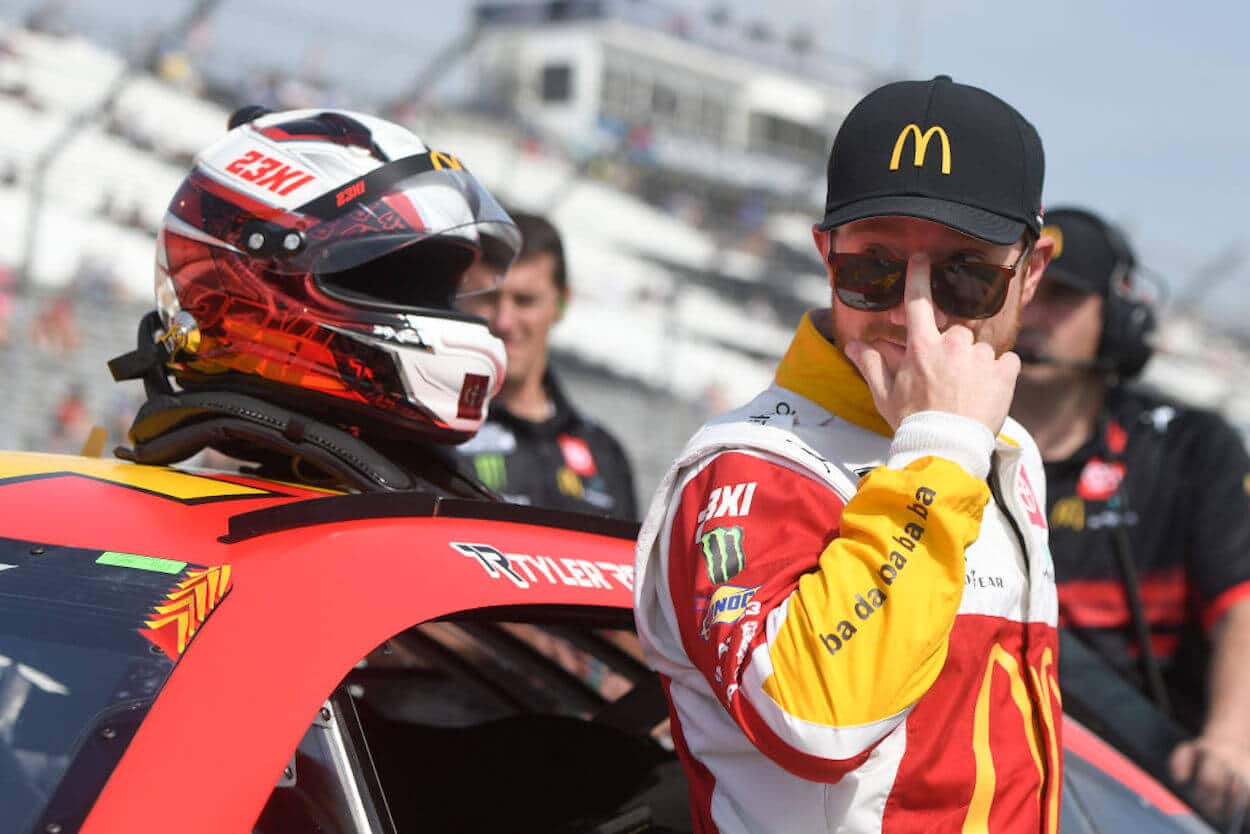 5 Cup Series Drivers Who Could Sip the Winner's Wine on Sunday at Sonoma
With a weekend of road-course racing on the cards, who's positioned to squeeze all the juice out of Sonoma?
It's been over two months since the NASCAR Cup Series last competed on a road course, but that's about to change with the running of Sunday's Toyota / Save Mart 350 at Sonoma Raceway — the ever-scenic 1.99-mile road circuit in Northern California's Wine Country.
Who will taste the winner's wine this weekend? We're about to take a close look at five drivers who hope to squeeze all the juice out of what, for them, amounts to a golden opportunity to snare a victory in the Golden State.
5. Kyle Busch
Fresh off a commanding performance this past weekend at Gateway and boasting an impressive road course resume, Kyle Busch has both momentum and history on his side at Sonoma.
One of three active drivers with four Cup Series trophies collected at road courses, Busch is highly skilled at turning both right and left — especially at Sonoma and Watkins Glen, where he has two wins apiece.
Busch's maiden Sonoma win came in 2008 — the first year of his 15-year run with Joe Gibbs Racing.
"Sonoma Raceway in 2008 was a really good time," Busch said in a Team Chevy news release. "We didn't qualify very well and didn't feel like we had very good speed overall, but the cautions fell perfectly for us that day where we were on pit road and then the cautions fell. We were able to leapfrog the competition and get track position. 
"It was definitely a satisfying victory. That one was really cool. It was my first road course victory, so that meant a lot."
Busch recorded his second triumph in the Wine Country in 2015, the first of his two championship seasons to date. It was his first win after missing the opening 11 races of the season with a broken leg.
4. Kyle Larson
Winner of the last two races at Watkins Glen and the 2021 race at Sonoma and the Charlotte ROVAL, Kyle Larson has been getting it done on road courses the past couple of years.
The Hendrick Motorsports driver — one of only three drivers with three points wins in 2023 — will undoubtedly be in the hunt on Sunday at Sonoma as the Cup Series visits his home state of California for the second and final time this season.
"I always love going back home and racing at Sonoma," Larson, who hails from Elk Grove, California," said in a Team Chevy news release. "I always get to see a lot of friends, family, and race fans that grew up watching me race sprint cars and stuff around Northern California. I think all of us drivers look forward to going to Sonoma a lot, but with me being from only an hour and [a] half away, it's a special place."
3. Chase Elliott
No one needs to win a race more than Chase Elliott, who, due in large part to missing seven of the season's first 15 events, is buried deep in the standings and likely must prevail in one of the remaining 11 regular-season contests to earn a playoff berth.
One of Elliott's best opportunities to get a victory will be on Sunday at Sonoma, a facility where he's yet to win but owns four top-10 finishes — including a pair of top-fives — in six starts.
"It's one of those places that you really do need to attack a little bit. Road course racing in general is pretty aggressive, I think that's fair to say," Elliott said in a news release from Team Chevy. "Last year, it was very track position oriented, and making sure you executed a good race — from having good restarts to being good on pit road to calling the right strategy. Having pace, too, and then that comes back to your qualifying effort. So, really, a full weekend of being pretty aggressive, I feel like, is probably the best approach to give you a good shot at it."
Elliott leads all active Cup Series drivers in road course wins with seven, making him a favorite on Sunday. But NASCAR's most popular driver is more focused on trying to put last weekend's one-race suspension behind him than his stellar record on road courses.
"For me personally, just looking forward to getting back to work and just trying to get in a groove, because I don't really feel like I've been in one throughout the year," Elliott, who's missed six races with an injury and one for deliberately wrecking Denny Hamlin at Charlotte, said in a NASCAR news release. "It's been kind of stop-and-go all season, unfortunately. But the way I see it is there's 11 [regular season] races left, and we pretty much need to go win one of those to get in the playoffs. So, that's where my head's at right now."
2. AJ Allmendinger
AJ Allmendinger has celebrated two wins in 409 NASCAR Cup Series starts. It's hardly a coincidence that both victories have been on road courses — one at Watkins Glen and the other on the road course at Indianapolis.
Always a contender to win on any road course the Cup Series traverses, Allmendinger possesses an extensive background in open-wheel racing — mostly on road courses — that has long given him a leg up on the competition when it comes time to make left- and right-hand turns.
One road course where Allmendinger hasn't won but probably would love to win at more than any other is Sonoma, which is located in his home state of California.
"Sonoma is always a special, important weekend for me," Allmendinger, who is a native of Los Gatos, California, said in a Team Chevy news release. "It's near where I grew up, and I still get to see a lot of friends and family there. Quite honestly, it's a race track that I don't have a very good average finish. I've felt like I've always been fast there, but it hasn't worked out.
"Sonoma is a race track I've always wanted to win at knowing it's my home race and track, and I would be able to do that in front of a lot of friends and family. Hopefully, we can go back there and have some success to keep building on our program."
It's worth noting that in addition to his success on road courses at the Cup level, Allmendinger is the NASCAR Xfinity Series' all-time wins leader on road courses, with 11 Xfinity victories at such venues.
1. Tyler Reddick
No one has been more stout on road courses in recent times than Tyler Reddick, who picked up a pair of road wins — one at Road America, the other at Indianapolis — last year with Richard Childress Racing and continued his road course assault with his new team, 23XI Racing, earlier this year at Circuit of The Americas in Austin, Texas.
Reddick leads the Cup Series in road course victories since the debut of the Next Generation Cup Series car that rolled out at the beginning of 2022. Three of Reddick's four victories at the Cup level have come on road courses, but it's safe to say that for him — like fellow Californian AJ Allmendinger — Sonoma is the one where he wants to pull into Victory Lane the most. The native of Corning, California, will have a great chance to do that on Sunday, where he'll be the prohibitive favorite to finish P1 and claim the big trophy in his home state.