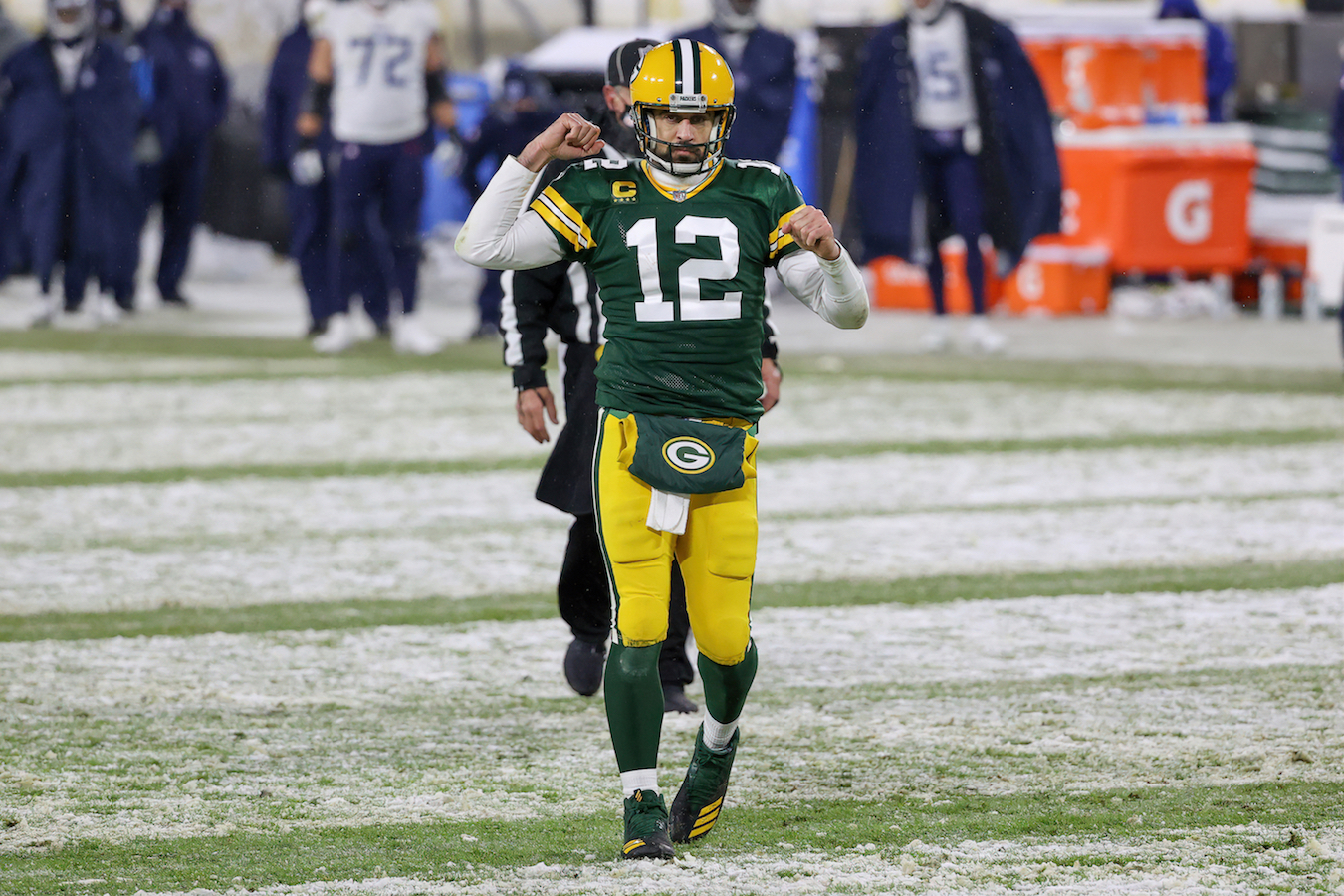 Aaron Rodgers Was Recently Recognized for His Off-Field Performances During His MVP-Quality 2020 Campaign
Green Bay Packers quarterbackAaron Rodgers is having an MVP-quality campaign; those performances have already earned him at least one award.
If you ask an NFL fan to pick a quarterback to build their franchise around, most would probably choose between Patrick Mahomes and Tom Brady. Aaron Rodgers, however, has established himself as one of the top-signal callers around. In 2020, for example, he's thrown for over 4,000 yards and more than 40 touchdowns and has his Green Bay Packers sitting atop the NFC.
While his performances have Packers fans dreaming of a Super Bowl title and an NFL MVP crown, Aaron Rodgers has already taken home one award for his 2020 performances. This time, however, he was recognized for his work after the games, not what he does on the gridiron.
Aaron Rodgers has won plenty of awards during his NFL career
Some players, no matter how skilled they are, go through their entire career without winning much silverware. Aaron Rodgers, however, hasn't had that issue during his time with the Green Bay Packers.
The quarterback's road to the pros, however, wasn't the easiest. After being deemed too small for a big-time NCAA program, he headed to junior college before transferring to Cal. While he made an impact with the Golden Bears, his draft night was primarily spent waiting in the green room; even when Rodgers was selected, he had to join the Packers and wait his turn behind Brett Favre.
Despite that odyssey, though, Rodgers seized his opportunity in Green Bay with both hands. He took over the starting job during the 2008 campaign; while the Packers found his potential successor in the 2020 NFL draft, Rodgers is still going strong at age 37.
During his 16 seasons with the Packers, Rodgers has built up quite the resume, throwing for more than 51,000 yards and over 400 touchdowns. He isn't just compiling gaudy numbers in meaningless games, though. The quarterback has led Green Bay to a Super Bowl title and earned two separate regular-season MVP awards, among other honors.
Earning the 2020 Tom Mulhern Stand-Up Guy Award
Over the course of his career, Aaron Rodgers has earned plenty of honors and awards with his on-field ability. In 2020, however, he took one home thanks to his pre and post-game candor.
As reported by Jason Wilde of the Wisconsin State Journal, Rodgers and Davante Adams were the 2020 winners of the Tom Mulhern Stand-Up Guy Award. The title, which is awarded by the Green Bay chapter of the Professional Football Writers of America, honors the player who demonstrates "exemplary professionalism in helping pro football writers covering the Green Bay Packers do their jobs."
While it's easy for a star player to avoid making waves during a press conference, Rodgers explained that he's made an effort to share what's on his mind this season.
"I've never wanted to be a cliché guy or a boring guy. I think as much as anything this year, where I'm at in my career, mentally, this point, I can give as much insight and raw truthful answers as I possibly could this year," the quarterback explained. "I just try to be as honest as possible and give some wit and wisdom when I can."
Aaron Rodgers will hope that his 2020 contains a few more titles
While most people outside of the Packers' press room won't care too much about the Tom Mulhern Stand-Up Guy Award, it does speak volumes about how Aaron Rodgers handles his business, both on and off the field. The quarterback, however, will be hoping that his 2020 campaign includes a few more awards.
In terms of individual honors, Rodgers seems like a lock for the 2020 NFL MVP title. The Packers quarterback leads the league in passer rating, touchdowns, and touchdowns-per-interception. He's also playing in Week 17—the Chiefs will be resting Patrick Mahomes—giving him an extra chance to strengthen his stats.
Beyond that individual honor, though, the Packers will also be hoping to make a deep postseason run. Given their regular-season performance, an NFC championship and a Super Bowl title aren't outside the realm of possibility, either.
Based on his off-field performances during the 2020 campaign, Aaron Rodgers has already claimed one title. By the time the season ends, though, he'll be hoping to have a few more under his belt.
Stats courtesy of Pro-Football-Reference