Aaron Rodgers and Russell Wilson Return, Belichick's Revenge, and an AFC West Battle for Mediocrity: The 3 Most Intriguing Matchups of NFL Week 10
Reaching the NFL Week 10 schedule means we're officially on the back half of the 2021 season. It also means things are heating up. You can make a case that 29 teams are still in the playoff hunt (sorry, Miami Dolphins, Houston Texans, and Detroit Lions fans). No team's fate is set in stone. 
We have the Chicago Bears, Cincinnati Bengals, Texans, and New York Giants on a bye this week. That leaves plenty of fascinating teams still playing. This week's games include two with returning star QBs, two linked by a common coach, and two messy division rivals. Here are the three most intriguing matchups of NFL Week 10
Cleveland Browns vs. New England Patriots – Sunday, November 14, 1:00 p.m. EST, CBS
We're a long time removed from Bill Belichick's tumultuous time as the head coach of the Cleveland Browns. But, if anyone would still get up for a revenge game almost 30-years later, it's the New England Patriots boss. 
Outside of the Belichick storyline, there is plenty else going on in this NFL Week 10 showdown. On the Cleveland side, it looked like the Baker Mayfield, and the team got a 198-pound weight off their shoulders when the Browns released Odell Beckham Jr. Was that a one-time bump or are the Browns really that much better without the OBJ distraction? 
We may get the answer on Sunday. However, if Nick Chubb and Demetric Felton don't play due to COVID-19 protocols, a loss could be just a result of being short-handed and without the team's best player. 
On the New England side, the team and rookie quarterback Mac Jones are better than expected. The team is 5-4 and just a half-game behind the Buffalo Bills in the AFC East. The Pats seem like they're for real. 
A closer look at the schedule, though, shows Patriot wins over the New York Jets (twice), Houston Texans, Los Angeles Chargers, and Carolina Panthers. That's not exactly a Murderer's Row of NFL teams. 
If Jones and Belichick's squad is the real deal, beating a good Browns team would be an excellent next step in proving that. 
Seattle Seahawks vs. Green Bay Packers – Sunday, November 14, 4:25 p.m. EST, CBS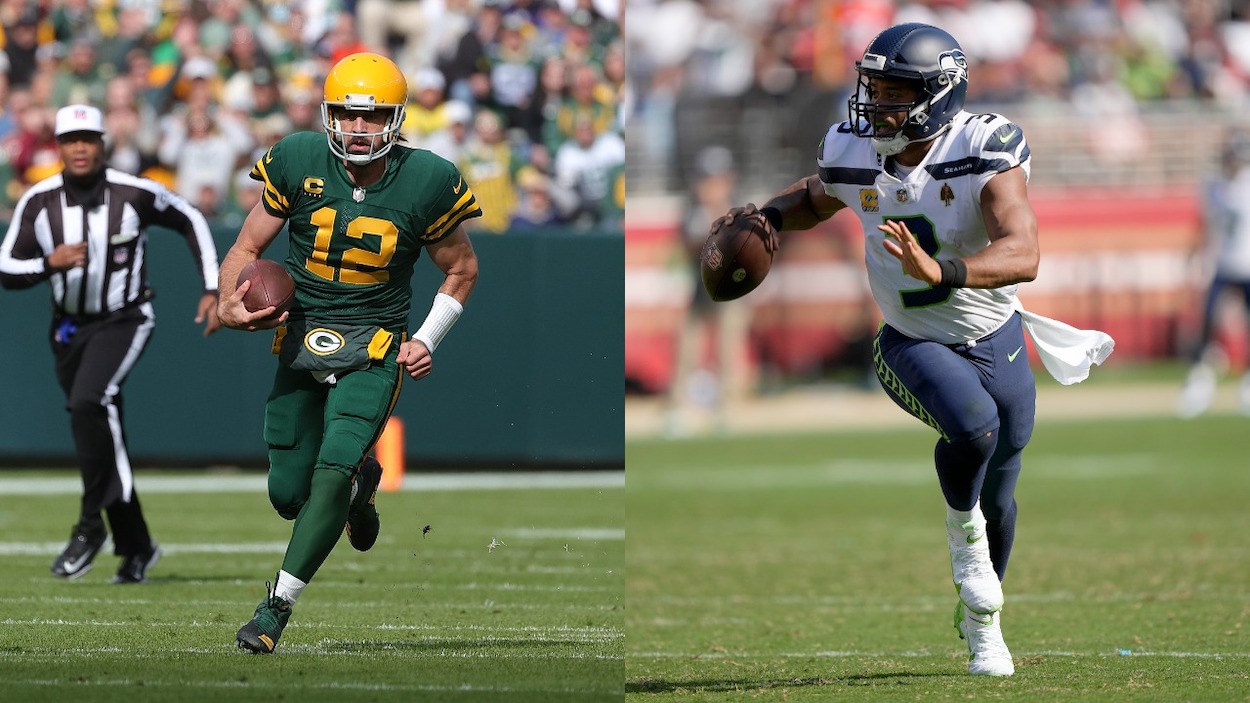 This is, by far, the best game on the NFL Week 10 slate. The NFL is a quarterback league, and these two teams have two of the best in the business. 
Russell Wilson returns after missing three-plus games with a finger injury on his throwing hand. Backup QB Geno Smith did an OK job holding down the fort. However, the Seattle Seahawks were just 1-3 in Wilson's absence. At 3-5, the NFC West is quickly slipping away. The Arizona Cardinals are 8-1 and the Los Angeles Rams are 7-2.
Seattle still has a game against LA and two against Arizona, so this game isn't quite for the team's season, but it's pretty darn close. 
After Aaron Rodger's vaccine and COVID-19 odyssey, he has to be thrilled to be getting back quarterbacking the Green Bay Packers. While he told Pat McAfee that there's a slight chance he won't be able to play Sunday for health reasons, all signs still point to his return. 
After wading into issues surrounding public health, politics, and celebrity culture in the last two weeks, Rodgers will be eager to remind people that those areas aren't his forte. Football is. He also now doesn't have Jordan Love breathing down his neck following the young QB's terrible performance last week. That might give Rodgers a spring in his step too. 
While 2021 might be the year of the backup quarterback, this is a matchup between two future Hall of Fame starters, and that is the best type of NFL matchup to watch. 
Kansas City Chiefs vs. Las Vegas Raiders – Sunday, November 14, 8:20 p.m. EST, NBC
As beautiful as the NFL Week 10 matchup between Russell Wilson and Aaron Rodgers has a chance to be, this game could be equally as ugly. 
The No. 1 question of the 2021 NFL season is, what's wrong with the Kansas City Chiefs? Patrick Mahomes and company are coming off back-to-back wins over the New York Giants and the Rodgers-less Packers, but neither of these performances were confidence-inspiring. 
Despite the unfathomable offensive struggles for the most exciting team in football over the past three seasons, the Chiefs are still 5-4 and just a half-game back in the very messy AFC West. 
Messy doesn't even begin to describe the Las Vegas Raiders 2021 season. Tragic comes closer. 
The Jon Gruden scandal, the Henry Ruggs II tragedy, and now the Damon Arnette debacle would have destroyed most NFL franchises. And, these issues still may completely tank Las Vegas' once-promising season.
If any franchise can survive and even thrive in these awful, unprecedented circumstances, though, it's the Raiders. 
The team laid an egg in MetLife Stadium against the Giants last week but, if you want, you can chalk that up to the west to east travel thing or the improving Giants defense. 
In this NFL Week 10 Sunday Night Football matchup, though, it is time to define the season for the Silver and Black.
A loss probably signals the team is done. A win would be huge for the team's playoff hopes and will show the team still has some of that old Al Davis, us against the world magic left in them. 
Whoever wins, that team will be (somewhat surprisingly either way) in the AFC West driver's seat.
All stats courtesy of Pro Football Reference