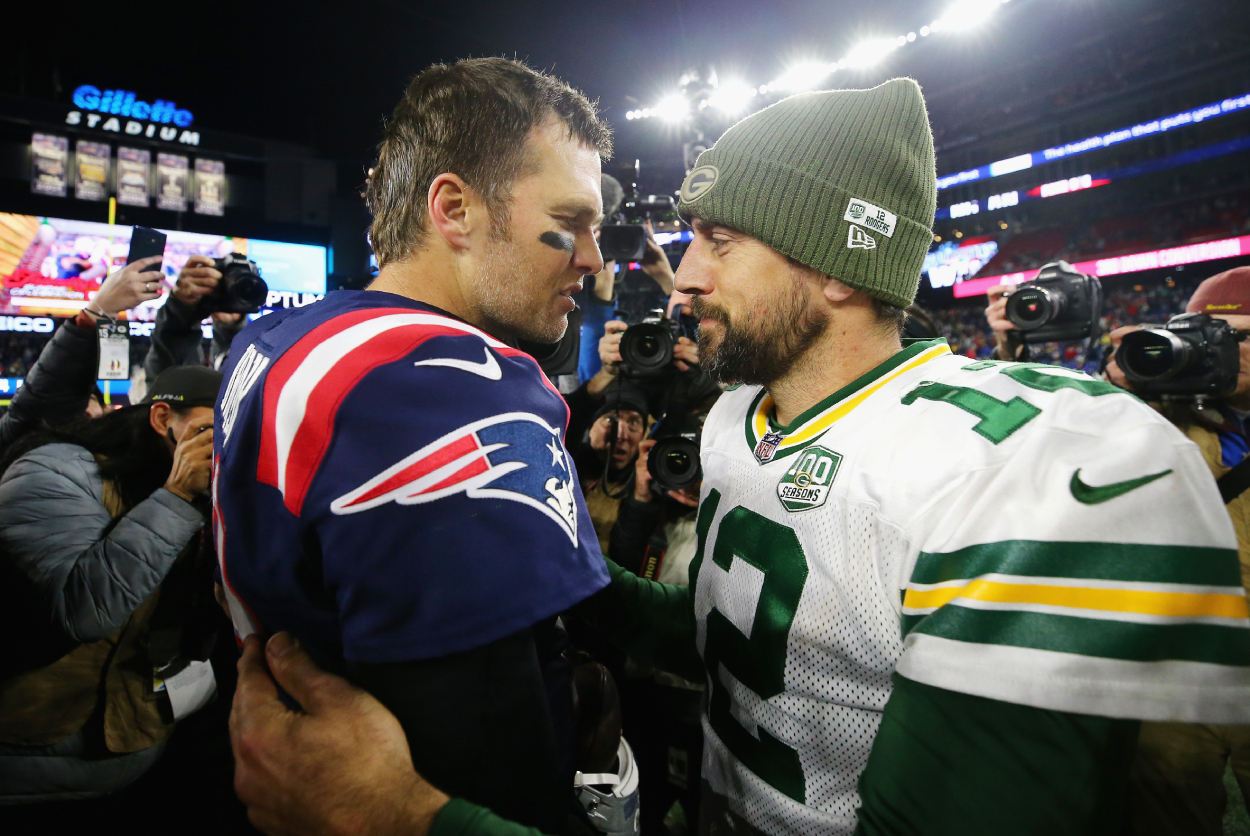 Aaron Rodgers Has Surpassed Tom Brady as the GOAT in the Phony Department
Aaron Rodgers has passed Tom Brady as the GOAT of NFL phonies.
At least Tom Brady knows he's a phony. In the summer, Brady confessed that 90% of what he says to the media isn't usually what he's really thinking. Green Bay Packers quarterback Aaron Rodgers, however, just passed the seven-time Super Bowl champion as the GOAT in the phony department.
Aaron Rodgers could miss more than just Sunday's game with the Kansas City Chiefs
It's amazing the Packers have been a recent disaster, yet they sit atop the NFL with a 7-1 record and enter Sunday's game with the Kansas City Chiefs riding a seven-game win streak. Last week, they played without their top three wide receivers, including Davante Adams, and saw their top tight end, Robert Tonyan, go down with a torn ACL. They still defeated the previously unbeaten Arizona Cardinals on the road.
Adams and fellow wideout Allen Lazard missed the Cardinals games after being placed on the COVID-19 list. Now, Rodgers has been sidelined by the virus.
Despite dancing around the subject this summer and leading people to believe he was vaccinated, Rodgers isn't. While it's a personal choice, those who are unvaccinated play with a different set of rules than those who are. Being unvaccinated could keep Rodgers out longer than just Sunday's game.
Unvaccinated players must isolate for 10 days even if they aren't showing any symptoms. At best, Rodgers will return to the team the day before the Packers face the Seattle Seahawks on Nov. 14. There is a chance he misses that one, too, if all doesn't go according to plan. Had he been vaccinated, he could've played against the Chiefs this weekend had he provided two negative tests 24 hours apart and was asymptomatic.
Aaron Rodgers led people to believe he was vaccinated
While Rodgers technically didn't say he was vaccinated, he certainly implied it. In August, he said he was "immunized" when approached on the subject.
"Yeah, I've been immunized," Rodgers said during a news conference with Packers media, per WDJT in Milwaukee. "There's guys on the team that haven't been vaccinated. I think it's a personal decision, I'm not gonna judge those guys."
On Wednesday, Rodgers tested positive for the virus. It was immediately announced that backup quarterback Jordan Love would start against the Chiefs, signifying Rodgers isn't vaccinated because he still could have played had he gotten two negative tests.
Now the question becomes whether or not Rodgers (and the Packers) violated the league's COVID-19 protocols. According to ESPN, one of those protocols is wearing masks while indoors at the team facility and at the stadium. Rodgers has been unmasked during indoor press conferences at Lambeau Field.
Are the Packers at fault as well? Have they been looking the other way?
Rodgers had been criticized for his stance in the offseason when he stayed away from the team during a holdout. It's possible he danced around the subject in order to avoid more controversy. With his positive test, he's only opening the door to more questions and criticism.
Rodgers now surpasses Tom Brady as the GOAT of phonies
Brady has been the king of phony for quite some time. Smashing his phone and saying he does it all the time after the NFL was investigating him during deflategate was only a part of it. During the summer, he revealed a different side of himself on The Shop when he admitted to not always telling the truth.
"What I say versus what I think are two totally different things," he said. "I would say 90 percent of what I say is probably not what I'm thinking." 
He continued by saying he says the things he does to avoid confrontation.
"I really admire people that actually can do that, and say what they think, because they invite a lot of other things into their life," he said. "And I think there's part of me that doesn't like conflict. So in the end, I just always try to play it super flat."
With his "immunized" comment, Rodgers deceived everyone, including teammates. He was specifically asked if he was vaccinated and his first word was "yeah," quickly followed by his "I've been immunized" sham.
If Rodgers wants to be unvaccinated, it's his choice, but he needs to play by the rules set by the NFL. He hasn't. That isn't a leader. He'll be peppered with questions about his actions, but who will believe him now?
Brady's off the hook with his phony comments now. When he says the New York Jets are a great team, we all know he's lying.
Rodgers' lie was carefully crafted, selfish, and could prove costly to the Packers.