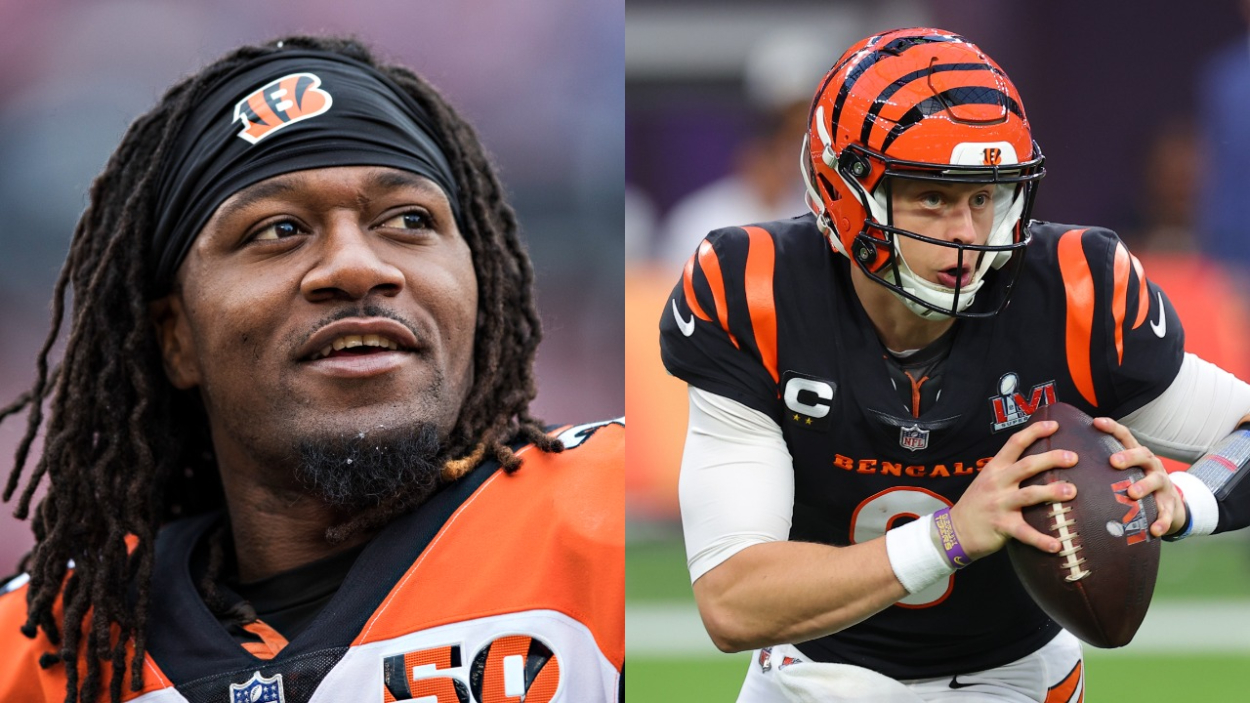 Adam 'Pacman' Jones Says Bengals Plan to Sign Ryan Jensen to Protect Joe Burrow
Joe Burrow desperately needs offensive line help on the Cincinnati Bengals. Adam "Pacman" Jones, though, says he heard the team plans to add Pro Bowler Ryan Jensen.
Is he the next Andrew Luck? Will he retire before he's 30? Joe Burrow and Cincinnati Bengals fans are probably already tired of hearing those questions, especially after the team reached the Super Bowl last month.
But the concerns are justified.
The Bengals have done little to protect their franchise quarterback since selecting him in the 2020 NFL Draft. And it's not just that offensive line help can give Burrow more time to make throws, but it would also keep him off the ground, lowering the risk of injury.
Fear not, though, because Bengals legend Adam "Pacman" Jones recently said he heard that Cincy plans to sign a Pro Bowler.
He said the Bengals are looking to add Ryan Jensen.
Joe Burrow has had little to no offensive line help with the Bengals
The Bengals have had an offensive line problem for years.
They allowed 48 sacks in 2019 before giving up 48 more in 2020. Joe Burrow (the man of many names) was the team's signal-caller during that more recent season, and the lack of protection resulted in him suffering a season-ending knee injury in Week 11.
The LSU product came back and balled in 2021. He threw for 4,611 yards, 34 touchdowns, and 14 interceptions, which helped him win the AP Comeback Player of the Year Award. He then took Cincinnati on a magical postseason run in the playoffs, leading the team to the Super Bowl after beating the Las Vegas Raiders, Tennessee Titans, and Kansas City Chiefs in the AFC playoffs.
However, sacks were still an issue all season.
Burrow went down an NFL-leading 51 times in the regular season before taking 19 sacks in the playoffs. The Titans got to him a record nine times in the AFC Divisional Round, and the Los Angeles Rams sacked him seven times in the Super Bowl.
Joey B and the explosive Bengals offense overcame the issues in their first three playoff games. But the pressure became too much in the Super Bowl, leading to the Rams' win.
So, will Cincy's front office finally add players who can keep the team's star employee safe?
Adam "Pacman" Jones seems to believe so.
Adam 'Pacman' Jones said the Bengals will sign Ryan Jensen to help Joey Franchise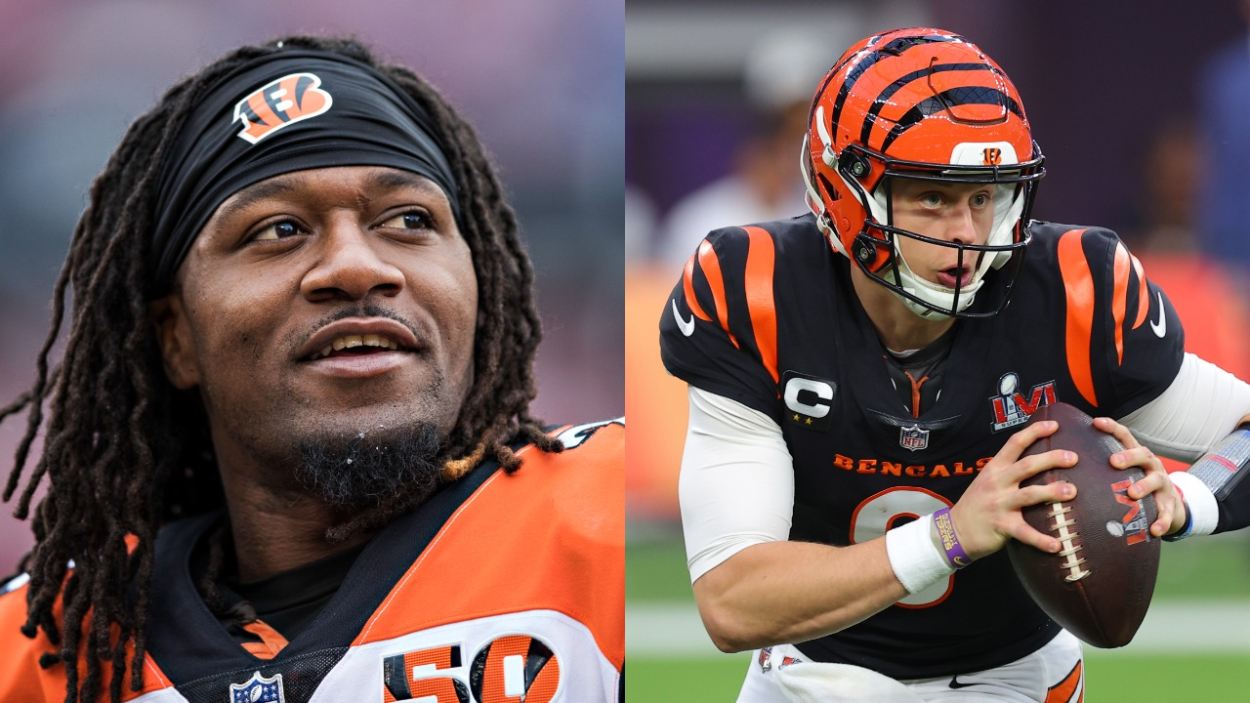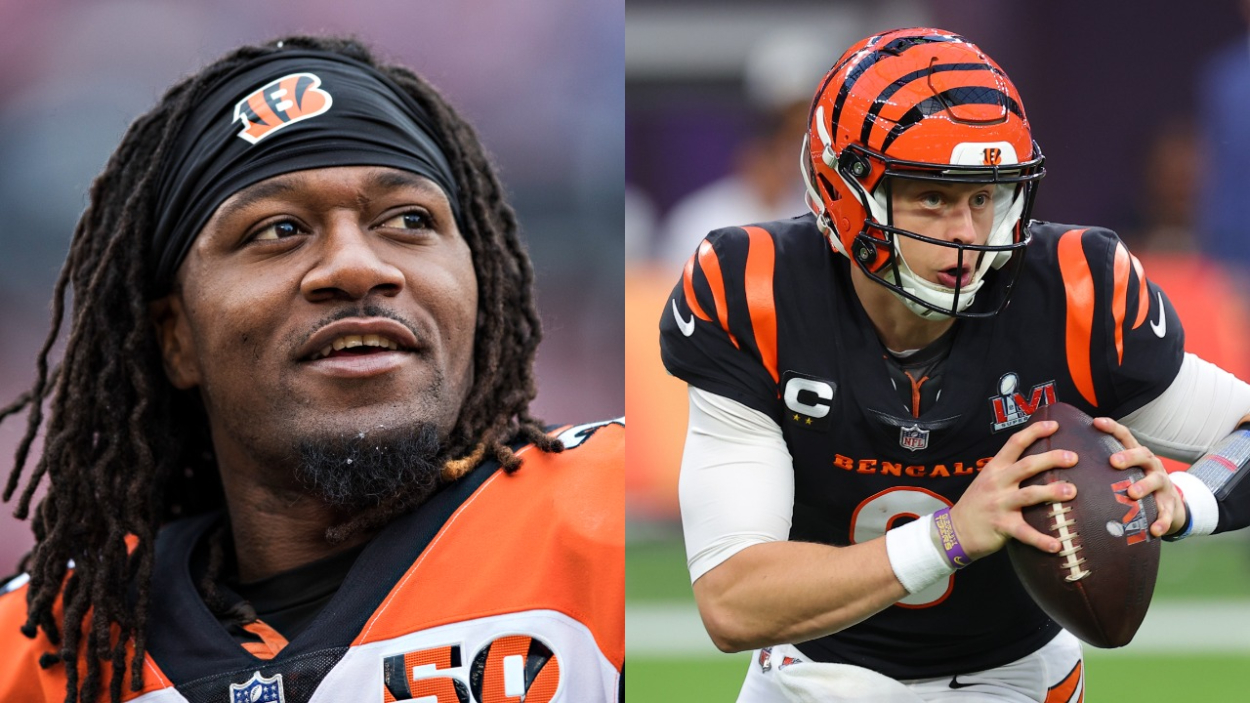 Former NFL defensive back Adam "Pacman" Jones found success for numerous teams during his career, but he played his best for the Bengals. Jones spent eight seasons in Cincy, earning First-Team All-Pro honors in 2014 before becoming a Pro Bowler in 2015.
During a recent podcast appearance on Bleav in Bengals, Jones gave his co-host Solomon Wilcots an inside scoop.
"I got some great news for you," Jones said on the Feb. 28 episode (h/t Sports Illustrated's All Bengals). "I just got a little birdie. They said that we gonna sign Ryan Jensen to a three-year deal for $39 million, which would be a starting center. … I hope it goes through, man. It sounds like the little birdie is saying it's almost a done deal."
If you don't pay attention to offensive line play, Ryan Jensen started his career with the Baltimore Ravens after going to them in the sixth round of the 2013 NFL Draft. He played sporadically his first few years, but he has started every game since 2017. He moved to the Tampa Bay Buccaneers in 2018 and was crucial for Tom Brady the last two seasons, earning his first Pro Bowl selection in 2021.
So, what would signing Jensen mean for the Bengals?
Ryan Jensen would give Joe Burrow the protection he desperately needs
Ryan Jensen wouldn't just be a nice upgrade at center in front of Joe Burrow. He's one of the top offensive line talents in the NFL.
Jensen only allowed one sack in 2019 and had a 79.3 Pro Football Focus player grade. He then allowed four in 2020, and his player grade went down to 65.8, but Jensen gave up just two sacks this past year and registered a 70.3 grade.
How does that compare to the team's current center, Trey Hopkins?
Hopkins allowed four sacks in 2021 and had a 51.4 player grade.
Jensen is a big body, standing at 6-foot-4, 319 pounds. And as Wilcots described him on Bleav in Bengals, he's a "mean, nasty, physical [dude]."
That's exactly what Joe Burrow needs if he wants to win the Bengals a Super Bowl. Jensen, especially with his experience already winning a ring in Tampa, could be exactly what Cincy needs to get over the hump.
It's unclear who Jones' "little birdie" was and how close the Bengals actually are to signing Jensen. But adding him could be the difference between the team winning a Super Bowl or staying in its current state: ringless.
Stats courtesy of Pro Football Reference