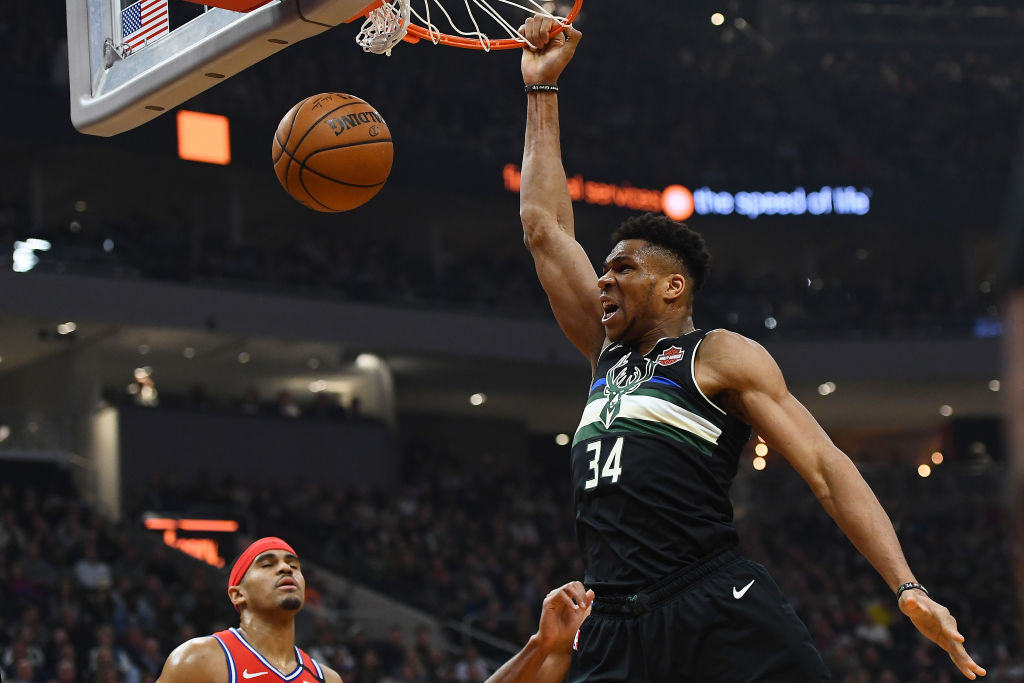 After Becoming a Father, Giannis Antetokounmpo Only Wants More 1 Thing
Giannis Antetokounmpo might be a new dad, but even baby can't distract him from his ultimate goal with the Milwaukee Bucks.
While we might think of professional athletes as purely public figures, no one exists solely on the field or court; everyone has their own personal lives away from the game. Milwaukee Bucks star Giannis Antetokounmpo is no exception. The forward and his longtime girlfriend recently welcomed their first child, a baby boy named Liam, into the world.
While fatherhood will give Antetokounmpo some extra motivation, his on-court aim will remain the same. No matter what changes in his personal life, the Greek Freak's eyes are firmly fixed on the prize.
Giannis Antetokounmpo's long road to NBA stardom
These days, Giannis Antetokounmpo is one of the NBA's brightest young stars. Before he became the Greek Freak, though, Antetokounmpo's lifestyle was markedly different.
In Greece, Antetokounmpo's parents struggled to make ends meet. Giannis and his brothers didn't always find food in the refrigerator; as boys, they sold sunglasses, purses, and other merchandise on the street. When it was time to hit the basketball court, the siblings would share a single pair of sneakers.
Despite that harsh reality, Giannis started shining on the hardwood. He worked his way through the Filathlitikos organization and, in 2013, declared for the NBA draft. The Milwaukee Bucks snagged a young, lanky Antetokounmpo at 15th overall; no one expected him to turn into one of the association's elite players.
With each passing season, though, Giannis improved. As he grew into his body, his game evolved; he's now a legitimate MVP-quality star, averaging 30 points, 13.5 rebounds, and 5.8 assists per outing.
Giannis Antetokounmpo does it for the kids
Giannis Antetokounmpo only recently became a father, but he's apparently had plenty of support. In the Bucks locker room, veteran dads Eric Bledsoe and Khris Middleton have been fielding questions and sharing their favorite tips.
"He asks us questions all the time, but I just tell him that it's just an experience you have to go through," Bledsoe explained to ESPN's Eric Woodyard. "Can't nobody tell you how to be a parent—that comes with kids."
Antetokounmpo isn't just trying to learn everything he can, though. He's also using fatherhood as extra on-court motivation.
"It is definitely [motivating me]," Antetokounmpo said. "I try to be around kids as much as possible; I try to learn and ask questions. I'm excited. It's exciting. That's something where no matter what goes on at work or anything, you go back home and you're happy because your little boy is there."
Fatherhood or not, the ultimate goal remains the same
As anyone who has ever deal with an infant can confirm, Giannis Antetokounmpo is in for a major change. One thing that won't shift, though, is his on-court aim. For all of the Greek Freak's individual accolades, he wants to take home a title.
"I know there are a lot of things that come with being a celebrity, being on the front page covers and all that, but it really doesn't excite me," Antetokounmpo explained. "There's a lot of things that I've turned down. I've turned down movies, commercials, endorsement deals this year because I really don't care. I just want to win. I want to help my teammates win. I want to help this city, bring a championship to this city."
While there's still plenty of basketball left to play, it seems like there's a good chance that Giannis can accomplish his goal. 538 currently gives the Bucks the best chance of claiming the Larry O'Brien Trophy; although anything can happen in the playoffs, having an elite player like Antetokounmpo on the roster can cover up plenty of sins.
Neither winning a championship nor raising a child is easy. Giannis Antetokounmpo, however, isn't your average dad.