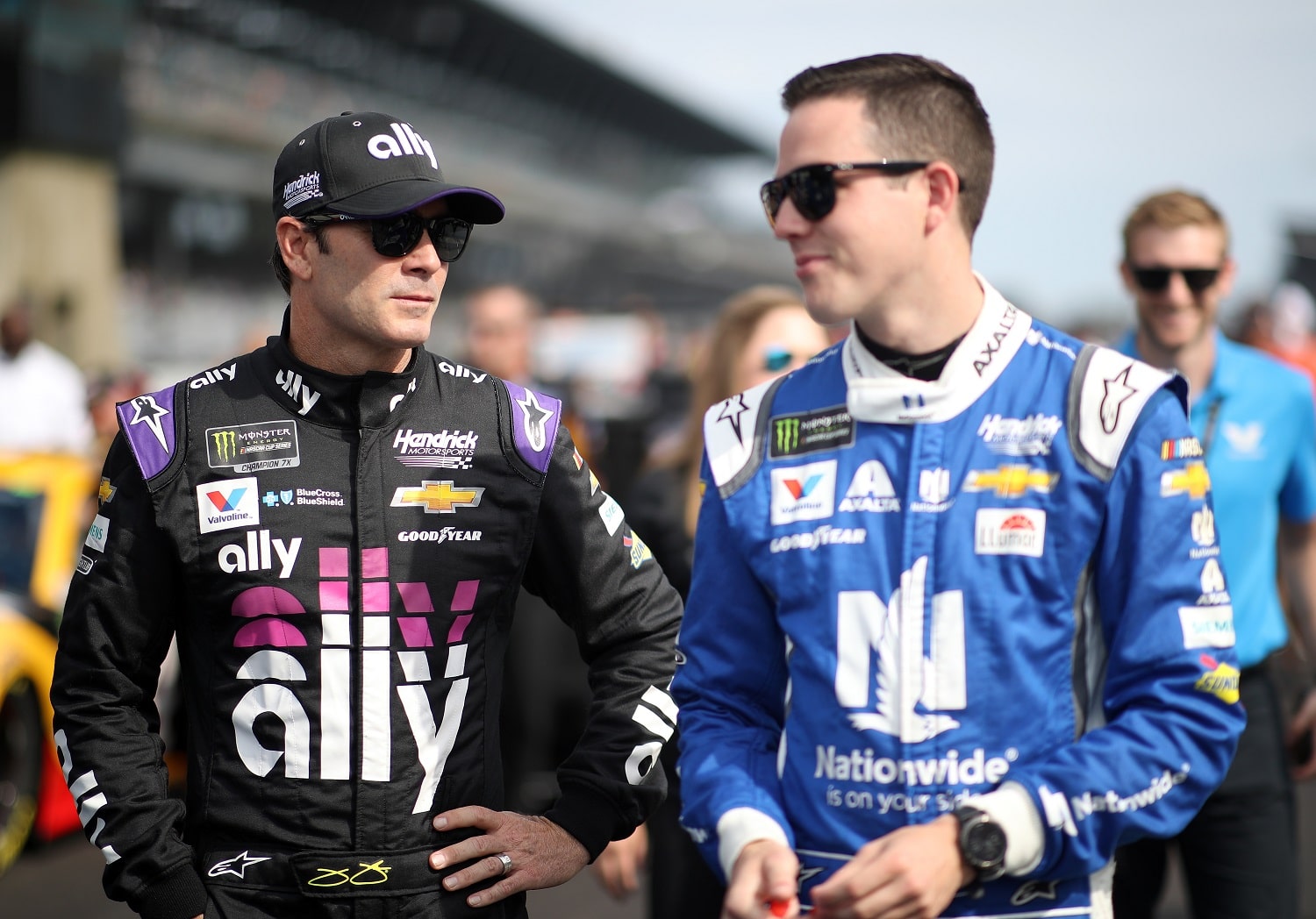 Alex Bowman Delivers Bad News for Jimmie Johnson's NASCAR Fans
Alex Bowman says a lot of promotional work and preparation has taken place this offseason, so he won't be surrendering No. 48 to Jimmie Johnson.
I'm almost ready to accept Kyle Busch driving something other than the No. 18 Toyota. But Jimmie Johnson not piloting the No. 48 Chevy? That'll take some getting used to for a lot of NASCAR observers.
They'll have to deal with precisely that, though. Alex Bowman delivered the bad news on Thursday.
Jimmie Johnson will need a new identity in 2023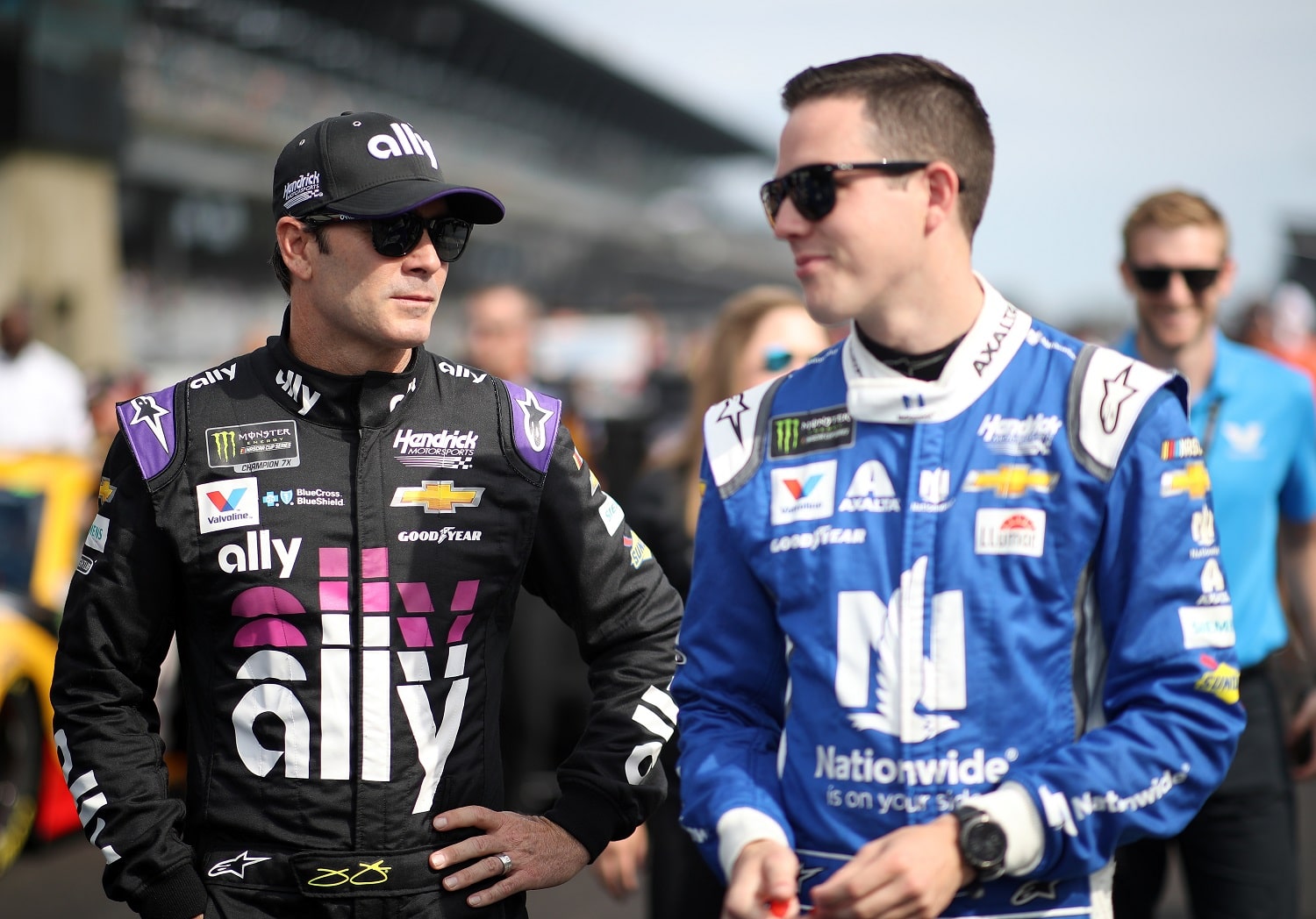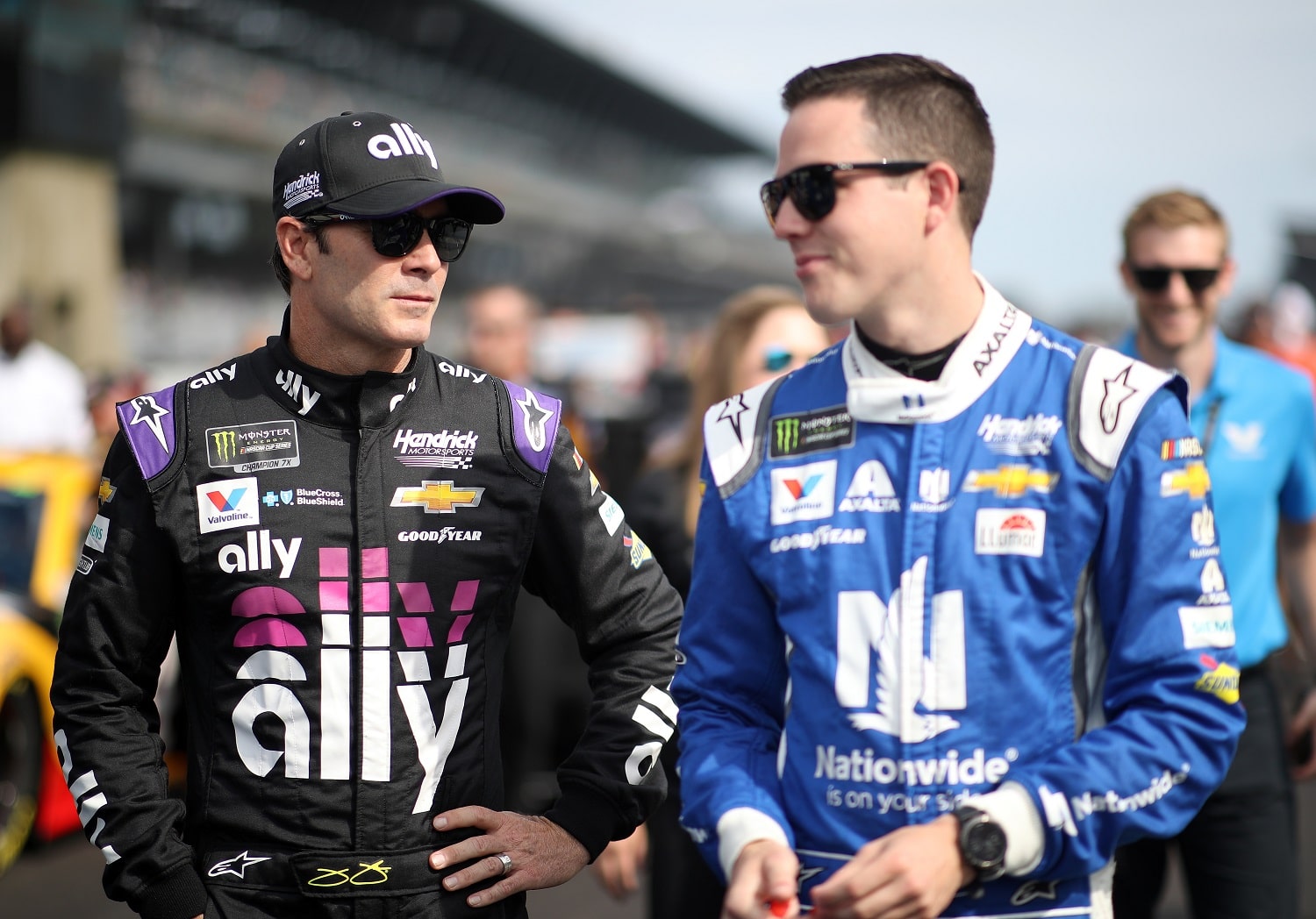 Dale Earnhardt wasn't always the driver of the No. 3 Chevy in the NASCAR Cup Series, nor was Richard Petty always driving the No. 43 car. Kyle Busch's flip from the No. 18 Toyota to the No. 8 Chevy this offseason isn't the first time he's swapped numbers.
But Jimmie Johnson was never anything but the driver of the No. 48 Chevy in his Cup Series career at Hendrick Motorsports from 2001-20. The dollar value of JJ merchandise sold and adorned with the No. 48 most assuredly went deep into eight figures over the years.
That's all going to change come February when the seven-time champion ends his two-year hiatus from NASCAR to begin running a limited schedule for Petty GMS, where he is now a minority owner.
Petty GMS is running the No. 43 Chevy for Erik Jones and the No. 42 for newcomer Noah Gragson. But Alex Bowman has been driving the No. 48 Chevy since Johnson retired from HMS, and that's not changing in 2023.
Alex Bowman: 'He obviously had so much success with that number'
Alex Bowman is coming off a what-could-have-been year in his fifth full season with Hendrick Motorsports and is now staring at what could be a turning point in his career.
Bowman, 29, began his HMS career as a fill-in for Dale Earnhardt Jr. in the No. 88 Chevy in 2016, moving into that car full-time in 2018. He scored the first of his seven Cup Series victories the following season.
He slipped from four wins in 2021 to a single victory in 2022. However, Bowman was making a respectable run in the playoffs when he wrecked at Bristol in the third playoff race. After finishing 32nd the next week at Texas Motor Speedway, he went to the sidelines for five weeks to recover from the effects of a concussion.
Bowman found himself peppered with health-related questions on Thursday ahead of the season-ending NASCAR awards banquet, but Bob Pockrass of Fox Sports threw out the question of possession of the "48."
Bowman inherited that car from Johnson at HMS and has always been mindful that his immediate predecessor in the seat was a beloved champion. Johnson fans have been hoping HMS would hand the number over to Petty GMS for their favorite driver's return.
"He obviously had so much success with that number," Bowman said. "I understand for sure."
Handing No. 48 over to Jimmie Johnson wouldn't have been simple
It was just over a month ago that Jimmie Johnson acquired partial ownership of the Petty GMS team and revealed that he would drive a limited Cup Series schedule beginning with an attempt to qualify for the 2023 Daytona 500.
That created questions, including whether that would delay his election to the NASCAR Hall of Fame. (It almost certainly won't.) There was curiosity, too, over whether Rick Hendrick would offer to surrender the "48" so Johnson could use it. If that happens, you would be able to count Bowman among the surprised.
"I don't see any number change coming," he told Fox Sports. "I will drive whatever Mr. H tells me to drive. I think you guys know that. But at the same time, I'm 100% sure that it is going to be the "48" car this year. There's way too much stuff that they would have to change already. … So. it's not happening."
Bowman pointed to the amount of preparation that's taken place this offseason.
"I don't think a lot of casual NASCAR fans realize how much we're doing this time of year and how many production days we've already had," he continued. "Fire suits are already being made, and all this stuff is already happening. We're filming commercials with "48" on the side of the car. If they were going to change it, they probably had to change it six months ago."
Six months ago, Johnson was still an IndyCar driver who'd left the door open to returning. He's back now, but it'll have to be with a new team and a new number.
Got a question or observation about racing? Sportscasting's John Moriello does a mailbag column each Friday. Write to him at [email protected].