Allen Iverson Once Detailed the Moment He Knew Kobe Bryant Was Different: 'The Mamba Was No Myth, Man'
A legend can be defined as something mythical, something unreplicable. Like The Legend of King Arthur. Through that lens, Allen Iverson and Kobe Bryant are two basketball legends.
Their games were different, but their personalities even more so.
There's one moment that sticks out in AI's mind, the moment he knew exactly who Kobe was and why The Mamba was unlike almost any other player ever to pick up a basketball.
Allen Iverson and Kobe Bryant were rivals during the same era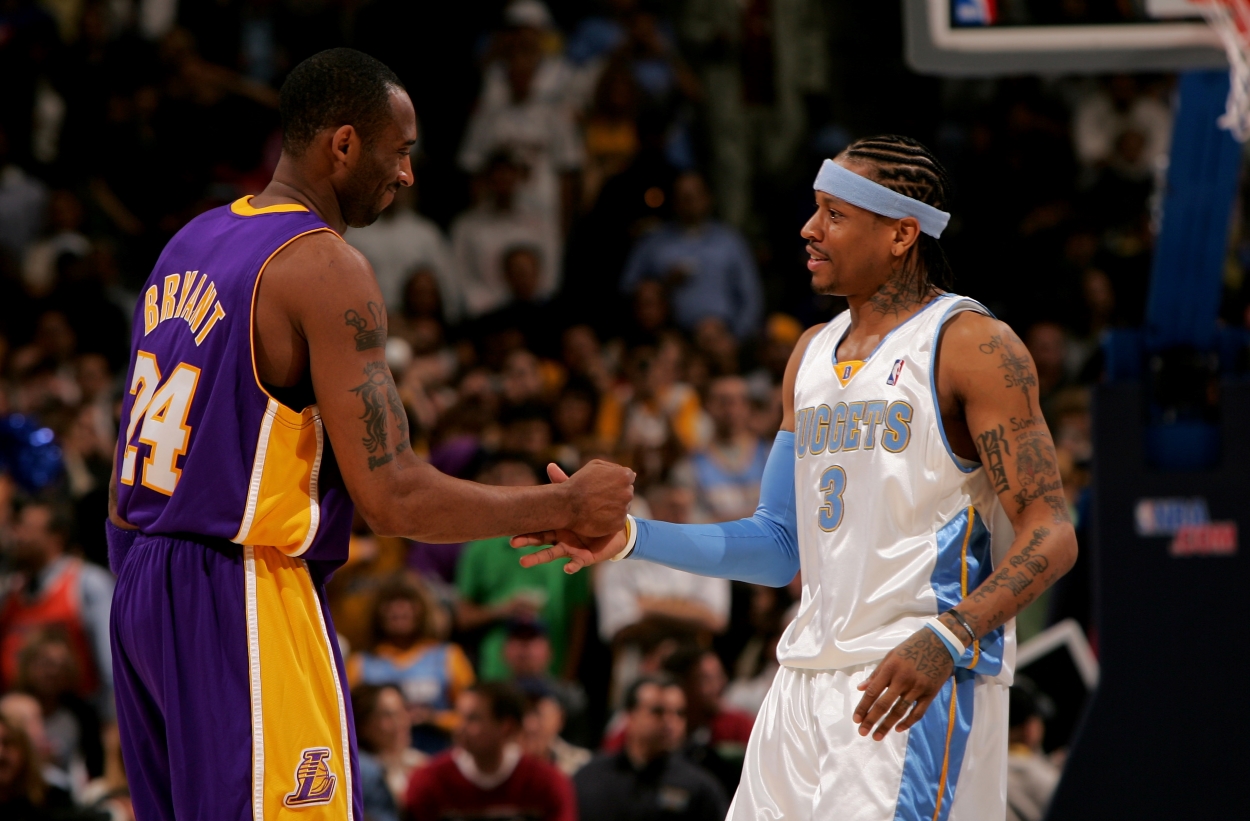 Iverson and Bryant were both lottery picks in the 1996 NBA Draft — AI went No. 1 overall to the Philadelphia 76ers and Kobe No. 13 overall by the Los Angeles Lakers by way of the Charlotte Hornets.
Kobe Bean played for 20 years, Bubba Chuck for 14.
According to Land of Basketball, the two faced off 38 times — 29 times in the regular season and nine times in the playoffs. Kobe won the career series 24-14 (8-1 in the playoffs).
Iverson scored almost 25,000 points, which is the best all-time for a player listed at 6-feet or less.
The Lower Merion grad currently sits fourth all-time on the NBA points list with 33,643.
The Answer had Kobe beat during their first year in the league. AI was named the 1996-97 Rookie of the Year after scoring 23.5 points per game. He played more than 40 minutes a night and averaged 19.8 field-goal attempts.
Bryant's rookie season was far less spectacular — 7.6 points per game, 15.5 minutes, 5.9 shot attempts. But he not only caught up to the Georgetown product, he eventually surpassed him.
In Iverson's mind, there's a reason Kobe eventually became a more accomplished player, and he explained it only took a few hours of hanging out for him to realize it.
It took one night in LA for AI to know Bryant was different
The Sixers played the Lakers on Dec. 29, 1996. It was the second time the two Hall of Famers went head-to-head, but the first on the west coast.
As Iverson told it in a story on The Player's Tribune, while he wanted to spend the night on the town, the five-time champion had other plans.
"Remember when I came out to L.A. for the first time our rookie year? You picked me up at the hotel and we went out for some food, and you asked me what I was getting up to later.

"I said I was going to the club. I mean, we in L.A.! I'm going to the club, Kobe. Come on, man.

"And what did you say?

"'I'm going back to the gym.'

"You're probably the only dude in the history of the game where the mystique wasn't exaggerated. The Mamba was no myth, man. It didn't even do you justice. One, two, three in the morning, we knew where you were."

Allen Iverson on Kobe Bryant's work ethic
Both players became Hall of Famers, but Kobe was on a different level
Iverson was an incredibly accomplished player in his own right. He won an MVP, was an 11-time All-Star, won four scoring titles, was seven times a member of an All-NBA team, and made a finals appearance (against the Lakers).
But Bryant was an 18-time All-Star. He made 15 all-NBA teams. He was a two-time Finals MVP and was named to 12 All-Defensive teams.
But what really set the Pennsylvania native apart from Iverson — and every other player of his generation — are his handful of championship rings.
He got those through an absurd work ethic and innate desire to get better.
And, as Iverson relayed, hours upon hours spent in the gym.
All statistics courtesy of Basketball Reference.