Allen Iverson Feared That He Ruined His Georgetown Career When He Encountered John Thompson After Smoking Marijuana
These days, Allen Iverson stands tall as one of the top NBA talents from the early 2000s. The guard wasn't always a big-time star, though. In 1994, he was only an incoming freshman finding his feet on Georgetown University's campus. At that point, The Answer almost landed himself in hot water with the legendary John Thompson.
According to A.I.'s account, he had been smoking marijuana with a friend when he learned the head coach was looking for him. At that moment, the future NBA star feared that he had ruined his Hoyas career before it ever truly begun.
John Thompson showed faith in Allen Iverson and brought him to Georgetown
During his time in Washington, D.C., Iverson established himself as a legitimate talent. If things had shaken out differently during high school, though, the guard might have been behind bars instead of heading to college.
As recounted in an NPR story, Iverson was arrested after a Valentine's Day brawl in 1993. While there's still disagreement over what happened in the bowling alley on that fateful night — some contend, for example, that it was started by the use of a racial slur — Virginia's "maiming by mob" statute made the finer details irrelevant. Since the 17-year-old star was present at the scene, he could be charged with a crime.
Iverson was sentenced to 15 years in prison but only served four months. He was granted clemency, and an appeals court later overturned his conviction.
While that saga could have scared away any college recruiter, let alone one from a prestigious Jesuit university, John Thompson wasn't deterred. As recorded in a 2005 ESPN story (H/T Internet Archive), Iverson's mother visited the Georgetown coach while her son was behind bars. He followed up and eventually brought A.I. to Washington, D.C. on a basketball scholarship.
Allen Iverson thought he ruined his Georgetown career during his first days on campus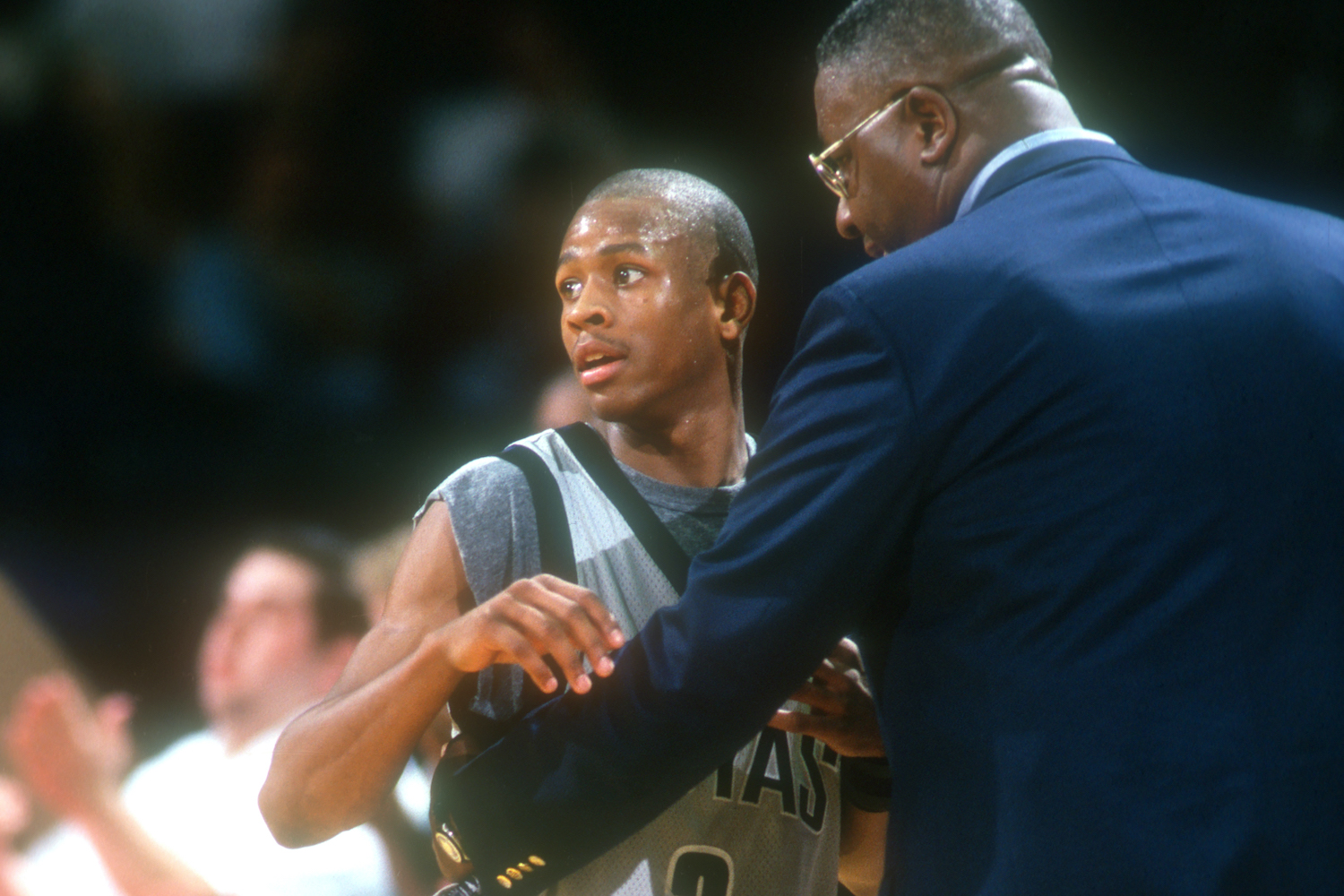 Earning a scholarship was only the first step in Iverson's journey, though. He was on campus to play basketball and, in theory, prove he was capable of thriving in the professional ranks. That plan, however, almost encountered an early snag.
During a Players' Tribune conversation about marijuana, Al Harrington asked Iverson if it was true that he was high when he met John Thomspon for the first time. While The Answer insisted that never happened, the guard explained that he did have a close encounter with his coach while under the influence.
"It was like the first time I had come on campus," Iverson explained. "I remember going to this girl who's my homegirl now — like I rock with her hard, like all this many years later she's still my homegirl. And I went to her house, and I was smoking over at her crib. Man, somebody knocked on the door and said, 'Coach up the hill.'"
As you might expect, the teenager immediately feared the worst. As a newcomer on campus, he couldn't afford to get in trouble already. In reality, though, Thompson wasn't there to discipline his young guard.
So I ran out the joint. I'm thinking in my mind, This man done gave me an opportunity…. You know what I mean? I just came here, and I'm getting ready to get sent back already. 

I went and washed up or whatever, and I remember going to the car, and Coach is like, 'Come here, boy.' And I walked close to the car, but I didn't walk all the way up, because I didn't want him to know that I was high. But he just said he came up there to check on me, make sure I was alright, and that was all he wanted. 

Allen Iverson via The Players' Tribune
 Despite that relatively benign interaction, Iverson couldn't help but fear the worst.
"I mean, in my mind I was like, I blew it, though. I was paranoid, I'm talking about terrible," the NBA legend explained. "Couldn't go to sleep. 'Cause I just thought I had thrown it all away, just like that, you know what I mean? For him to do what he did for me, and then the first day I come there, I'm getting ready to get sent back home."
John Thompson lived up to his word and kept looking out for Allen Iverson
In isolation, Thompson's claim that he was making sure Iverson was alright could seem like a convenient alibi for keeping tabs on the freshman. In reality, we know that the coach lived up to his word.
As Iverson recounted in another Players' Tribune post, A.I. had an unpleasant visit to Villanova during his freshman year. When the guard exited the tunnel, he saw four fans dressed like prisoners with a sign that read, "ALLEN IVERSON: THE NEXT MJ." They had crossed out "MJ," though, and replaced it with "OJ." Understandably, that sight stung the teenager.
"What made Coach Thompson so special is he knew that, man. He knew that. Coach knew," Iverson wrote. "And he could see my heart just sinking in that moment. He knew he couldn't protect me from everything that was in this world. But he sure tried."
Thompson came to his star's defense and took a stand. He pulled the Hoyas from the floor and, when the referees came to the locker room, told them he'd forfeit the game unless those four fans were removed.
On the whole, the coach's efforts paid off. Allen Iverson turned out to be more than alright; he spent two successful years at Georgetown, moved on to the NBA, and became one of the best guards in recent history.
How to get help: In the U.S., contact the Substance Abuse and Mental Health Services Administration helpline at 1-800-662-4357