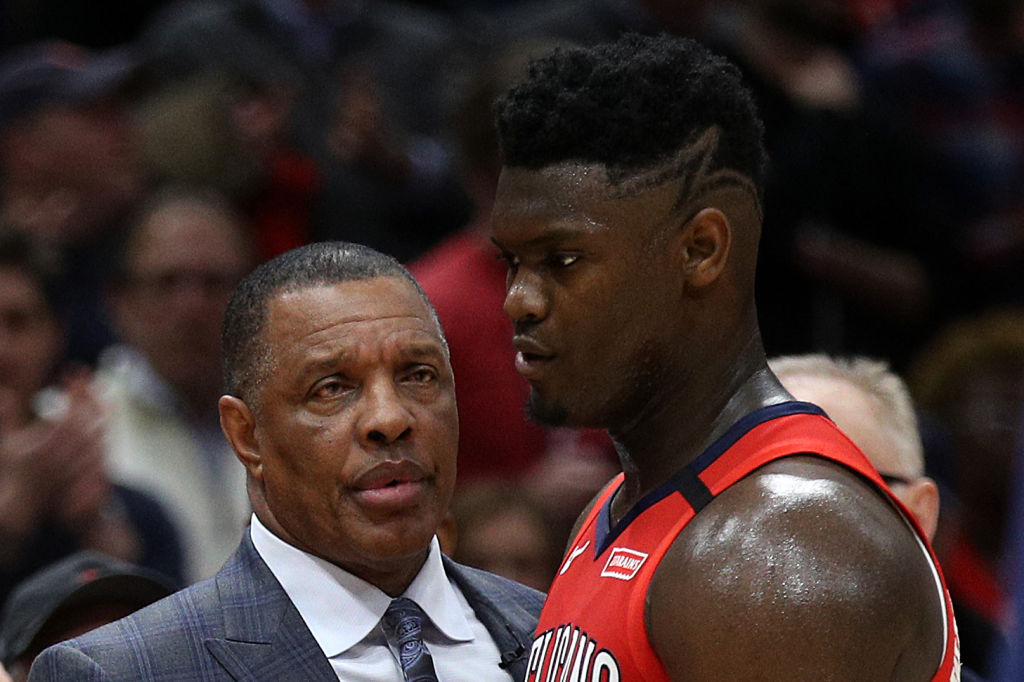 Alvin Gentry Gave Zion Williamson This Advice During His NBA Debut
When Zion Williamson made his NBA debut on Wednesday night, New Orleans Pelicans head coach Alvin Gentry had one piece of advice.
After months of waiting, Zion Williamson made his NBA debut on Wednesday night. While the New Orleans Pelicans didn't manage to win the game, their star forward still showed plenty of potential during his limited minutes. Head coach Alvin Gentry was excited by what he saw, but the night was still far from perfect.
For all of his hype, Zion Williamson is still a rookie. With that in mind, there's one piece of advice that the coach needed to give his young star.
Zion Williamson's long-awaited NBA debut
Coming into the NBA season, we expected Zion Williamson to make his professional debut in October. The forward, however, had to wait until Wednesday night to suit up for action.
While the team limited Zion to 18 minutes of action, the forward's potential was still apparent. He finished the game with 22 points, seven rebounds, and three assists; Williamson also shot 8-11 on the night, making all four of his three-pointers.
"It was everything I dreamed of, except for the losing part," Williamson said after the game. "Just the energy the crowd brought, the energy the city brought, it was electric and I'm just grateful that they did that. So it was a dream come true to finally get out there, but at the end of the day I did want to win, so we've got to look to the next game."
Alvin Gentry weighs in on his young star
After the Pelicans game, head coach Alvin Gentry made it clear that it wasn't his choice to bench Zion Williamson down the stretch. Once he got that point out of the way, he offered his assessment of the young forward.
"I think what you saw there was a taste of what, once we really get settled, he gets settled in, there is a lot of things we can do with him," Gentry explained. "There's a lot of potential there. It was good to see him do that. I just think there's a really, really high ceiling that he can reach, you know. He can reach it."
There was one flaw in Williamson's performance, though: turnovers. The forward gave the ball away five times during his 18 minutes of action. His coach, however, believes the issues came more from the circumstances and Zion trying to defer to his teammates more than anything else.
"I told him I wanted him to be more aggressive and wanted him to enjoy the moment," Gentry said. "Don't take this lightly. It's a great moment for you. It's what you've worked for your whole life is to be able to walk out and play in an NBA game. So enjoy that moment and not to worry about it, and we're gonna be fine as a team, and you're gonna be fine as a player."
Zion Williamson will only improve
Even with his turnovers, Zion Williamson had an impressive NBA debut. It goes without saying, though, that he'll only improve after Wednesday night.
Beyond the realities of rust, Zion's NBA debut was more than an ordinary game: it was an event. As Gentry said, the game represented a culmination of everything the young forward had been working towards; anyone, let alone a teenager, would be caught up in the emotions of the night.
Similarly, Williamson's issues should lessen over time. He was a sneakily good passer at Duke; it's hard to imagine that he won't take better care of the ball once he's more comfortable with his teammates and the realities of a competitive NBA game.
While it was a drag waiting three months to see Zion Williamson in action, Wednesday night proved that we still have plenty of highlights to look forward to in the coming years.