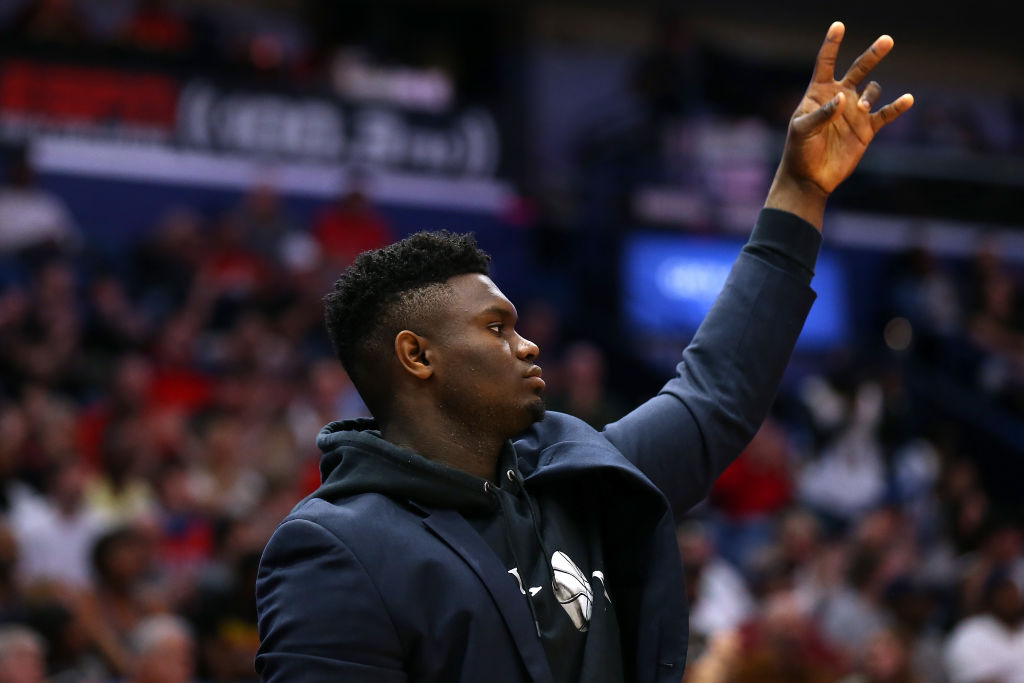 1 Thing That Zion Williamson Will Be Doing Differently in His NBA Debut
New Orleans Pelicans forward Zion Williamson is expected to make his NBA debut on Wednesday. He'll be doing one thing differently once he hits the court, though.
This season, Zion Williamson has been one of the NBA's biggest storylines without even playing a game. The young forward overshadowed the Las Vegas Summer League and the preseason but underwent knee surgery before making his regular season debut. On Wednesday night, however, Zion should be making his full return to action.
While basketball fans around the globe are excited to see what the phenom can do, some things will be a little different. In fact, Williamson revealed that he'll be doing one thing differently during his NBA debut.
Zion Williamson's lengthy rehab process
At the end of October, Zion Williamson had surgery to repair a torn meniscus. While the Pelicans initially said that the forward would be back on the court within eight weeks, things didn't go as planned.
Without Zion in action, speculation started to swirl. Some suggested that the forward was out of shape or simply too big to withstand the rigors of an NBA season. Others, like Stephen A. Smith and Paul Pierce, wondered if Williamson should sit out the entire campaign. David Griffin and the Pelicans, though, never wavered.
Slowly but surely, Williamson started working his way back to fitness. He progressed from shooting on his own to taking part in practices and dunking before games. Finally, the stage seems set for Zion's nationally televised debut.
Zion Williamson has changed this aspect of his game
While Zion Williamson has waited months for his NBA debut, he's under no illusions. The young forward knows that Wednesday night will be different than anything he's experienced before. "This is my first NBA game," he explained. "This is business now."
Although we'll definitely see at least one signature Williamson move during his NBA debut, Zion has changed one part of his game. He's physically landing differently after jumps and dunks. He learned the technique during rehab when the Pelicans tried to tweak his kinetic chain; while it referred to as 'learning how to walk,' the process should help the forward move in a less stressful way.
"I think it's not landing straight legs, kind of don't let all my force go into my legs," Williamson said of the new technique. "It's a lot of technical stuff. I really couldn't explain it to you, to be honest. I could probably show you on a video better."
What to expect on Wednesday night
Based on what we saw at Duke and during the NBA preseason, Zion Williamson is capable of changing any game. Wednesday night, however, should be more of an introduction than a proper arrival.
For all of Zion's freakish talent, he hasn't played a competitive basketball game in months; if nothing else, he'll have plenty of rust to work through. The Pelicans have also rightfully said that they'll keep an eye on his minutes, so don't expect him to get forty minutes of action right out of the gate.
Zion himself has a simple goal for the night: "I'm just looking to go join in and have some fun," he said. His debut, however, should be fun for every basketball fan. Even if we only get a taste of his potential, the Zion Williamson-era has officially arrived.