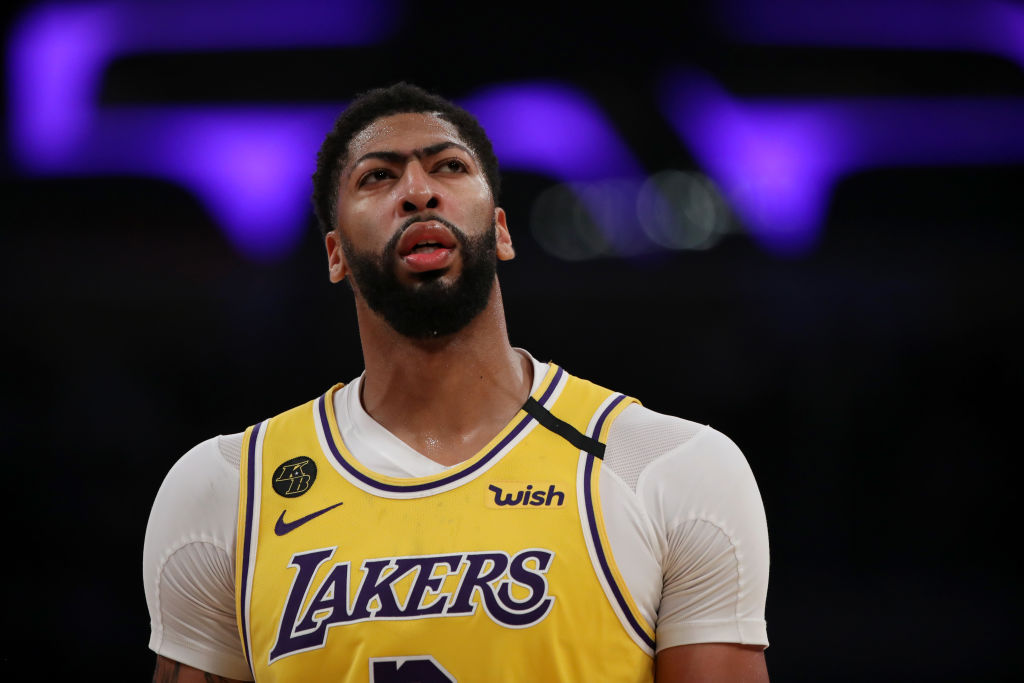 Anthony Davis Has Los Angeles Lakers Fans Worried
Los Angeles Lakers fans are concerned over news that Anthony Davis has listed his suburban mansion for sale. |
Panic set in for Los Angeles Lakers fans over the weekend when word got out that Anthony Davis has put his home up for sale. With Davis eligible for free agency, the development was immediately construed as a warning shot at the very least and a signal of irreconcilable differences at the worst.
If you have $8 million, this house is for you
The 2.33-acre estate that Anthony Davis has put up for sale is nothing short of spectacular, explaining the $7.995 million asking price. Built in 1996 and later updated with an addition, the mansion is approximately 16,000 square feet in Westlake Village, a western suburb of Los Angeles.
The mansion has five bedrooms, seven bathrooms, a movie theater, and a kitchen with two islands. The $1 million pool has dual waterslides, the home includes an indoor basketball court, and the property is powered in part by a solar array on the hillside.
Davis purchased the estate, which overlooks a golf course, in 2018 for $7.479 million.
Anthony Davis is unlikely to leave Los Angeles, but …
Americans sitting idly at home these days can vouch for the fact that Anthony Davis picked a bad year to head into presumable free agency. The coronavirus pandemic stopped the NBA in its tracks and will prove costly even if the league is able to resume this spring or summer to conduct its playoffs.
It's not just owners who'll feel the financial pain when the league closes its books on the 2019-20 NBA season. Player payrolls are limited by a salary cap that is tied to a percentage of revenue that the league and its teams generate each year. The cap this season was $109.14 million and had been projected to climb to $117 million for next year.
The Great Recession that began in late 2008 caused a stagnation that kept the salary cap hovering around $58 million for five years, but the league kept playing and there were no games in empty arenas. The current crisis points to a large drop in revenue and therefore a decrease in the salary cap.
That means that Anthony Davis and a lot of his peers in the NBA aren't going to negotiate lavish long-term contracts. In fact, just averaging the $27 million that he would have received for the full 2019-20 season might be a win.
Still, there are legitimate reasons for Anthony Davis to leave the Lakers:
The Lakers are LeBron James' team. No matter how well Davis plays, he won't get top billing in a town that adores its superstars while James is still there. There's also the issue of secession planning. Does it make sense to commit to six years when James becomes a free agent in two or might retire in three?
The front-office situation is probably significantly better with Magic Johnson gone – he has been a better businessman than NBA executive – but this is the team that in recent years has drafted Lonzo Ball and given up on Thomas Bryant.
Anthony Davis will likely stay put in a shorter deal
Anthony Davis isn't going to fall below the poverty line because of the coronavirus pandemic. Even with the expected salary cut players ahead closing out this season, the No. 1 overall selection of the 2012 NBA draft has made more than $110 million in his career. And he does have a one-year option left on his contract.
Davis' strategy should be simple: Declare free agency but stay with the Los Angeles Lakers, who can re-sign him at a premium under NBA rules that give teams an edge in dealing with their free agents.
The key, however, will be for Davis to show patience by negotiating a short-term deal. The Lakers gave up a ton in their trade for Davis last year and aren't in a position to let the 6-foot-10 forward who averages 24.0 points a game leave at a time when Davis and LeBron James have made the team a contender.
The Lakers will have to acquiesce if Davis insists on a two-year contract with a player option for a third season. That is the strategy that Kawhi Leonard is employing with the Los Angeles Clippers.
Unless COVID-19 starts causing annual shutdowns of the economy, NBA revenue and the salary cap will bounce back to healthy levels by 2023 at the latest, and that positions Davis for the max contract he thought he was going to sign this summer.