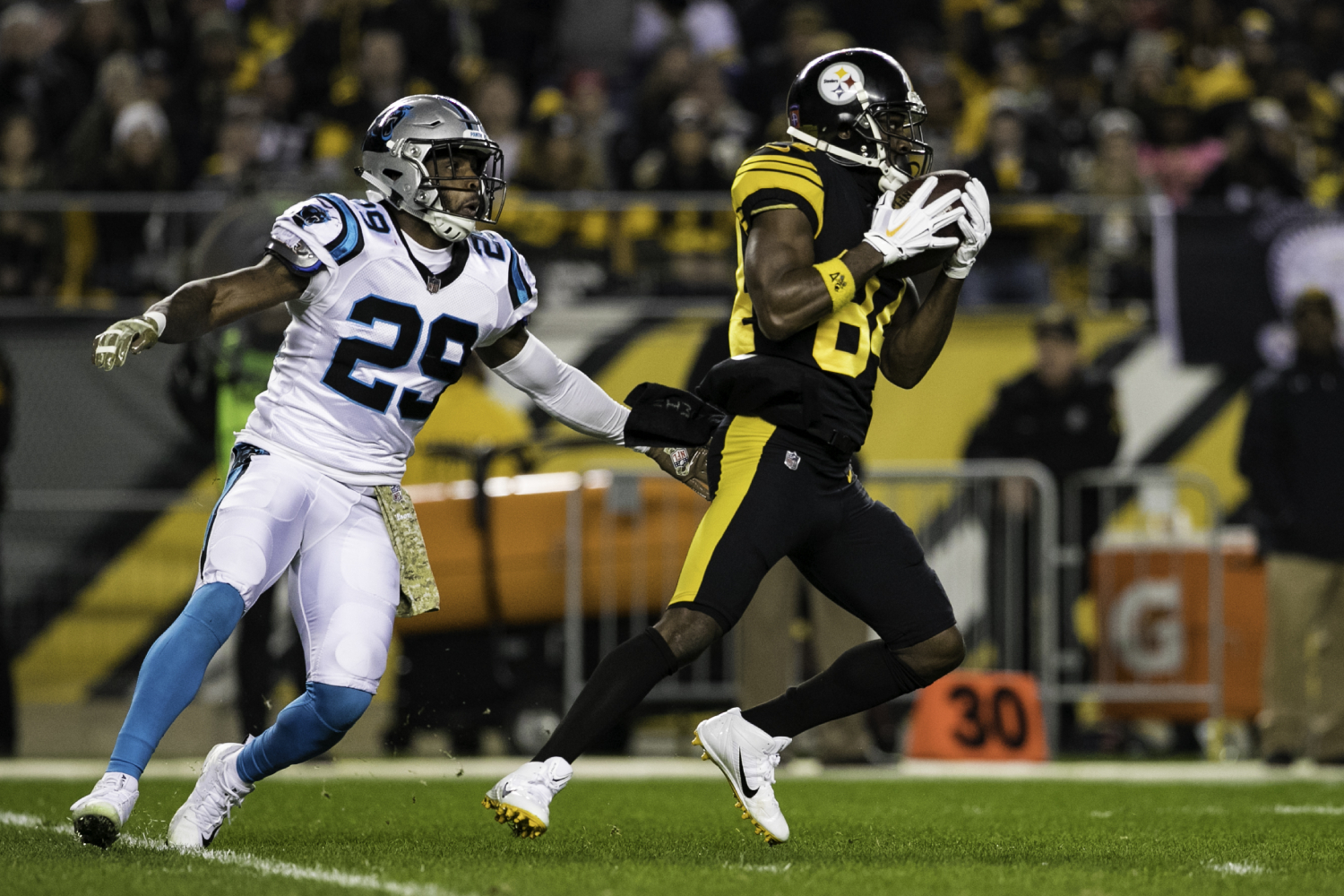 Antonio Brown Getting Some Love From Baltimore Ravens All-Pro Cornerback
Wide receiver Antonio Brown is drawing interest around the league, especially from a Baltimore Ravens All-Pro defensive back.
If wide receiver Antonio Brown makes a return to the NFL, the Seattle Seahawks have already shown their interest. Don't count out the Baltimore Ravens, either. The Ravens, already loaded on the defensive side of the ball, could use another weapon in their passing game. One Ravens Pro Bowler is making sure he's keeping his eye on the Brown situation.
Antonio Brown suspended for eight games
Antonio Brown was arguably the best wide receiver in football when he was on the field. He's also the most disgruntled one. As talented as Brown is, he's been released by two NFL teams for off-the-field issues. In July, the NFL announced Brown was suspended for eight games for issues that violated the league's conduct policy.
Brown, who was released by both the then-Oakland Raiders and the New England Patriots, was under investigation for alleged sexual misconduct. He also had an incident with a moving truck company and has a lawsuit filed against him by his former trainer. The trainer alleges she was sexually assaulted by him.
Brown also went on a social media rant while he was unemployed last year after his release by the Patriots. He posted messages about the NFL being racist. Brown hasn't played in the NFL since he suited up for the Patriots in a 2019 game against the Miami Dolphins. He lasted just 11 days in New England.
Russell Wilson says Brown deserves another chance
The Seattle Seahawks, already loaded with offensive weapons, have shown interest in signing Antonio Brown. Quarterback Russell Wilson would have no problem with Brown as a teammate. Wilson and Brown, according to ESPN, worked out together this summer.
"I think the reality about Antonio is he is one of the best players to play this game obviously," Wilson said. "I think that he has always been a special player in terms of (on) the field. The reality with Antonio is, he's had some tough moments in his life, especially as of late. I think he's gone through a lot of things he wishes he could take back and do, and just not say, whatever it might be.
"I think Antonio definitely has taken those steps (in the right direction), and like I said, nobody's perfect," Wilson said. "From the conversations I've had with him, he's really been remorseful and he's been humbled along the way. Like I said, I pray that he can continue to grow, just like anybody."
Ravens Pro Bowler Marlon Humphrey also likes Brown
While head coach Pete Carroll and quarterback Russell Wilson have put in a good word for Antonio Brown, they're not the only ones who would like them on their team. Baltimore Ravens All-Pro cornerback Marlon Humphrey sent a little message showing his interest as well.
The Ravens are loaded on the defensive side of the ball and have a stud quarterback in Lamar Jackson. An added offensive weapon, especially a weapon with the talent of Antonio Brown, could be the difference for the Ravens. Humphrey apparently is thinking along those lines as well.
When ESPN's SportsCenter tweeted, "Breaking: With Antonio Brown's suspension eligible to end after Week 8, the Seahawks are now positioned to make a push to sign him, though they're not alone, league sources tell @AdamSchefter," Humphrey immediately responded. "'Not alone' is what I see," Humphrey tweeted. All eyes will be on Brown in the next few weeks.