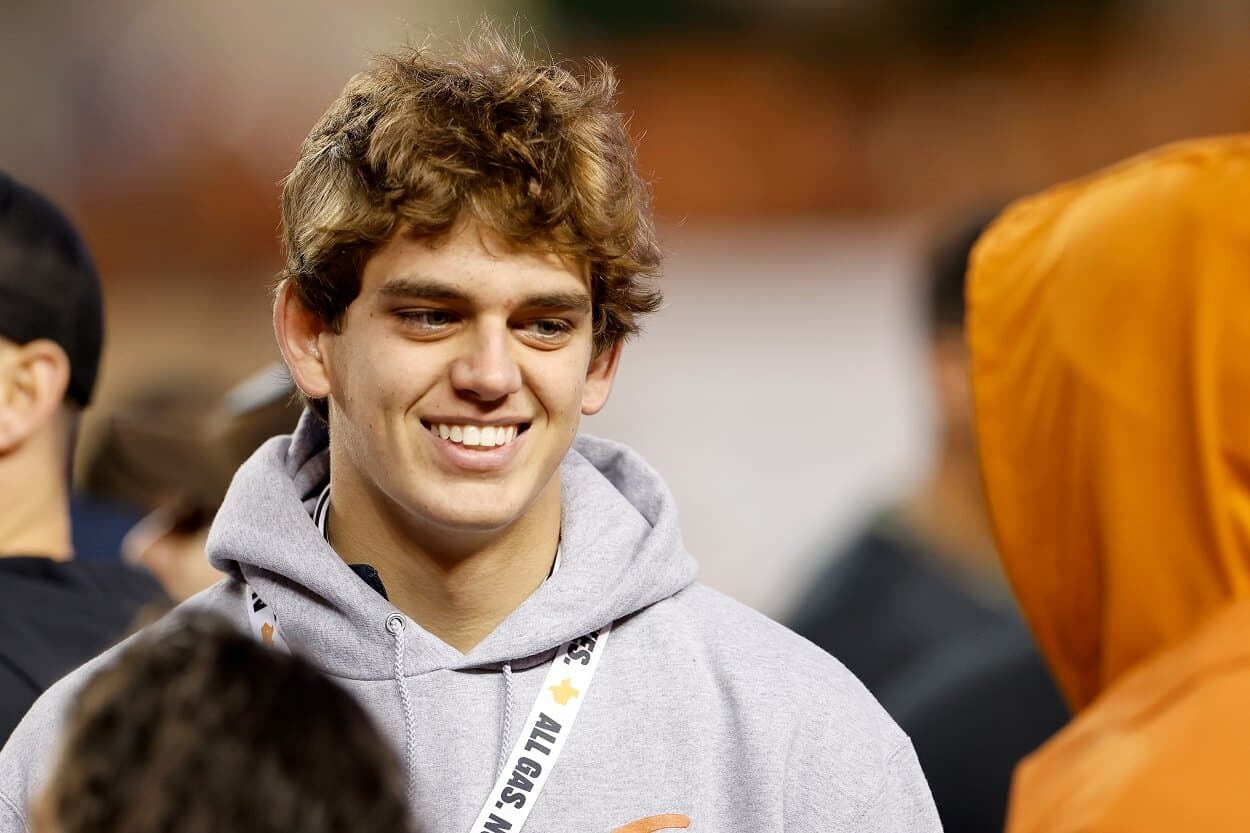 Arch Manning Sweepstakes: Every NFL Team's Way-Too-Early Likelihood of Landing the Texas QB in the 2026 Draft
Early predictions on which NFL teams might most need the services of Arch Manning in 2026.
Although Arch Manning isn't old enough to vote, it's easy to get excited about his NFL potential. Hailing from perhaps the most famous and successful family in football history, the 17-year-old already looks like the early favorite to become the latest quarterback with the last name Manning to go No. 1 overall in the NFL draft. 
Coming off a record-setting high school career that included 115 passing touchdowns and another 19 on the ground, Peyton and Eli Manning's nephew will battle talented but inconsistent sophomore Quinn Ewers for QB1 duties at the University of Texas. Given his bloodline and pro-ready background, it won't be a surprise if the freshman phenom permanently replaces the No. 1 overall prospect from the 2021 recruiting class. 
As Arch Manning carves out his own legacy with the Longhorns over the next three years, it will be interesting to see how NFL teams handle the most important position in sports. And while it's impossible to predict what quarterback depth charts will look like in 2026, let's have some fun with a way-too-early look at the likelihood of each NFL team needing (and landing) one of the most highly hyped recruits of all time.
32. Kansas City Chiefs 
Patrick Mahomes. Need I say more?
31. Philadelphia Eagles
Jalen Hurts should have at least one Super Bowl ring by 2026. And as long as Howie Roseman keeps hitting home runs in the draft and free agency, the Eagles should be a dynasty.
30. Los Angeles Chargers
Justin Herbert isn't going anywhere but up over the next few years. In fact, it's scary to think about how much better he'll be in 2026 based on his early NFL success.
29. Buffalo Bills
Josh Allen is going to be dissecting defenses and running over linebackers in a Bills uniform for the rest of his career. The only question will be whether he'll have a Super Bowl ring by the time Arch Manning makes the leap from college to the pros.
28. Jacksonville Jaguars
Trevor Lawrence should be in the midst of competing with Patrick Mahomes and Joe Burrow for the right to be called the best quarterback in football. And the Jaguars should be a legitimate threat to win multiple titles with their long-haired leader living up to his full potential.
27. Cincinnati Bengals
Joe Scheisty ain't going anywhere, and as long as the Bengals take care of business with J'Marr Chase, they'll be in the mix for the Lombardi Trophy for the next half-decade.
26. Cleveland Browns
Thanks to Jimmy Haslam signing off on a fully guaranteed deal, the Browns are tied to Deshaun Watson until 2027. His dead-cap hit for 2026 checks in at a whopping $72.9 million, and assuming he regains even half of his prime form, Cleveland shouldn't be in contention for the No. 1 pick.
25. Carolina Panthers
The Panthers shouldn't have to think about the quarterback position for the next 15 years.
24. Detroit Lions
By 2026, the Detroit Lions should be ruling the NFC North. In fact, that might happen this season.
23. Seattle Seahawks
Geno Smith shouldn't be around in 2026, but you have to figure Pete Carroll and John Schneider will find his successor well before then. The Seahawks' strong drafting should put them in the upper echelon of the NFC.
22. Houston Texans
Whether it's Bryce Young or C.J. Stroud, the Texans should secure their franchise quarterback with the No. 2 pick in the 2023 NFL Draft. If Arch Manning calls Houston home, that would be a huge surprise–and a bad sign for Young or Stroud's future.
21. Baltimore Ravens
The Baltimore Ravens need to do the smart thing and sign a former league MVP to a well-earned extension. Ultimately, Lamar Jackson should still be running around in the same uniform in 2026 while keeping his team in the championship hunt.
20. Arizona Cardinals 
They're stuck with Kyler Murray — for better or worse.
19. San Francisco 49ers 
Between Brock Purdy and Trey Lance, the 49ers have to have a long-term answer on their roster, right?
18. Chicago Bears
I have just enough faith in Justin Fields' rare athleticism and mental toughness to consider the Bears as a team on the rise.
17. Miami Dolphins
If Tua Tagovailoa can stay healthy, the Dolphins shouldn't have to worry about their passing game for the next decade. And if the front office doesn't feel confident about signing him to a long-term deal, the only other acceptable path would be to trade or sign a proven veteran who's an upgrade over the talented but injury-prone quarterback.
16. Pittsburgh Steelers
Even if Kenny Pickett doesn't live up to his first-round pedigree, Mike Tomlin is too good of a coach to let the Steelers slip into bottom-five territory.
15. Indianapolis Colts
The Colts have waited far too long to draft and develop a quarterback. General manager Chris Ballard will likely hitch his wagon to Anthony Richardson or Will Levis in 2023 and hope he doesn't have to shop for a starting signal-caller for the next 10-plus years.
14. New York Giants 
Daniel Jones may never become a superstar, but he showed he can be a solid player under Brian Daboll. The Giants seem to have a plan and will at least be an average team, if not better.
13. Washington Commanders
The Commanders don't have their quarterback of the future on their current roster. But with talent on both sides of the ball at other positions, they aren't going to be bad enough to be picking in the top five.
12. Atlanta Falcons
The Falcons can become a dangerous team if they fix the quarterback position. They can't afford to not find an answer well before 2026.
11. Minnesota Vikings
The Vikings will have to find a replacement for Kirk Cousins in the next year or two, so they should be in decent shape when Arch Manning enters the 2026 NFL Draft. 
10. Dallas Cowboys 
Dak Prescott probably won't be around, and with a lot of aging, expensive veterans headlining their roster, the Cowboys could fall behind and need to hit the reset button.
9. Tennessee Titans
Mike Vrabel is a great coach, but the Tennessee Titans look like a team on the downswing. A few years from now, they could easily have a bottom-of-the-league roster and be in the mix to have a Manning play for them.
8. Green Bay Packers
How much are you willing to bet on Jordan Love becoming a worthy successor to Aaron Rodgers? The Packers definitely could be in rebuilding mode by 2026.
7. Tampa Bay Buccaneers
Another veteran-laden roster that looks bound to change substantially in the ensuing years, the Buccaneers may revert back to being a bad team that's picking in the top five annually.
6. New Orleans Saints
Salary-cap issues could cause problems for the Saints and force the team to start from scratch over the next few years. Don't be surprised if they're a realistic Arch Manning destination.
5. New England Patriots
With Mac Jones potentially already being in Bill Belichick's doghouse, the Patriots have so much uncertainty surrounding the most important position in sports that it's impossible to predict where they'll be in September, let alone 2026.
However, the lack of a clear succession plan and the overall lack of talent on the roster makes it entirely possible that the Patriots will be in full rebuilding mode by the time Arch Manning enters the draft.
4. New York Jets
Despite spending two top-three picks on quarterbacks, the Jets seem to be tying their Super Bowl hopes to a short-term investment in Aaron Rodgers. That all-in approach could leave the team in bad shape by the time 2026 rolls around, especially if Zach Wilson fails to develop.
3. Las Vegas Raiders
I don't have much faith in Josh McDaniels and Jimmy Garoppolo turning the Raiders into a winning franchise. Consider the Raiders one of the strongest contenders to land Arch Manning in 2026.
2. Denver Broncos 
Between Russell Wilson's disastrous debut season in Denver and his absurdly expensive contract that includes a potential out in 2026, it wouldn't be a surprise to see the Broncos move on from the longtime Seattle Seahawks star and attempt to win a Super Bowl with Peyton Manning's nephew under center. Talk about irony.
1. Los Angeles Rams
The Rams' all-in approach paid off in the short term. However, the downfall in LA could leave the team in a tough position to compete.