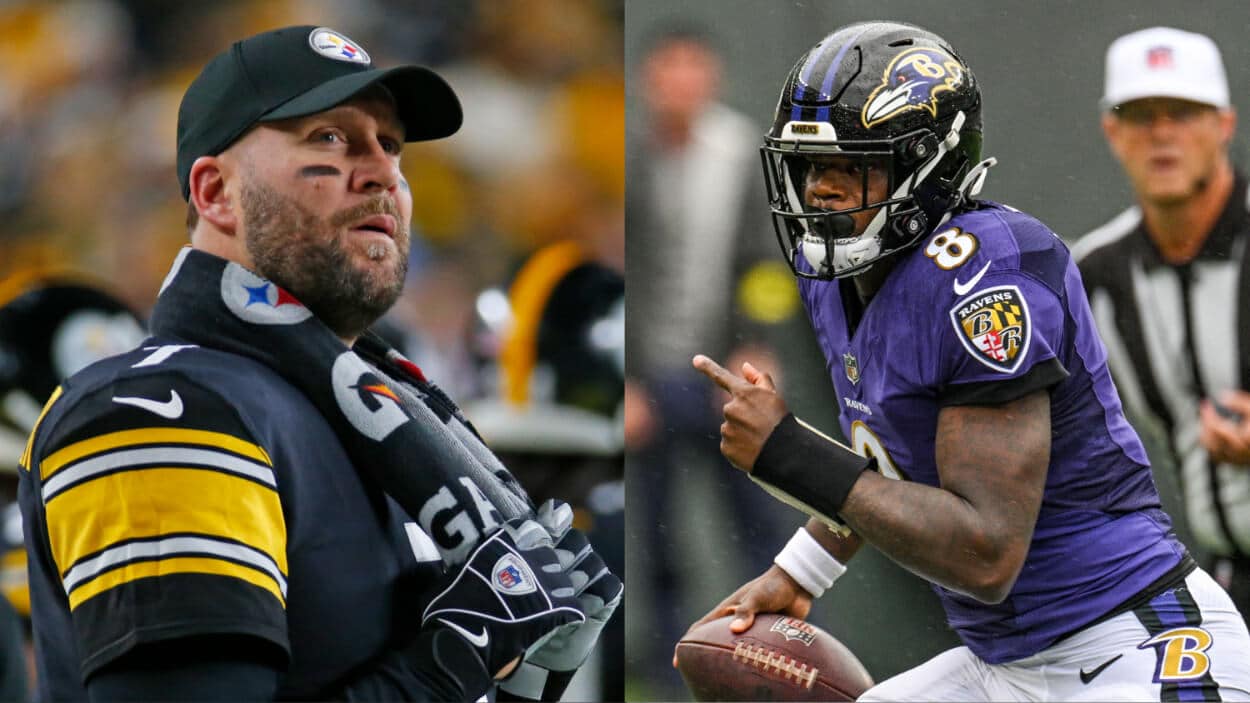 Ben Roethlisberger Triggers Media by Saying NFL Defenses 'Don't Really Fear' Lamar Jackson Throwing
Ben Roethlisberger caused a firestorm with his comment on team's 'not fearing' Lamar Jackson in the pocket, but did he say anything bad?
Former Pittsburgh Steelers signal-caller Ben Roethlisberger is a six-time Pro Bowl quarterback and a two-time Super Bowl champion. When it comes to NFL quarterbacks, he knows a little bit about what he's talking about. However, when he said on his podcast that NFL defenses "don't really fear" Baltimore Ravens quarterback Lamar Jackson as a passer, several prominent sports media members got upset.
Ben Roethlisberger says NFL defenses 'don't fear' Lamar Jackson as a pocket passer
Ben Roethlisberger spoke about how NFL defenses deal with disgruntled Ravens QB Lamar Jackson on his podcast, Footbahlin with Ben Roethlisberger.
In the truncated social media clip, the Steelers legend talks about the value of the Ravens bringing in Odell Beckham Jr. if Jackson comes back and is all in for the 2023 season.  
"With Lamar, you want to bring safeties down to help stop the run. Because you don't really fear Lamar's arm — his accuracy all the time," Roethlisberger explained. "He's got a huge arm. He can make things happen when he scrambles or whatever but don't fear him sitting in the pocket and picking you apart. So, you can bring safeties down because you do fear him running. Because he's a different level runner."
That's where the clip that ESPN analyst and former NFL QB Robert Griffin II shared on Twitter ends.
After that, Roethlisberger emphasized the word fear and explained that now, with OBJ in the mix, defenses will bring safeties down into the box at their own peril because Jackson is excellent at throwing the deep ball and can punish up safeties by going deep to Beckham.
It was a perfectly reasonable, factual, and well-thought-out point Roethlisberger made.
Jackson is a career 63.7% passer who has only thrown for over 3,000 yards in a season once (his 2019 MVP season). NFL defenses don't fear Jackson picking them apart as they do with Patrick Mahomes, Aaron Rodgers, or even someone like the uber-accurate Geno Smith.
Defenses fear his running much, much, much, much, much (you get the point) more. That's why they bring safeties up, and OBJ might help change that.
That's all Roethlisberger was saying.
Yet, many in the media took this small snippet and made it about anything else.
The NFL media didn't like Big Ben's assessment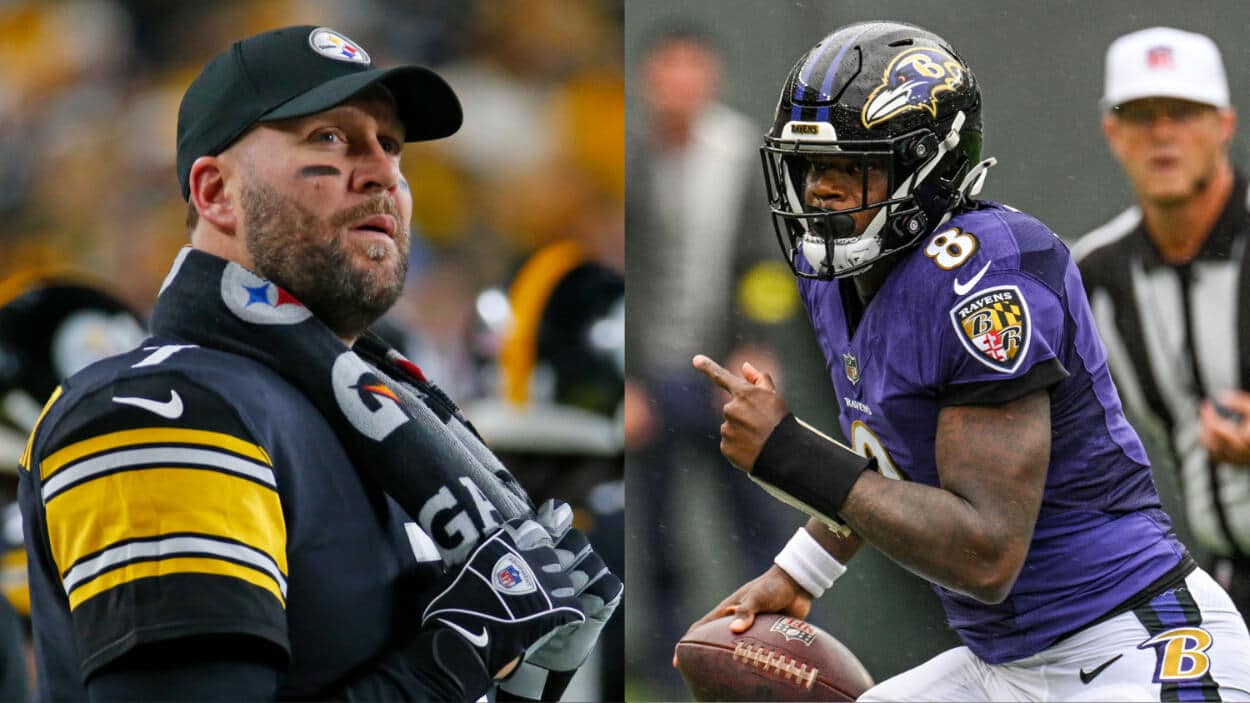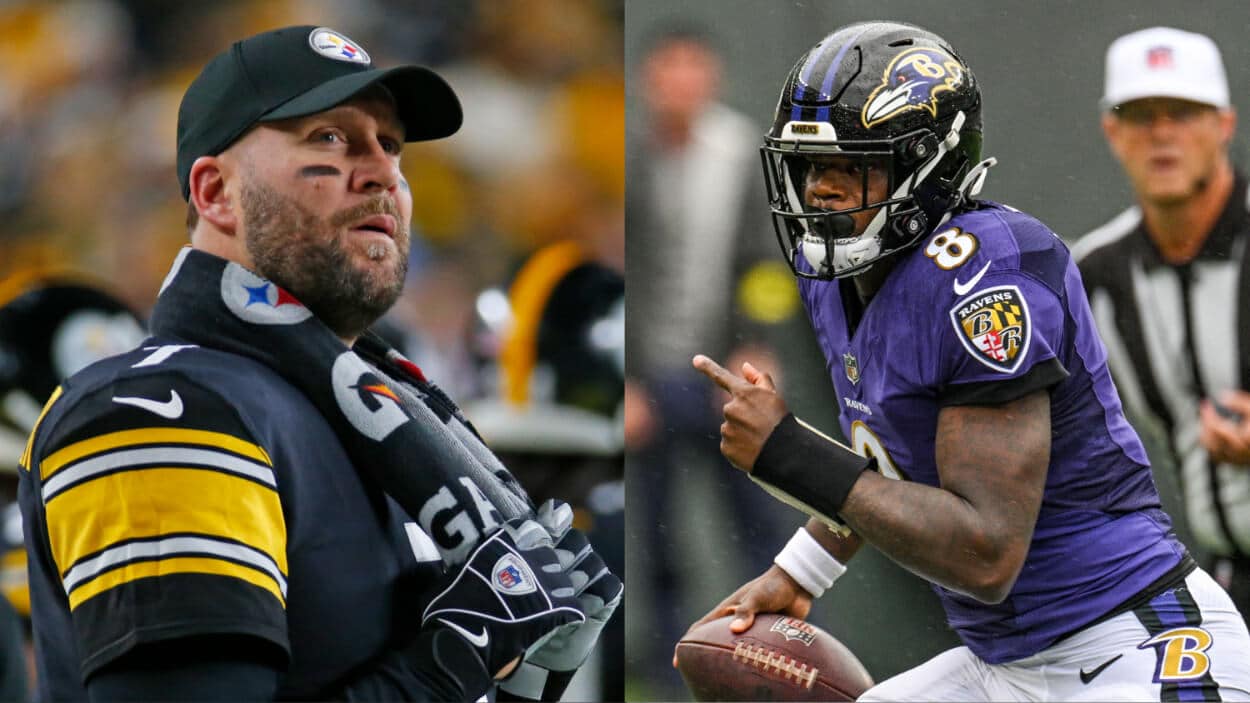 Several NFL analysts and sports media pundits took Ben Roethlisberger's completely fair and factual statement about Lamar Jackson and took it in all kinds of directions.
Robert Griffin III and ESPN's Bill Barnwell made it about who is/was a better pocket passer, Roethlisberger or Jackson.
Both cited stats that show Jackson's pocket passer rating from 2018-22 was 97.9, and his QBR from in the pocket was 64.9. On the flip side, Roethlisberger's pocket passer rating from 2009-21 was 94.2, while his QBR was 63.4.
Big Ben never said anything about how he stacked up to Jackson or that he wasn't good from the pocket. He only said NFL defenses fear Jackson's running way more than his passing. But, OK.
Citing stats is far more civil than making it about race.
That's what CBS Sports NFL insider Josina Anderson and FOX Sports' Joy Taylor and Skip Bayless did.
Anderson tweeted, "This specific talking point about Lamar Jackson is so tired & unoriginal." While Joy Taylor railed on SPEAK, "Someone needs to explain to me why it is a problem when they get in the NFL, that they are a great runner?"
Taylor's co-host, David Helman, doubled down, calling Roethlisberger's comments "incredibly insulting."
Again, Roethlisberger didn't say anything bad about Jackson or that his running was "a problem." He simply said defenses fear his running more than his passing, so they send safeties up (which is true).
Bayless, of course, overdramatically took it furthest of all on UNDISPUTED.
"When I read these remarks from Ben on his podcast, they really steamed me because they cut me deep," Bayless said. "Maybe this exposed or revealed the stereotypical way Lamar is being dismissed and discounted — inaccurately — by the whole league right now."
Nope.
Look, there are plenty of tropes and stereotypes and narratives surrounding Black quarterbacks that we, as NFL fans, need to throw out or at least do better with. Ben Roethlisberger explaining why safeties come up on Lamar Jackson and how Odell Beckham Jr. can help that doesn't remotely fall into that category.